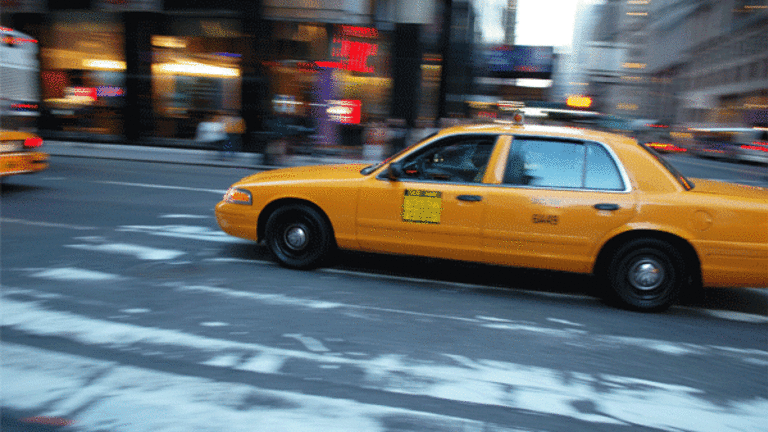 'Fast Money' Recap: A Difficult Market to Read
The trading panel was stumped by today's rally.
The market found relief Thursday from a strong demand for 7-year notes that eased concerns about the government's borrowing costs.
The
Dow Jones Industrial Average
added 103.78, or 1.25%, to 8,403.80, while the
S&P 500
rose 13.77, or 1.54%, to 906.83. The
Nasdaq
climbed 20.71, or 1.2%, to 1,751.79.
Guy Adami said on
CNBC
's "Fast Money" TV show that it was hard to embrace the rally even though today's Treasury auction went better than expected.
Karen Finerman said she had no idea why the market went up today. She said two factors will play on the market going forward: employment and Treasury issues, especially the 10- and 30-year note auctions on June 10 and 11.
Joe Terranova agreed, saying if the market can get pass the auctions in good shape and remain above 900, investors sitting on the sidelines at some point will move into the marketplace.
Pete Najarian said the market continues to hover around 900 with the VIX right where it should be at 31.5.
Melissa Lee, the moderator of the show, asked the panel about the implications of crude heading north of $65 a barrel. The comments were mixed. Terranova said the rise of oil to $65 to $70 is better than oil at $25 to $30, when there was worry about deflation and an economic Armageddon.
Najarian, though, said oil over $60 is a major problem because it will eat into personal savings and force people to pay more for gas.
Terranova countered that investors are getting into the paper asset of oil in the belief that it is a proxy for growth coming in three to six months and a return to normal market conditions. He said crude at $75 to $80 a barrel is an indication of an improving economy.
He said some good investments in oil include
Oil Services HOLDRs
(OIH) - Get VanEck Oil Services ETF Report
and
Petrobras
(PBR) - Get Petróleo Brasileiro SA Report
.
Moving to technology and
Dell
(DELL) - Get Dell Technologies Inc Class C Report
which reported lower profits that beat analysts' expectations. Adami calle it a non-event: "There's nothing much to do with the stock."
Najarian said he liked Dell's balance sheet and the fact that it didn't fall apart. Both he and Terranova were more impressed with
Palm
(PALM)
and
Research In Motion
(RIMM)
, both of which have exceeded expectations.
However, Adami said he would exit Palm before the June 6 announcement of the Pre. He said the 2011 sales target of 10 million Pre's will be difficult to achieve.
Lee brought on Dan Greenhaus, analyst with Miller Tabak & Co., who argued it's a sucker's rally now because the market is dealing with a weak consumer whose spending is supposed to account more than 70% of GDP. He said it's fallacious to believe the consumer discretionary sector is going to rally.
Jim Goldman, who sat in on Dell's conference call, said CEO Michael Dell said the company was making progress, with a lot more to do. He said Dell will provide more details on the company's plans in the next few months. He said the most newsworthy item from the conference call was that Dell was not prepared to say that a bottom had been reached in the PC industry.
Najarian said he would not chase this stock because it has not shown any evidence of growth. He said the company needs to spend its money on an acquisition.
Steve Cortez, founder of Veracruz, said two significant hurdles could affect the financial stocks, which are up 94% since the March lows. He said government intervention, with controls on executive pay and financing of companies, could be a drag. He also said the banks, despite the benefits from the current high yield curve, aren't doing enough lending for that to matter.
On the Obama trade, Najarian said engineering stocks such as
Fluor
(FLR) - Get Fluor Corporation Report
and
URS
(URS)
continue to flourish.
Terranova added that the global economic stimulus in such countries as China and India is benefiting companies like
Freeport McMoRan
(FCX) - Get Freeport-McMoRan, Inc. Report
.
Mike Huckman, a
CNBC
business reporter, came on the show to talk about the upcoming American Society of Clinical Oncology meeting. He said some of the companies to watch are
OSI Pharma
(OSIP)
which is expected to release test results on a cancer drug this weekend, and
Medivation
(MDVNTEXT)
, which is due to come out with some prostate cancer drug results.
Chris Thornberg, a principal with Beacon Economics, said the bottom to the housing market could come as early as the summer but that the recovery would take a couple of years.
In the final trades, Terranova liked the coal names, especially
Peabody
(BTU) - Get Peabody Energy Corporation Report
and
Massey
(MEE)
. Adami said to take profits on
Schlumberger
(SLB) - Get Schlumberger NV Report
and Finerman said to take profits on
UltraShort 20+ year Treasury ProShares
(TBT) - Get ProShares UltraShort 20+ Year Treasury Report
. Najarian said he liked
Johnson & Johnson
(JNJ) - Get Johnson & Johnson Report
.
"Check out
"'Fast Money'Portfolios of the Week" on Stockpickr every Thursday.