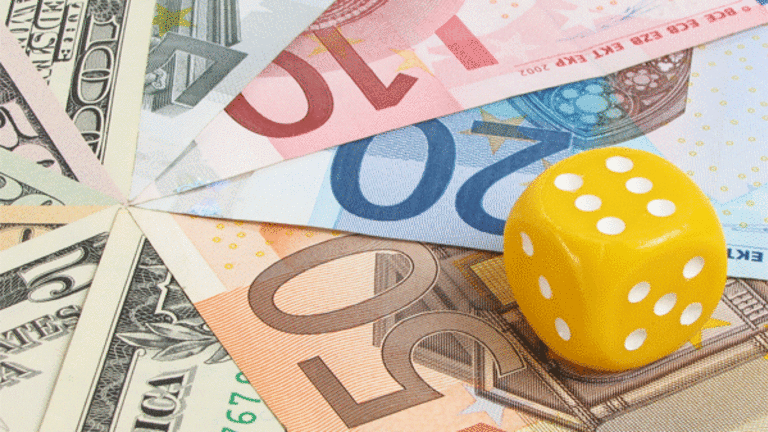 'Fast Money' Recap: A Deceptive Rally
Some panelists maintained that the market is primed for a pullback.
Some panelists maintained that the market is primed for a pullback.
NEW YORK (
) -- The markets moved higher Tuesday on encouraging housing and consumer confidence data.
The
Dow Jones Industrial Average
rose 30.01, or 0.32%, to 9539.29, while the
S&P 500
rose 2.44, or 0.24%, to 1028. The
Nasdaq
added 6.25, or 0.31%, to 2024.23.
Guy Adami, who has been troubled about the direction of the market, said on
CNBC
's "Fast Money" TV show that it still looks bearish and sees it heading a lot lower this week and earlier next week.
Steve Cortes agreed. He said the housing data looks troubling because most of the gains are at the low-end of the housing market while the the high-end is still struggling because the jumbo loan market is not functioning.
For a breakout of some stocks from a recent "Fast Money" TV show,check out Dan Fitzpatrick's "3 Stocks I Saw on TV."
3 Stocks I Saw onTV
varconfig = new Array(); config<BRACKET>"videoId"</BRACKET> = 35219127001;config<BRACKET>"playerTag"</BRACKET> = "TSCM Embedded Video Player";config<BRACKET>"autoStart"</BRACKET> = false; config<BRACKET>"preloadBackColor"</BRACKET> = "#FFFFFF";config<BRACKET>"useOverlayMenu"</BRACKET> = "false"; config<BRACKET>"width"</BRACKET> = 265;config<BRACKET>"height"</BRACKET> = 255; config<BRACKET>"playerId"</BRACKET> = 1243645856;createExperience(config, 8);
Pete Najarian, the optimist, said today's market was impressive, ending on a "positive" note after coming off the highs of the day with some profit-taking.
Joe Terranova said it's telling that the market didn't move higher even though President Obama did his best to talk the market higher with his comments on the reappointment of
Fed
chairman Ben Bernanke and the encouraging housing and consumer confidence numbers.
Cortes said he couldn't reconcile the difference between the
SPDR S&P Homebuilders ETF
(XHB) - Get Report
hitting a 10-month high with a chart showing lumber returning to its March lows.
Najarian said the index is made of more than just homebuilders. He said it includes other components, including retailers.
Shifting to a report that showed a small uptick in housing prices, Terranova said the data was further confirmation that the "housing bubble unwind" has reached the bottom.
The transport sector performed well today, with an upgrade in
Alaska Airlines
(ALK) - Get Report
that lifted the airline stocks higher. Najarian said rails have been strong for a long time and noted his pick in this group is
Norfolk Southern
(NSC) - Get Report
, which he said is "priced right."
Adami, on the other hand, said
Burlington Northern
(BNI)
is too rich at $83 to $84 and should be shorted.
Santelli said oil was down 3% today, sending down oil stocks in the process. Terranova said the equities rally was choked off by the downward move in oil. He said investors should move to the sidelines after seeing a reversal off a 10-month high in the commodity. Adami said he expects
Oil Service HOLDRs
(OIH) - Get Report
to make a big move down to $97. The stock closed at $108.06 today.
Najarian said those investors who believe oil is going to the upside should stick to the engineering group and names like
Fluor
(FLR) - Get Report
and the
Shaw Group
(SHAW)
.
The panel discussed the negative criticism
Goldman Sachs
(GS) - Get Report
in the media, including stories about how it's been giving tips to its best customers.
Cortes said he didn't see anything wrong with that. "There's not a restaurant that wouldn't give its best tables to its best customers," he said.
Although the Treasury auction for the 2-year notes well today, Santelli warned that the day of reckoning will come when the demand will run dry.
Santelli brought in Edward Lazear, a Stanford economics professor and former chairman of the president's Council of economic Advisers, to comment on Bernanke's reappointment. Lazear said it was a good move by Obama. He called Bernanke a "capable economist" who got thrust into a situation where there was "no playbook."
He said the big problem now is the huge expansion of government. He said the nation is going to have to dig itself out of that hole through higher taxes, inflation and increased borrowing.
Santelli invited former Vermont governor and Democratic Party bigwig Howard Dean to debate healthcare reform.
Dean argued the need for a public option, saying Americans need that alternative because they can lose their insurance if they lose their jobs and are prevented from getting it if they get sick. He said the public option will be available when a person is sick or healthy.
Santelli was worried about the large pool of uninsured (45 million) and the 20 million non-citizens who would benefit from it.
According to Dean, immigrants are not included in the group. He said the money for the plan would come from removing the fat from the healthcare system.
As for a trade off healthcare reform, Najarian liked
Teva Pharmaceutical
(TEVA) - Get Report
, a generic drug company that continues to rise. The stock is up 23.37% year to date. He said Teva expects 35% profit growth next year.
Terranova said he would play the swine flu scare by buying puts in
Carnival Cruise lines
(CCL) - Get Report
. He said he can't see how the travel industry can hold up for the remainder of the year if the flu is as serious as government scenarios maintain.
Apple
's
(AAPL) - Get Report
Tablet is making the rounds in the media again.
Jim Goldman,
CNBC
reporter, said the tablet has been widely rumored for some time. He said Apple will have a huge winner if marries the iPhone, iPod touch and low-cost netbook technology.
He said the best guess is that Apple is working on a prototype with plans to have it out sometime in 2010.
Terranova had some interesting energy picks for the hurricane season. Basically, he said investors should pick refiner names like
Sunoco
(SUN) - Get Report
and
HOLLY
(HOC)
that can benefit from the price spike because they are out of harm's way and can still continue production. Holly did just that during Hurricane Katrina.
In the final trades, Terranova liked
Imperial Sugar
(IPSU)
if a hurricane strikes east of Louisiana. Adami said he would short OIH if oil reverses as it did today. And Najarian said he liked
KLA-Tencor
(KLAC) - Get Report
.
-- Written by David Tong in San Francisco
"Check out
"'Fast Money'Portfolios of the Week" on Stockpickr every Thursday.
Follow TheStreet.com on
Twitter
and become a fan on