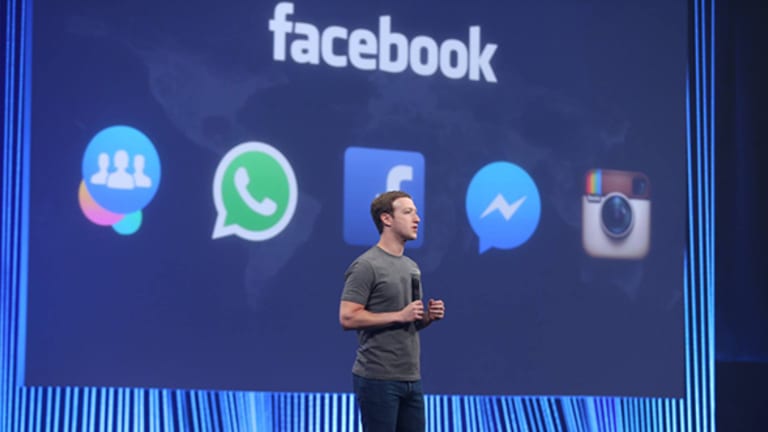 NEW YORK (TheStreet) -- The S&P 500has risen from its earlier drop, coming within one point of its all-time high of 2,119.60. This price action comes despite investors' low expectations for corporate earnings. 
The lower expectations are helping companies beat expectations, Pete Najarian, co-founder of optionmonster.com and trademonster.com, said on CNBC's "Fast Money Halftime." The strong U.S. dollar has been a big issue for multinational companies, added Joseph Terranova, senior managing director at Virtus Investment Partners. 
However, since the beginning of March, the U.S. dollar has been "modestly correcting," which is good for many companies, he explained. Energy stocks are likely to continue rallying, which will push the S&P 500 even higher, as many investors are underweight the sector. 
Revenue was up 40% year over year, Facebook (FB) - Get Facebook, Inc. Class A Report said, but would have grown 49% without currency headwinds, said Josh Brown, CEO and co-founder of Ritholtz Wealth Management. Investors can continue owning both Facebook, which now has 936 million daily active users, and Twitter (TWTR) - Get Twitter, Inc. Report, Brown said. Facebook's acquisition of Instagram a few years ago has turned out to be a "slam dunk," he added. 
Price targets for Facebook are being hiked to $100, said Jon Najarian, co-founder of optionmonster.com and trademonster.com. The company's shift to mobile makes that price target seem plausible. To Terranova, that's plausible and he thinks shares of Facebook will get there. The company has gone to having none of its revenues come from mobile, to having a majority of revenues come from mobile. 
Advertisers continue to favor Facebook for its effectiveness, giving the social media company plenty of pricing power, Terranova reasoned. Pete Najarian has "nothing negative to say" about Facebook. It's mobile growth has been "absolutely incredible" and the stock seems poised to rally in the short-term. 
The quarter was "very strong" for Facebook, according to Youssef Squali, managing director at Cantor Fitzgerald. The company has quality earnings and quality assets, while also having an attractive long-term outlook. Facebook has "a lot of runway" ahead of it, he said. 
The conversation shifted to value stocks. Richard Pzena, CEO of Pzena Investment Management, discussed his comments on a recent investor call where he stated that "stocks are priced as if the current environment will continue indefinitely." 
In other words, investors are piling into bond-like stocks to add some sort of yield to their portfolios because interest rates are so low. That's given a much higher valuation to utilities, staples, health care stocks, master limited partnerships and real estate investment trusts. Many of these sectors are now overvalued as a result, he reasoned. 
If the current environment doesn't change, these stocks could perform just fine, he said. However, if and when interest rates do go higher, these sectors will likely underperform other sectors and the broader market. 
Overall, the broader stock market seems "basically reasonably priced," Pzena said. It's only certain asset classes that have too high of valuations. However, some sectors have attractive valuations, such as financials, a group that has many stocks trading at or below book value. 
Interest rates are holding back profitability more so than increased regulations. Pzena reasoned that higher rates will lead to higher profitability, while no increase to rates will allow these companies to continue earnings a respectable return on their book value. 
Some European banks, lsuch as Credit Suisse (CS) - Get Credit Suisse Group AG Sponsored ADR Report, UBS Group (UBS) - Get UBS Group AG Report, Barclays (BCS) - Get Barclays PLC Sponsored ADR Report, and TheRoyal Bank of Scotland (RBS) - Get Royal Bank of Scotland Group plc Sponsored ADR Report, also look attractive, he said. 
Given the large rally in energy equities, it seems like the sector is unattractively priced, given that significantly higher oil prices will be needed to justify the current prices, Pzena concluded. 
Staples stocks have a very high valuation, given the sector's sluggish earnings growth, Brown said in agreement. Terranova added that he's a seller of utility stocks but noted health care is a high-growth sector.