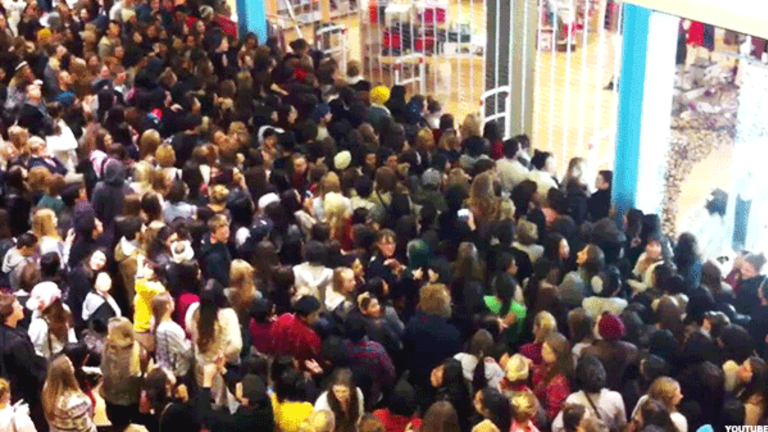 Publish date:
Don't Be Fooled by This Retail Relief Rally: Cramer's 'Mad Money' Recap (Thursday 4/6/17)
No, people aren't suddenly deciding they want to go back to shopping at the mall, says Jim Cramer.
No, people aren't suddenly deciding they want to go back to shopping at the mall, says Jim Cramer.
On Thursday, investors got the anti-Amazon (AMZN) - Get Report rally, TheStreet's Jim Cramer told his Mad Money viewers. Old-school bricks-and-mortar retailers like Macy's (M) - Get Report , Kohl's (KSS) - Get Report , Target (TGT) - Get Report , LB Brands (LB) - Get Report and Target (TGT) - Get Report all got a lift. So what's the deal?
Short-sellers and investors have either been betting against these companies or dumping their stock on the belief that e-commerce and a lack of mall traffic would continue to kill their businesses. Many were also concerned about a potential border tax weighing on sales. 
But then a funny thing happened. Bed Bath & Beyond reported earnings but didn't cut guidance and told an OK story. L Brands reported, too, and management didn't provide negative guidance. Macy's reaffirmed its guidance and Costco (COST) - Get Report reported 6% same-store sales for March, beating expectations of 3%. 
When a group of stocks everyone thinks are dead suddenly shows life, it can cause a quick rally. Especially with short-sellers worried about an analyst calling a bottom in retail or if the non-farm payrolls report is robust. 
The Federal Reserve minutes showed that members view the market as being hot. But the Fed has been wrong before and Cramer says it is likely wrong now, too. We'll see what happens with the job report, though. 
Cramer said investors shouldn't get too negative on one particular group that still has a pulse, however faint it may be. When that negativity happens all at once, it tends to blow up in investors' face, Cramer said. 
Meanwhile, on Real Money, Cramer says he doesn't think we've really hit bottom in the retail sector. Check out his analysis with a free trial subscription to Real Money.
Don't Feed the Bears
Cramer took a closer look at the short-selling case. They're not buying the "fairytale" case for some stocks, Cramer explained. Instead, they latched onto the bear case and stubbornly held on despite a raging stock price. 
Take Panera Bread (PNRA) for instance. The company is now being acquired by JAB Holdings for $315 per share. Shorts bet against the company, thinking management wouldn't figure out its execution issues. But management did figure it out and the stock is up 52% on the year.
Granted, part of that is from the takeout but the stock was up big before the announcement, too. 
Then there's Tesla (TSLA) - Get Report , which has 26% of its shares sold short. Analysts have reiterated their sell ratings, short-sellers have doubled down. But the end result? A soaring stock price, just a few dollars per share away from all-time highs. Billions are being lost, as investors continue to gobble up the stock. 
There's also Constellation Brands (STZ) - Get Report . Shorts were betting against this one on assumptions the border tax would crush the stock. But alas, the company continues to do great and a border tax hasn't materialized yet. Shares climbed 6.5% on good earnings, running over the shorts. 
Here's the bottom line: the buyers aren't buying the bear case. And that's driving stocks higher. Shorts are losing fortunes and more pain could come. 
Executive Decision: Constellation Brands
On the show's "Execution Decision" segment, Jim Cramer spoke with Rob Sands, the president and CEO of Constellation Brands. 
Sands said the company is firing on all cylinders and that it's hard for investors to "ignore this level of performance." Going forward, he added that "we are extremely optimistic." 
Corona and Modelo have been strong leaders in the beer category, but Sands said he believes that Pacifico will the next big growth driver. It had strong growth in the fourth quarter and that is continuing into the first quarter. Its 24 ounce can has also been a hit. 
Speaking on the potential border tax, Sands said that either way, Constellation Brands is prepared. However, they are not sitting around and worrying about it. If it happens, Constellation has strategies in place to respond. If it doesn't happen, then that's just fine. The probabilities for one seem to have diminished, but who knows what Washington will do. 
The company remains really well positioned, be it in wine, spirits or beer. Sands said that it contributed 25% of the growth in the Total Beverage Alcoholic category last year, more than all three of its next closest competitors.
This was an "amazing, blowout quarter," Cramer said. Guidance was strong, cash flows were impressive and the stock's not done going higher, he reasoned. 
Today's Specials
Darden Restaurants (DRI) - Get Report and Brinker International (EAT) - Get Report have both been different performers this year, with the former up 15% on the year and the latter down 14%. So how can investors pick out the winners from the losers?
Turnarounds take time and Darden Restaurants got started a few years ago. In 2014, it sold its Red Lobster brand to a private equity firm, keeping others like Olive Garden and Longhorn Steakhouse. Then Starboard Value, an activist investor, got involved. 
They shook up the board of directors and got a highly motivated management team in place. Since then, the company has taken initiatives like to-go sales and restaurant remodels which have boosted sales and traffic. As a result, the company's latest earnings resulted in a top and bottom line beat and Darden even made a $780 million acquisition. 
On the other hand, Brinker hasn't done as well. It hasn't remodeled and has the same management in place. It's latest earnings weren't attractive and same-store sales have underwhelmed. Guidance wasn't good either. 
It has a bigger dividend and a lower valuation. But here's the bottom line: Cramer said he would rather receive a smaller dividend and a pay higher valuation for a company that's doing well. Darden will likely keep on winning, while Brinker will continue to struggle, Cramer reasoned. 
Lightning Round
On the show's "Lightning Round" segment, Jim Cramer was bullish on Twilio (TWLO) - Get Report , HubSpot (HUBS) - Get Report and Cemex (CX) - Get Report . 
He was bearish on TG Therapeutics (TGTX) - Get Report , Suburban Propane Partners (SPH) - Get Report and Under Armour (UAA) - Get Report .
Am I Diversified?
On the show's "Am I Diversified" segment, Cramer took viewers calls and tweets, helping them to get their portfolios diversified.
The first viewer's top-five holdings consisted of Alphabet (GOOG) - Get Report , Home Depot (HD) - Get Report , JPMorgan (JPM) - Get Report , Raytheon (RTN) - Get Report and Xylem (XYL) - Get Report . 
"Can I just say this is perfect?" Cramer said. This is a great portfolio that's very well-balanced. "That's the best one I've seen in 2017," he added. 
The second viewer's top-six holdings consisted of Apple (AAPL) - Get Report , Facebook (FB) - Get Report , EOG Resources (EOG) - Get Report , Chevron (CVX) - Get Report , JPMorgan and Sherwin-Williams (SHW) - Get Report . 
Cramer suggested eliminating EOG for Chevron because of the higher yield, and saw a clash of tech titans between Apple and Facebook. But Cramer said he couldn't tell the viewer to sell either one because they're both so good. 
The third viewer's top-five holdings consisted of Blackstone (BX) - Get Report , Enterprise Products Partners (EPD) - Get Report , Vodafone (VOD) - Get Report , MGT Capital Investments (MGT) and Vector Group (VGR) - Get Report .
"You know what this? This is a portfolio that's a thing of beauty," Cramer said. Why? Because this portfolio kicks out so much in the form of a dividend. 
Cramer and the AAP team say they want to take the opportunity to buy a little more Cimarex (XEC) - Get Report "before the stock moves out of the mud." Find out what they're telling their investment club members. Get a free trial subscription to Action Alerts PLUS.
Search Jim Cramer's "Mad Money" trading recommendations using our exclusive "Mad Money" Stock Screener.
To watch replays of Cramer's video segments, visit the Mad Money page on CNBC.
To sign up for Jim Cramer's free Booyah! newsletter with all of his latest articles and videos please click here.
At the time of publication, Cramer's Action Alerts PLUS had positions in XEC, AAPL. FB.