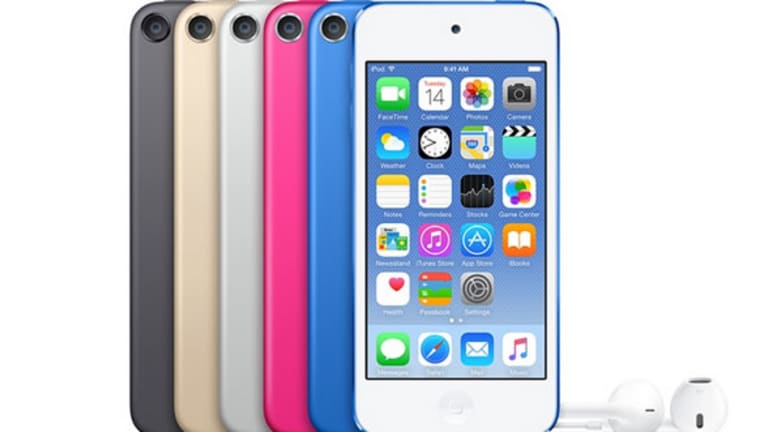 Publish date:
Does Apple Have What It Takes to Impress Despite Slowing Growth?
The CNBC 'Fast Money' traders take a very close look at Apple ahead of earnings, before turning to Alibaba's stellar earnings results.
The CNBC 'Fast Money' traders take a very close look at Apple ahead of earnings, before turning to Alibaba's stellar earnings results.
Even though Tuesday's trading day isn't over, most investors are turning their attention to what happens after the markets close -- when Apple (AAPL) - Get Report will report its fiscal fourth-quarter earnings results. So far, the stock is up just 0.03% on the day. 
On CNBC's "Fast Money Halftime" show, Jon Najarian, co-founder of Optionmonster.com and Trademonster.com, said the options market is pricing in a 6% move in either direction by the end of the week. "I'd want to be an aggressive buyer" on a drop towards $105, he said. 
While other large-cap tech stocks like Amazon (AMZN) - Get Report , Facebook (FB) - Get Report and Alphabet (GOOGL) - Get Report have enjoyed nice runs this year, Apple is up just 4% in 2015. However, Najarian reminded investors that in 2014, Apple had a very good year. The stock climbed 42.5%. 
Stephanie Link, portfolio manager at TIAA-CREF, is long Apple, but underweights the stock in her portfolio. Instead, she finds other stocks more attractive in the sector, like Microsoft (MSFT) - Get Report and Salesforce.com (CRM) - Get Report . 
Link said, "I am concerned about Dialog Semiconductor (DLGNF) " following the company's disappointing earnings preannouncement and guidance. A full 80% of its revenue comes from Apple, although Link acknowledged that the lower expected guidance could be due to pricing pressure and not necessarily decreased volume from Apple.  
Apple sold off 3% on Monday thanks to Dialog's announcement, but Pete Najarian, co-founder of Optionmonster.com and Trademonster.com, called it an "overreaction yesterday" that "creates an opportunity today." 
Guidance will play a large role in how Apple stock trades after its earnings report. Josh Brown, CEO and co-founder of Ritholtz Wealth Management, said short-term investors might sell the stock even if iPhone sales guidance is in line with estimates (which call for 78 million units sold). 
But selling would be a mistake for long-term investors, Brown said, adding that Apple is committed to its strong buyback and dividend programs to create value for shareholders. 
Tony Sacconaghi, senior analyst at Sanford Bernstein and the No. 1 ranked IT and hardware analyst for the past 14 years, weighed in on the discussion. Apple's best days are behind it, he said. The smartphone market is maturing and growth is very limited in the future -- especially if Apple fails to take away more market share from its competitors, he said. Investors fear that growth will be too hard to come by.  
So what's there to like at Apple? Sacconaghi says analysts have become too pessimistic on the stock. While growth will be limited, he said, the stock's low valuation already reflects that. It could grow revenue in the single digits, which isn't bad given the price of the stock. 
Joseph Terranova, senior managing partner at Virtus Investment Partners, explained that a lot of fund managers reduced their holdings in Apple over the past few months. Eventually, they'll come back in, but it's unclear when that will happen. 
In the short term, he's more concerned about suppliers to Apple -- namely Cirrus Logic (CRUS) - Get Report , Qualcomm (QCOM) - Get Report and Skyworks Solutions (SWKS) - Get Report . They could be hit hard if Apple reports less-than-stellar results. 
Another important issue for Apple is China, Pete Najarian said. However, signs from the region are actually pretty bright. Nike (NKE) - Get Report reported great results there, and Alibaba's (BABA) - Get Report home-run earnings report Tuesday also bodes well for Apple. 
Alibaba reported a 32% surge in revenue and gross merchandise volume growth of 30%. (That's one of the top metrics for analysts.) Brown, who is long the stock, said he is "very happy" with the results and plans on staying long for now. Alibaba's business, and the Chinese economy for that matter, are not being impacted by the volatile stock market collapse in China, he added. 
Terranova said he remains skeptical about Alibaba, but mobile revenue growth of 183% is "incredibly staggering" and is something that should make short-sellers nervous.
This article is commentary by an independent contributor. At the time of publication, the author held no positions in the stocks mentioned.