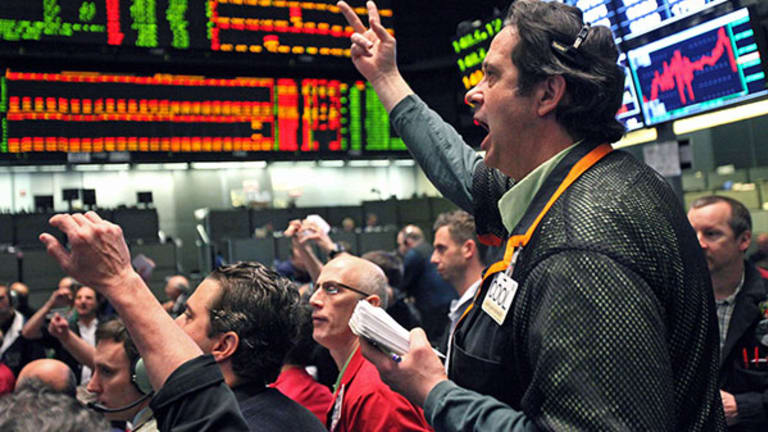 Publish date:
Despite April's Rocky Finish, Don't Sell in May and Go Away
This year, the CNBC 'Fast Money Halftime' traders aren't following the classic strategy of getting out of the market during the summer doldrums, because now, they see a buying opportunity.
This year, the CNBC 'Fast Money Halftime' traders aren't following the classic strategy of getting out of the market during the summer doldrums, because now, they see a buying opportunity.
NEW YORK (TheStreet) -- It was a rocky finish to April as U.S. stocks declined in the last two trading sessions of the month. Friday marked the first trading day of May, a month many investors associate with the old investing adage of "Sell in May and go away."
However, on CNBC's "Fast Money Halftime" show, Jim Lebenthal, president of Lebenthal Asset Management, said he doesn't plan to sell in May and come back after summer. The Federal Reserve's current actions seem to bode well for stocks, he said. 
Jon Najarian, co-founder of optionmonster.com and trademonster.com, doesn't plan on selling in May either. In fact, after the past few days of selling, he says there are better buying opportunities now than there were a month ago. 
Specifically, he took a look at biotech stocks, saying, "I'll be surprised if we see a lot more downside." The levered biotech ETFs are really driving the sector in the short-term. 
Investors shouldn't be looking to ride biotech stocks on the short-side, according to Michael Block, chief strategist at Rhino Trading Partners. Instead, they should be waiting for a buying opportunity, as the sector has slid roughly 6% on the week. 
While it's hard to rule out a larger correction, investors shouldn't be too worried about one, says Tyler Vernon, CEO of Biltmore Capital. Interest rates need to be higher in order to justify a larger market correction, because with rates so low, there's no other attractive investments. 
"We still think there's room to run" for stocks, Vernon reasoned, who added that he's not a fan of the sell in May strategy. He reminded investors that the economy continues to head in the right direction. 
Michael Santoli, senior columnist for Yahoo! Finance, pointed out that stocks seem to be stuck in a "frustrating" range, as REITs, dividend and growth stocks are all pulling back and failing to break out. 
One stock Santoli does like is Disney (DIS) - Get Report, which has been "bulletproof," he said. The company has a lot of potential blockbuster movies coming out in the future and the stock is a buy on a pullback.
The conversation turned to social media stocks, as shares of LinkedIn (LNKD) plunged 20% following its weaker-than-expected guidance. Scott Devitt, a senior analyst at Stifel Research, has a buy rating on the stock, but lowered his price target from $300 to $250. 
Based on the fundamental results, shares probably should have sold off by about 7% to 10%, Devitt suggested. The current issues are only problems for the near-term and there was poor communication regarding its acquisition of Lynda.com. LinkedIn is a "well-respected" franchise, which has seen its share price increase from $45 on its IPO to the current price of $200, he added. 
Devitt still likes the stock, but also likes Facebook (FB) - Get Report. He does not like Twitter (TWTR) - Get Report on the long side. 
Some of the smaller, younger social media companies like Yelp (YELP) - Get Report and Twitter haven't really figured out their business plans yet, Vernon said. But companies like Facebook and LinkedIn have. LinkedIn is "positioned for growth" and looks like a "great buy" after the pullback, he said. 
Shares of Yum! Brands (YUM) - Get Report are shooting higher on the day, as it was announced that two large investors, Third Point and Corvex Capital, took two large positions in the stock. Lebenthal suggested that these investors may not believe in McDonald's (MCD) - Get Report turnaround success and are instead putting their chips on Yum! Brands to take market share.
This could also be their play on the Chinese consumer over the next few years, Block said. He believes consumers will drive that country's economy over the next five years, not investment spending.
This article is commentary by an independent contributor. At the time of publication, the author held no positions in the stocks mentioned.