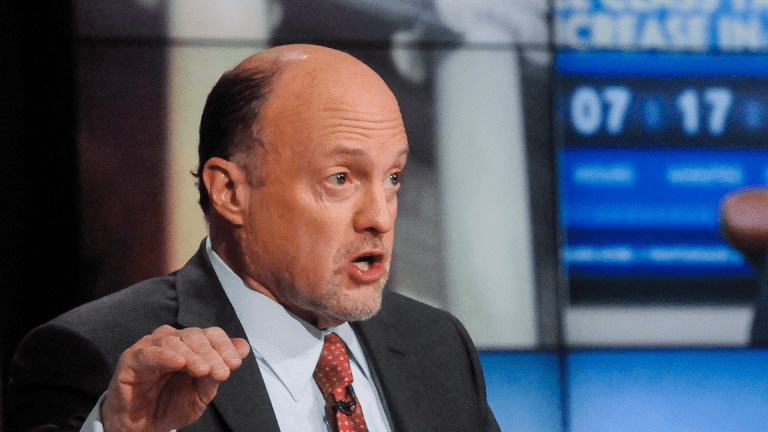 Jim Cramer: A 'Hard Left' Democratic President Would Be a 'Disaster' for Stocks
That's one of the biggest macro risks he sees for Wall Street right now.
Jim Cramer says the largest macro risk facing markets right now could be the large number of 2020 Democratic presidential candidates who are "a motley crew of hard lefters."
"Until [former Vice President] Joe Biden entered the race, every candidate was as far left as I have ever seen in my life," Cramer said during an exclusive call with members of his Action Alerts PLUS club for investors. "Any one of these candidates would be, yes, disastrous for the stock market."
Cramer said some common positions among many of the 2020 Democratic candidates -- from support for "Medicare for All" to promises of cracking down on Wall Street -- could spell bad news for stocks.
"Whether they are running to break up the big techs or to have single-payer medicine instead of health insurance or if they favor jailing innocent bankers, they are a motley crew of hard lefters that will be a disaster for the stock market unless they gravitate to the right," Cramer said.
"You may like them on the personal issues, [but] I don't talk about personal issues -- they're no interest to me [as an investor]," he said. "What I care about preserving capital, and that group of candidates does not let you preserve capital, trust me.
"So hate 'em or like 'em, I know what they do to the stock market," Cramer said. "Make no mistake about it, the biggest risk to this market may not be China, may not be the Fed, it may be the election [of] a president from the Democrats who is decidedly anti-wealth."
In fact, Cramer said just about the only economic policy that Democrats and Republicans agree on these days is that neither side likes Big Tech -- more bad news for markets.
"Both parties find issues with every FANG stock save Netflix (NFLX) - Get Free Report ," Cramer said. "They are either too powerful -- that's the Democrats' view -- or too left wing, that's the Republicans' [position]."
Cramer said such negative macro factors are one of three major things he looks for when trying to predict when the market will sell off. The two other factors he watches for are problems with micro factors and concerns about the market's overall mechanics.
Watch All of Jim's Latest Video-Conference Call
Sign up today for a free 14-day trial of Action Alerts PLUS, Jim's VIP club for investors, and listen to a full replay of Jim's entire video conference call.
AAP members automatically get free access to all of Jim's monthly calls, along with:
A rundown of all stocks that Jim's AAP charitable trust currently holds;
Custom research throughout every trading day from Jim and his team of stock-market analysts;
E-mail alerts that give you a chance to buy or sell a stock before Jim and the team make any trade for the charitable trust.
Click here to join Action Alerts PLUS today!