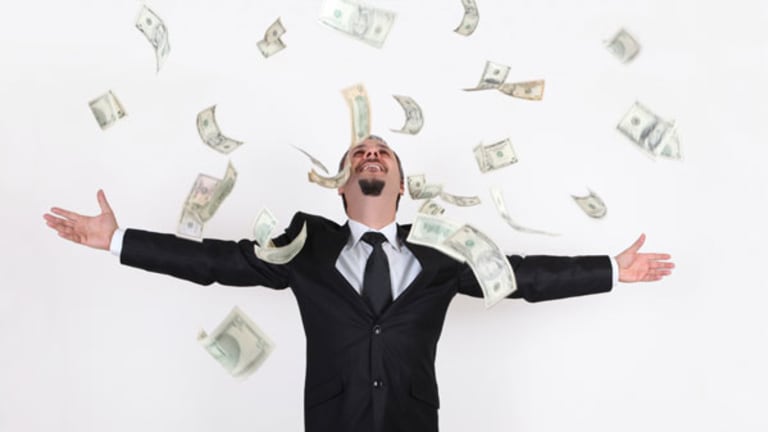 Click here for an archive of Jim Cramer's Mad Money recaps. Click here to get Jim Cramer's Mad Money Post Game video exclusively on TheStreet.com.
Editor's note: This recap last aired on Jan. 16, 2009.
"If you want to use your money to make money, stocks are your best shot," Jim Cramer told viewers of his "Mad Money" TV Show Monday.
He said high-quality, dividend-paying stocks are still the single best asset class over any 20-year period. The key, he said, is to stay in the game, even when every instinct you have tells you to give up.
Cramer said staying in the markets is hard, especially after a big loss. He said there's no magic formula to turn all stocks into winners, so being able to deal with losing a boatload of money is a necessity. Investors need to expect market corrections, not fear them, he said.
Corrections are hard to predict, said Cramer, and investors shouldn't beat themselves up for not seeing them coming. But, he said, if investors treat corrections as a natural part of how the market works, and something they can't avoid, their frustration will be minimal.
Cramer said the thing to remember is to always have a superior attitude and a superior state of mind.
The Right Mix
"If we've learned anything from the market meltdown of 2008, it's that diversification is more important than ever," Cramer told viewers. He outlined 10 steps investors should take to achieve a truly diversified portfolio.
Cramer said investors need to always treat their portfolios as two separate streams, a conservative stream for retirement, and a second for their discretionary portfolios. He said each stream should contain at least five stocks, but no more than 10. Investors should be prepared, he said, to devote at least one hour a week of homework to each stock in their portfolio.
Once investors have decided how many stocks to research in their portfolios, he said the stock they should pick should be one from their neighborhood, a local name that can relate to.
Second, Cramer said a portfolio must include a defensive, recession-resistant company. Third, investors should consider a high-quality cyclical stock. Next, Cramer said investors needs a high quality brand name stock in the mix, along with a financial stock.
Rounding out a well balanced portfolio should be a speculative stock, said Cramer, something to add some excitement.
He said there should also be a retailer in the portfolio, a tech stock, an energy play, and a gold stock.
He said none of these stocks should account for more than 20% of a portfolio.
Timing Is Crucial
Investors looking to get the edge on Wall Street need to understand one thing, said Cramer, and that's the business cycle.
"It's huge," he said, "50% of how a stock moves depends on the sector it's in." He said the reason for this is that big fund managers are committed to sector-based thinking, and they're the big buyers and sellers that set prices.
Cramer explained there are two types of companies: cyclical ones that do well when the economy is growing, and secular companies that aren't sensitive to the strength or weakness of the economy. It's the secular names, he added, that are the ones to own during a recession.
Cramer said that at the top of the business cycle, right before the
Federal Reserve
is about to raise rates, that's when to buy the secular names. And at the bottom, when people can see the light at the end of the tunnel, is the time investors should swap out of those names and back into the cyclicals.
Why jump back into the cyclicals at all? Cramer said the reason is simple. At the bottom, all of the earnings estimates have all to be cut, making the cyclicals' price/earnings ratios low. This, in turn, makes them look cheap and promotes the increased buying.
The First Hint
Avoiding losses, said Cramer, is another important lesson to learn. He said that one way to avoid huge losses is to pay attention to a stock's price/earnings multiple and look for multiple contraction, a period when the market decides it's just not going to pay a high premium for a certain stock.
Cramer said when a stock catches a case of multiple contraction, it only gets cheaper and cheaper, as the market decides it's willing to pay less and less for a company's future earnings. But, he said, investors needn't worry too much, as there is often time before the symptoms of multiple contraction set in.
Cramer used
Whole Foods
(WFMI)
as an example of multiple contraction. On July 31, 2006, Whole Foods, a high-flying, high-multiple stock, reported earnings with just a hint of negativity in their same-store sales growth. For the next two years, the stock just drifted lower and lower as investors decided Whole Food just wasn't worth the multiple they were giving the company.
Cramer said his bottom line is that investors need to sell high-multiple names at the first sign of a slowdown.
Protect Yourself
Cramer said his last rule for staying in the game is to know your broker. "Some brokers will rob you blind," he said, "and you're probably handing them your wallet."
Cramer explained that many amateur investors make the mistake of placing market orders, which get placed at whatever the current price of a stock is, rather than limit orders, which specify a price that the investor wants to pay.
Cramer pleaded with viewers to always use limit orders. He said that by using limit orders, investors can get way ahead of the pack, adding there's absolutely no risk in using them. Limit orders, he said, are the only way to know a broker's not cheating you.
Check out the latest edition of
"Cramer's Take onTop-Searched Stocks" on Stockpickr.
P/>Want more Cramer? Check out Jim's rules and commandments for investing by
.
Read more of Cramer's Mad Money Lightning Round insights
.
For "Mad Money" performance statistics and other links, check out Mad Money stats