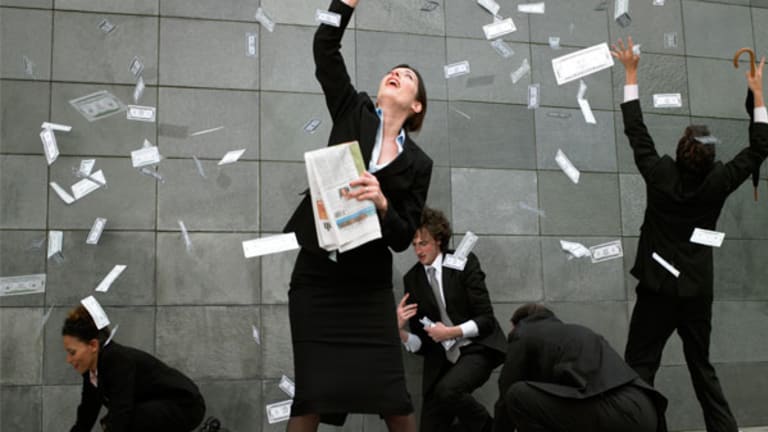 Cramer's 'Mad Money' Recap: Make Money Off Pessimism (Final)
Cramer says don't try to fight the market's pessimism. Try to make some money off of it. Plus, here are six simple rules of investing.
Cramer says don't try to fight the market's pessimism. Try to make some money off of it. Plus, here are six simple rules of investing.
Search Jim Cramer's Mad Money trading recommendations using ourexclusive Mad Money Stock Screener and watch Jim Cramer's Mad Money Post Game videoexclusively on TheStreet.com.
NEW YORK (
) -- "Don't try and fight the pessimism," Jim Cramer told the viewers of his "Mad Money" TV show Monday. "Let's try and make some money off of it," he continued.
Cramer said the "conventional" wisdom on Wall Street is that the woes of Europe and a slowdown in China will unravel any positive news coming from the U.S. With the big money managers buying into the pessimism, Cramer said the good things just don't seem to matter. He continued to advise investors to lighten up on the rallies, and buy back into dividend stocks on the dips.
Cramer also gave a shout out to gold, which he said is the only hedge against a real, or perceived, global collapse. Gold, he said, is a safe haven that goes up when everything else goes down. Likewise, with banks printing money and making inflationary bailouts, gold also makes sense. Moreover, Cramer said there just isn't a lot of gold being found, and we just aren't finding it like we used to, which only adds to its value.
Cramer continued his support for the gold stocks of
Agnico-Eagle Mines
(AEM) - Get Report
and
Eldorado Gold
(GOLD) - Get Report
, as well as for the
SPDR Gold Shares
(GLD) - Get Report
gold mining ETF.
"As long as the skepticism keeps building, everyone should own some gold," Cramer concluded.
Back to Basics
Cramer took investors back to school by offering a crash course in the basics of investing. He said investors can protect themselves from a volatile market, just by following six simple rules.
1. Never ever buy stocks on margin
. Stocks are nothing more than pieces of paper, said Cramer, and they can go down in value and threaten your entire portfolio. He said trading on margin is just plain dangerous, and nobody needs that level of risk.
2. Never use market orders
. Cramer said market orders allow brokers to fill orders at any price, and that's bad news for investors when the market swings wildly. He urged home gamers to always use limit orders. He said limit order don't cost a penny, but can save investors plenty over the long run.
3. Know what you own
. Cramer told viewers that they need to do their homework on the stocks they own, and that mandates that home gamers should never own more than 10 stocks. "You are not a mutual fund," he said. It's too hard to keep up with more than 10 stocks at a time.
4. Don't own too many low dollar stocks
. "One is enough," advised Cramer. He said no company's stock falls below $10 because it's doing well, so one risky stock per portfolio is plenty.
5. You must be diversified
. It goes without saying, said Cramer and diversification is the only free lunch.
6. Have enough dividend stocks in your portfolio
. Cramer reminded viewers that 40% of the
S&P500's
return comes from dividends. Investors without dividend stocks in their portfolio are losing almost half of the possible gains.
How to Buy Bank of Montreal
There's always a bull market somewhere, Cramer always declares, and tonight that bull market resides in the great white north of Canada, he said. Cramer recommended
Bank of Montreal
(BMO) - Get Report
, the fourth largest bank in Canada, and a stocks with a juicy 4.8% dividend yield.
Cramer explained that the Canadian banks withstood the financial crisis far better than their American counterparts, thanks in part to actual regulation and oversight by the Canadian government. He said the Canadian financial system is among the most stable in the world for that reason.
With the economy now recovering, Cramer said the Canadian banks are now on fire, with strong balance sheets to boot. Bank of Montreal, he said, is now his favorite, thanks in part to its exposure to the U.S.
Cramer said that because Bank of Montreal has the most exposure to U.S. loan losses, its earnings per share has the most room for improvement, which the bank is clearly doing as evidence by its most recent conference call.
Of Bank of Montreal's four major divisions, three posted sizable gains, including personal and commercial banking, up 28%; wealth management, up 68%; and capital markets, up 40%. Cramer said, with Bank of Montreal reporting next week, he'd buy half a position now, and buy the other half on any market weakness after the company reports.
Eureka Moment
In his "Eureka Moment" segment, Cramer said mockingly that investors looking for the perfect hedge against financial reforms should go invest in
Deutsche Bank
(DB) - Get Report
.
Cramer said if investors "really" believe that financial reforms will hobble U.S. banks, then Deutsche Bank is the perfect choice, as most investment banking businesses will simply walk across the street (Deutsche Bank's offices are literally across the street from the major American banks on Wall Street) and bank with the Germans.
Coming back to reality, Cramer said that the proposed financial reforms are nothing to worry about. He said the biggest losers in the deal are the ratings agencies, who rightfully deserve the punishment after their utter failure to properly warn investors of risks during the crisis.
"Our banks will be fine," he said. Unfortunately publicity seems to be all that matters at the moment, and for the moment, all that publicity is negative.
Lightning Round
In the Lightning Round, Cramer was bullish on
Sprint Nextel
(S) - Get Report
,
Citigroup
(C) - Get Report
,
Cedar Fair
(FUN) - Get Report
,
Electronic Arts
( ERTS),
City Telecom HK
( CTEL),
Frontier Communications
(FTR) - Get Report
and
American Superconductor
(AMSC) - Get Report
.
Cramer was bearish on
GLG Partners
(GLG) - Get Report
,
Yanzhou Coal Mining
(YZC)
and
A-Power Energy
( APWR).
-- Written by Scott Rutt in Washington D.C.
To watch replays of Cramer's video segments, visit the Mad Moneypage on CNBC
.
Want more Cramer? Check out Jim's rules and commandments forinvesting from his latest book by
clicking here.
For more of Cramer's insights during the Lightning Round, clickhere
.