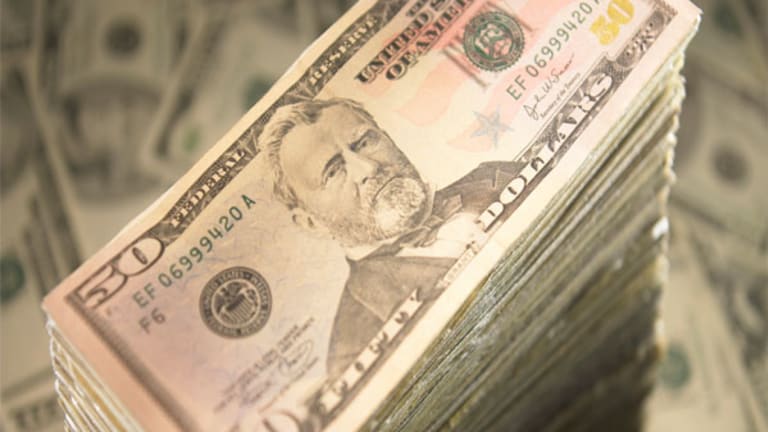 Cramer's 'Mad Money' Recap: Long-Range Themes (Final)
Cramer provides some long-term themes that investors can fall back on when the market gets rough.
Search Jim Cramer's Mad Money trading recommendations using our exclusive Mad Money Stock Screener and watch Jim Cramer's Mad Money Post Game video exclusively on TheStreet.com.
Editor's note: This show last aired on April 18, 2011.
NEW YORK (
) -- Investors need to believe in something and show the confidence to stick with those beliefs no matter how the markets may gyrate, Jim Cramer said on the
on Wednesday.
He said investors must have conviction and then outlined a few long-term trends that investors should cling to for the next several years.
Cramer said he always values flexibility and bring opportunistic in with stocks, but without a world view, a long-term picture of the world, it's just too easy for investors to get shaken out when the next big market correction is upon us. That's why these long-term themes are so important. Investors can use them for years to come.
Theme No. 1: the Global Food Shortage
Cramer said the world's insatiable need for more and better food is not going away anytime soon. Whether it's producing enough grains to feed the world or keeping up with the world's rising middle class that's clamoring for more chicken and steak, it's pretty clear that farming is going to be good business for awhile.
Cramer said the formula for playing the global food shortage is an easy one. Food prices are up, farmers have more money. When farmers have more money, the buy more equipment and plant more seeds. That means stocks like
John Deere
(DE) - Get Deere & Company Report
, a stock which Cramer owns for his charitable trust,
Action Alerts PLUS. and fertilizer giant
Potash
(POT)
are perfect stock picks for the long haul.
Theme No. 2: the Global Energy Shortage
Just like the world needs more food, it's also clearly apparent to anyone who's filled a gas tank recently that the world also needs more energy. With the rising global middle class seeking more and more electricity for their homes, Cramer said investors need to avoid focusing on a single fuel or technology and instead focus in another direction.
Cramer said more important than whether governments subsidize things like solar energy is saving the energy we already produce. One way that's done is with better heating, ventilation and air conditioning systems from companies like
Ingersoll Rand
(IR) - Get Ingersoll Rand Inc. Report
,
Johnson Controls
(JCI) - Get Johnson Controls International plc Report
and
Watsco
(WSO) - Get Watsco, Inc. Report
. With ever increasing energy efficiency standards around the globe, these companies have a bright future.
Another company on the leading edge of saving energy is
Honeywell
(HON) - Get Honeywell International Inc. Report
. This diversified industrial player is a leader in automation and control systems that could cut U.S. energy consumption by 20% to 25%.
Others in the energy saving space are
Emerson Electric
(EMR) - Get Emerson Electric Co. Report
, another Action Alerts PLUS name, and
Eaton
(ETN) - Get Eaton Corp. Plc Report
. Eaton's lighting control systems could shave another 10% to 30% off of energy bills, while Emerson's data center business is helping large computer data centers cut their energy usage by almost 40%.
Theme No. 3: Homeland Security
Cramer's third long-term theme was that of homeland security. He said sadly the threat of terrorism is will be with us for a long time, so we might as well make some money off this enormous defense theme.
Among Cramer's picks in this space were
American Science and Engineering
(ASEI)
, a company that makes X-ray scanners to detect explosives including mobile scanners used in Afghanistan.
Also on Cramer's wish list are
Fortinet
(FTNT) - Get Fortinet, Inc. Report
, a network security play and
Verint
(VRNT) - Get Verint Systems Inc. Report
, a company that makes software used by law enforcement to analyze digital communications.
Cramer also gave the nod to
NICE Systems
(NICE) - Get NICE Ltd. (Israel) Report
, an Israeli company that makes high quality analytics software for video surveillance. Using NICE software, companies or government agencies can automate such arduous tasks as watching for unattended bags in airports or bus stations.
Cramer said the bottom line when it comes to homeland security is that counter-terrorism and network security are big businesses that aren't going away anytime soon. He told investors that these stocks are for the long term, and they shouldn't chase them higher in the open market.
Theme No. 4: Healthy Eating
With over two-thirds of all Americans being overweight and nearly half of them obese, any company that can deliver high-quality food that's delicious and healthy will be in the sweet spot, Cramer said.
According to Cramer, there are a lot of great companies in this space, including
Whole Foods
(WFMI)
,
Hain Celestial
(HAIN) - Get Hain Celestial Group, Inc. Report
and
Panera Bread
(PNRA)
, but one of his absolute favorites remains
Chipotle Mexican Grill
(CMG) - Get Chipotle Mexican Grill, Inc. Report
.
Cramer said the analysts on Wall Street have a hard time discerning a Whole Foods from a
Safeway
(SWY)
or a Chipotle from a
McDonalds
(MCD) - Get McDonald's Corporation Report
, but the fact remains that places that teach people how to eat better are in a class by themselves.
In the case of Chipotle, Cramer said the company's "food with integrity" motto has caught on, which is why customers are willing to pay up for the company's burritos, which are not only tasty, but also healthy.
In the case of Whole Foods and Hain Celestial, Cramer said these two companies have essentially become a healthy food "seal of approval" for consumers. Panera Bread has become another place to get fresh, healthy food, and consumers have taken notice in droves, he said.
Cramer said investors should be willing to pay up for brands like Chipotle, Hain and Panera because they stand for something so much more than just a restaurant or a brand at the grocery store. He said these companies all need to be on investors' long-term shopping list.
Theme No. 5: Precious Metals
Cramer's said it a thousand times: No portfolio is complete without some exposure to gold. He said gold is one of the easiest stories to understand.
Cramer said in a nutshell, it's getting harder and harder to find the shiny stuff at a time when the world is demanding more and more of it. Whether it's the rising middle class wanting to show off their new found wealth, or governments stockpiling the precious metal as a hedge against their devaluing currencies, gold, along with other metals, can easily justify their record-setting prices.
Cramer said gold is an asset class in and of itself, and its increasing scarcity makes it a safe investment for every portfolio.
Cramer once again reminded viewers that there are many ways to invest in gold, from gold bars and bullion, to coins and jewelry, to ETFs like the
SPDR Gold Shares
(GLD) - Get SPDR Gold Shares Report
to the gold mining stocks themselves. Of the latter, Cramer gave the nod to
Goldcorp
(GG)
, along with
Barrick Gold
(ABX)
,
International Tower Hill Mines
(THM) - Get International Tower Hill Mines Ltd. Report
and
Novagold
(NG) - Get Novagold Resources Inc Report
.
Cramer said like the homeland security stocks, there's no need to rush into the gold stocks. Cramer said he would be a buyer on any pullback or weakness in any of these names.
In his conclusion, Cramer said investors don't have to agree with all of the theme's he outlined in today's show. He said what's important is that investors believe in something long-term, and have the conviction to see it through the next time the market sells off. He said if investors are patient and calculating, his shopping list of long-term themes will serve them well.
-- Written by Scott Rutt in Washington D.C.
To watch replays of Cramer's video segments, visit the Mad Moneypage on CNBC
.
Want more Cramer? Check out Jim's rules and commandments forinvesting from his latest book by
clicking here.
For more of Cramer's insights during the Lightning Round, clickhere
.