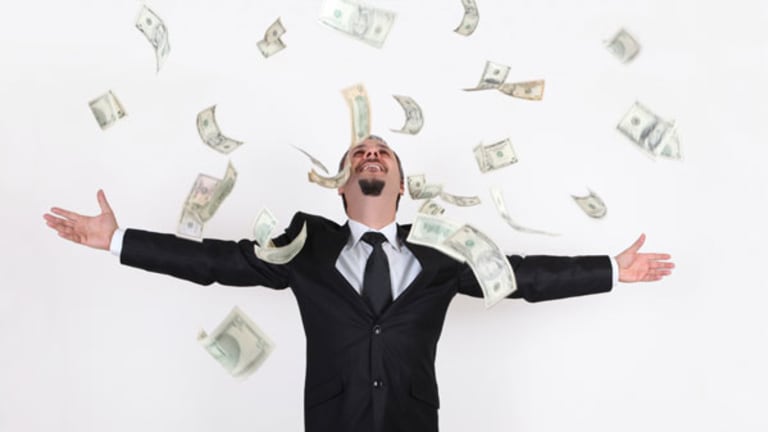 Cramer's 'Mad Money' Recap: June 30
Cramer says investors need to understand what they are doing and why.
Cramer says investors need to understand what they are doing and why.
Click here for an archive of Jim Cramer's Mad Money recaps. Click here to get Jim Cramer's Mad Money Post Game video exclusively on TheStreet.com.
Editor's note: This show last aired on Dec. 26, 2008.
"Investing is all about discipline," Jim Cramer told viewers of his "Mad Money" TV show Tuesday.
He said it's not enough to know which parts of the market are working or which stocks are buys and which ones are sells. The key to successful investing, Cramer said, is to know thyself.
Far too many people invest like gamblers, said Cramer, and not even good gamblers. "Investing isn't a game and it's not random," he said.
Investors need a plan and they need to stick to it. Understanding what you're doing and why is the key. Understanding your own weaknesses and removing emotion from the equation are also crucial, but very hard, skills to master, said Cramer.
Cramer recommended investors be honest about why they're buying certain stocks. Only by having a good understanding of why you think a stock will go up, will you then know when it's time to sell, he said. "Never turn a trade into an investment," he reminded viewers.
"Be honest about your expectations, clear about your plan, and willing to abandon ship the moment those expectations are not met," said Cramer, "then you'll make yourself a lot of money."
Comfort Zone
"Know what kind of investor you are and stay away from stocks that make you uncomfortable," was Cramer's second lesson in knowing thyself. Not all stocks are for everyone, he said, and all stocks are not right for every purpose.
For younger investors, Cramer said its OK to speculate and take more risks. For older investors, income and capital preservation should be on the menu. But that does not mean however, that every young investor should be a risk taker or that every retiree shouldn't speculate.
Speculation, said Cramer, should be a part of every balanced portfolio. He said investors who are able to dedicate one hour per week per stock should speculate with a portion of their portfolios. Sometimes, however, the market tells us not to speculate, he said. Bear markets are one of those times.
So whether it's a slow moving value stock or a volatile growth stock, Cramer said investors should look for stocks that make them comfortable and evaluate them.
Doing the Homework
Once investors know themselves and the types of stocks they should own, Cramer said the next step is to evaluate the companies they own. Rigorous homework is what leads to good judgement, he told viewers. Investors need to make sure the companies they own are viable, he said.
Viable companies, Cramer said, make money and don't have a lot of debt. Companies with a lot of debt can't pay the bills and get into trouble. When that happens, he said, the bond bullies take over and leave shareholders in the dust.
Looking at a company's balance sheet may seem daunting, said Cramer, but try to bring it down to a human level. "If you make $40,000 a year and owe $50,000 a year in interest on your mortgage, you're going to lose your house," he said. The same principles apply to big companies.
Bottom line: Always pay attention to a company's debt and cashflow, he said. Indebted companies, he explained, make bad stocks. The recent string of bank failures and mortgage meltdowns should drive this point home.
The Nitty-Gritty
"What specifically constitutes rigorous homework?" asked Cramer. He got down into the nitty-gritty to explain exactly what investors need to go through if they want to own stocks.
Cramer said investors should never feel like a small fish in a big pond. He said that while there are professional analysts on Wall Street that do homework on stocks all day long, individual investors should not be discouraged.
Regulation FD, passed by the Securities Exchange Commission in 1999, says that any information known about a company has to be made public. This regulation levels the playing field between Wall Street insiders and the rest of us, he said.
To find out everything an investor needs to know, Cramer said they can go to "www.sec.gov" and enter the company's ticker symbol. There, investors will find the company's 10-K annual reports, along with other filings that will explain everything a company does and how well it's been doing.
Cramer said a company's quarterly conference call will shed a lot of light on its operations. On the call, a company's management will field tough questions from analysts and shareholders and offer valuable insight into its business. Cramer said these hour-and-a-half calls may seem long and boring, (but) "there's no excuse not to listen."
Key Metrics
"Not all information is created equal," Cramer told viewer. The key metrics for a company, he said, will vary depending on whether it's a new company or an old one, a cyclical company or a secular company.
When evaluating a company, investors need to consider the industry it's in.
Microsoft
(MSFT) - Get Report
, for example, has very high margins with its Windows operating system due to its virtual monopoly, while grocery stores and airlines have razor thin margins due to their cut throat competition.
Cramer said investors must also consider where a company is secular or cyclical. Secular stocks, like
Coca-Cola
(KO) - Get Report
, aren't as affected by an economic downturn than more traditional cyclical manufacturing companies like
Whirlpool
(WHR) - Get Report
.
Finally, Cramer said investors must also look at how a company compares to its peers in its industry. Every industry, he said, has its own set of key metrics that it's judged by.
In the cable business, the key metric is the enterprise value divided by the total number of subscribers. For hotels, the key figure is the average revenue per room, while for wireless companies its average revenue per user.
Only when investors truly know the companies they own, the industries they're in and the key metrics in those industries will they be able to make good, informed decisions on when to buy and when to sell.
Check out the latest edition of
"Cramer's Take onTop-Searched Stocks" on Stockpickr.
Want more Cramer? Check out Jim's rules and commandments for investing by
.
Read more of Cramer's Mad Money Lightning Round insights
.
For "Mad Money" performance statistics and other links, check out Mad Money stats