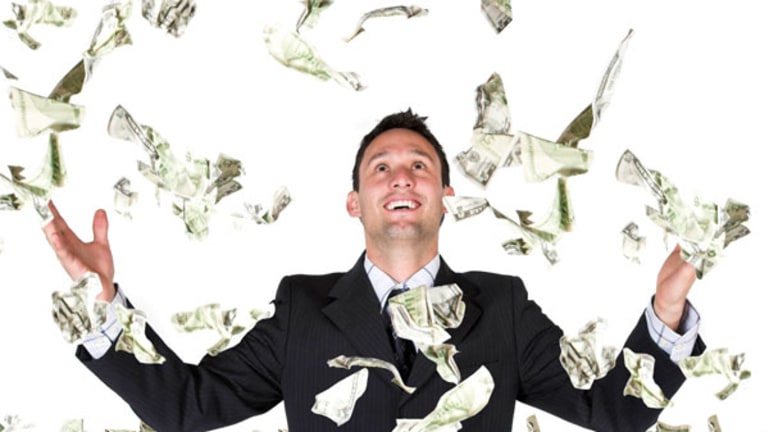 Cramer's 'Mad Money' Recap: Invest Like a Pro (Final)
Cramer discusses some of the lessons he learned about investing from 30 years of trading.
Search Jim Cramer's Mad Money trading recommendations using our exclusive Mad Money Stock Screener and watch Jim Cramer's Mad Money Post Game video exclusively on TheStreet.com.
Editor's note: This recap was last published on Nov. 23, 2011.
NEW YORK (
) -- "You can make more money investing for yourself than you would investing in bonds or index funds," Jim Cramer reminded the viewers of his
TV show Tuesday, as he devoted the entire show to helping home gamers become better investors.
Cramer said ordinary people can become great investors, even if the pundits and market "experts" say otherwise.
Cramer's first lesson for investors is that the market isn't always rational and it doesn't always make sense. He said sometimes we try to find logic and reason where there is none. "The market does some crazy things," he explained, "and when that happens, you want to take advantage of it."
On days when the markets get pummeled, Cramer said there will be tons of stocks that go down for bad reasons. He said that hedge funds, for example, sometimes need to sell their positions to raise cash to meet margin requirements or redemptions. When this happens, stocks move not on their individual fundamentals, but on the fundamentals of the money management business.
Cramer said the worst thing an investor can do is assume that because a stock trades at a certain level, it deserves to be there. "Was it right for oil to trade at $147 a barrel in 2008?" Of course not, he replied. With so many hedge funds gravitating toward the futures markets, "hedge funds gone wild" are having a greater and great impact on how the overall markets react.
The next time everything goes down all at once, Cramer told viewers, don't try and cook up reasons to justify it, just ask yourself if you might be seeing out-of-control hedge funds taking charge.
Buying Broken Stocks
"Buy broken stocks, not broken companies," was Cramer's second lesson to investors. He said that in a serious correction, everything will go down, including a lot of stocks that don't deserve to. But how can investors tell the difference?
Cramer said that every correction has a cause. In 2008, it was mortgage-backed bonds, while in 2011 it was the debate over the debt ceiling and the resulting U.S. debt downgrade. Cramer said investors can look for the companies responsible for the corrections and assume they're probably broken companies.
In 2008, that meant that banks and everything associated with housing and mortgages were bad. In 2011, it meant that any company that would suffer big in another economic slowdown was to be avoided.
Cramer reminded viewers that a company only becomes broken when the reason for liking it goes away, not when the stock price goes lower. The latter case, he said, is a buying opportunity, while the former are the toxic companies that must be avoided at all costs.
Handling Corrections
Cramer's third lesson for investors was an outline of which types of stocks he looks for in a big market pullback.
Cramer said that he first looks for stocks that have recently pulled back from their highs. He said that stocks on the 52-week high list don't get there by accident, and while these names are often seen as expensive, they're probably worth it.
Occasionally, a stock will fall from the 52-week high list for good reasons, such as a missed quarter, but more often it will take a big market correction to rattle these high-fliers and those are the names Cramer said investors should look for.
Second on Cramer's list are stocks with high dividends. He said that dividend stocks aren't sexy like high-growth tech stocks, but in a downturn dividends play an important role. They act as a cushion underneath a falling stock, because as the stock price falls, the dividend yield, the amount the company pays as a percentage of your investment, goes higher. This makes dividend stocks more attractive the more its price declines.
Cramer said his rule of thumb for determining whether a company has a safe dividend that's not at risk of being cut is whether a company earns more than twice the amount of its dividend. If a company's earnings can pay for its dividend twice over, investors probably have a winner.
Caveat on Buybacks
Cramer's next lesson for investors: buybacks. He said that stock buybacks, which are programs where companies buy back their own shares to reduce the share count and thereby boost earnings per share, used to be regarded as a winning strategy.
In fact, between 2005 and 2011, companies in the
S&P 500
spent $2.24 trillion buying back stock, significantly more than the $1.4 trillion spent on dividends.
But unfortunately, Cramer said these programs have not created the value we thought they would. He said the track record post-2009 is getting better, but it's still had to find companies that didn't squander their money buying shares as higher prices, only to see shares sink even further.
Cramer said HMOs like
Aetna
(AET)
and
UnitedHealth Group
(UNH) - Get Report
are among the worst offenders. He said these companies kept dividends small, and instead, bought back shares. Yet the buybacks did nothing to lift share prices and the billions of dollars would have been better spent on dividends.
Cramer said the notion that buybacks help cushion a stock's collapse is false. When the panic starts, the remaining shares will fall just as hard as a larger amount of shares would, he said. In 2008, banks were very active in buying back shares, only to see them plummet towards oblivion.
Cramer said that buybacks by themselves are no reason to own a stock, and in some cases are even reasons to sell it. "they are a false sign of health," he concluded, " and are too often a waste of shareholders' money."
Putting Money to Work
Cramer's final thoughts for investors involved fuel, not the fuel for your car, but the fuel that makes stocks go higher after a big decline.
Cramer said that the fuel stocks run on is investors taking their money off the sidelines and putting it back to work. He said when money is flowing into the markets, mutual funds start buying and whole market gets lifted. It's easy to find groups that can ho higher, he noted, when money's coming in just as companies are turning themselves around. Investors need to buy the dips each time they occur in these situations, he said.
But in the reverse case, when panic is sending money out of the markets, that's when investors need to be cautious, said Cramer. He said there will still be groups that are rising higher, but without new money flowing into the markets, these moves come at the expense of other sectors.
That's why investors will typically see defensive stocks, like
Altria
(MO) - Get Report
and
Pepsico
(PEP) - Get Report
, heading higher when the market declines, as money moves out of other sectors and into these safer names. But Cramer noted that these moves are not sustainable unless the retail investor has signaled the "all clear" by putting more money back to work.
--Written by Scott Rutt in Washington, D.C.
To contact the writer of this article, click here:
Scott Rutt
.
To follow the writer on Twitter, go to
.
To submit a news tip, send an email to:
.
To watch replays of Cramer's video segments, visit the Mad Money page on CNBC
.
Want more Cramer? Check out Jim's rules and commandments for investing from his latest book by
.
For more of Cramer's insights during the Lightning Round, clickhere
.