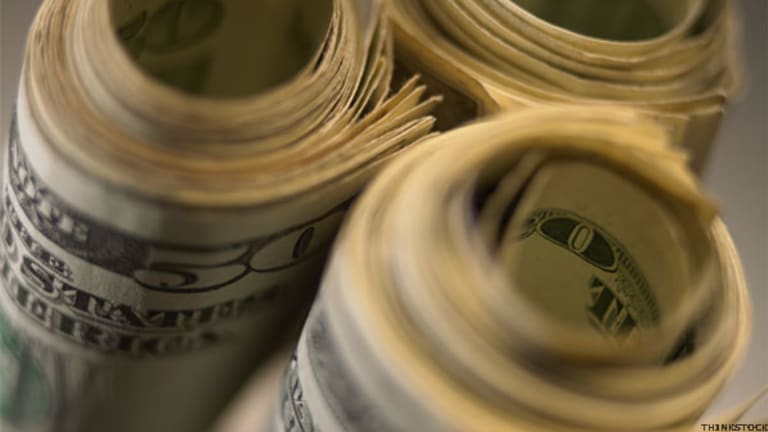 Cramer's 'Mad Money' Recap: Getting Rich Carefully
Over the past five years, Cramer has learned a few things from the market. Here are some of the big ones.
Over the past five years, Cramer has learned a few things from the market. Here are some of the big ones.
Search Jim Cramer's "Mad Money" trading recommendations using our exclusive "Mad Money" Stock Screener.
(This program originally aired on June 24, 2014.)
NEW YORK (TheStreet) -- These are confusing times for the stock market, Jim Cramer told his "Mad Money" audience. There's always somebody telling you to do exactly the opposite of what you should really be doing.
But Cramer said it's not about sounding smart, it's about getting it right -- what to buy, what to sell, what direction the market's headed. "You get those things right, and it's a heck of a lot easier to make money in this or any market," Cramer said.
By doing your homework, "you just might learn something that will make you a better investor," he said, and a better investor is one who makes more money, "because that's the goal here."
Cramer said he and Stephanie Link, the research director of Cramer's charitable portfolio, Action Alerts PLUS, recently went back over every trade AAP made over the last five years.
Here's what Cramer has learned.
Caterpillar (CAT) - Get Report had been going down for weeks on end as analysts raced to cut their estimates ahead of what looked to be a particularly bad quarter, Cramer said. The analysts had turned bearish after CAT's business globally took huge hits because customers were struggling to get credit for new machines. This was at the depth of the Great Recession.
When Caterpillar finally reported, the quarter turned out to be even uglier than the analysts had predicted. But CAT's stock barely reacted to the bad news. "That's a classic sign that you're looking at a bottom," Cramer said. "The worst is over!" CAT roared and then rose.
It may seem counter-intuitive to buy a stock right after the estimates have been slashed, but when you think about it, it actually makes a lot of sense. JPMorgan Chase (JPM) - Get Report is another example of this, Cramer said.
It seemed done for after its "London Whale" trading fiasco of 2012. However, just like Caterpillar in March of 2009, JPMorgan's stock didn't get hit after analysts cut estimates. Instead, it flat-lined and then actually inched up slightly. Once we learned JPMorgan's losses were contained at $6 billion, that was the moment we had to buy, Cramer said. If you did, you rode a huge rally.
Coming Back for Secondaries
Everybody makes a mistake sometimes, Cramer said. But if you want to become a great investor you don't just need to learn from your mistakes, you need to learn how to recognize what your mistakes actually are and notice what works.
"We're full of all sorts of unconscious biases, and that can make it incredibly difficult to learn from experience," Cramer said. Think empirically, he said.

After analyzing the last five years' worth of trades as part of his research for Get Rich Carefully, his latest book, Cramer came to another counterintuitive realization: Stop worrying and learn to love secondary stock offerings.
Cramer said we're all conditioned to believe that when a company issues new stock it's bad news for shareholders. When a company does a secondary, it tends to weigh on the stock for a time. But these days that totally reasonable fear of secondaries is also a mistake, Cramer said, because interest rates are still low by historical standards.
For example, real estate investment trusts have done a huge number of these kinds of secondaries, and those deals have worked fabulously for investors. You can find these deals in all sorts of companies that were hit hard by the housing crash, said Cramer. They're now snapping back, like mortgage insurance companies, a group that had pretty much been left for dead. Cramer mentioned how investors could have made a killing on Radian (RDN) - Get Report if they had listened to his buy call in February.
Cramer also likes the secondary offerings from master limited partnerships, the oil and gas pipeline players that are always issuing stock to finance their expansion plans to crisscross the country with pipelines.
Enterprise Products Partners (EPD) - Get Report , Kinder Morgan Energy Partners (KMP) and MarkWest (MWE) are the best-of-breed players here, and they've become serial issuers of equity to expand their pipeline networks. These companies can be risky if interest rates are rising, Cramer warned, but if rates are stable you should jump all over their secondaries.
The bottom line, Cramer said: Forget the conventional wisdom that says a secondary stock offering always means a company is in trouble.
Know When to Fold 'Em
Like "The Gambler" of song, Cramer has some suggestions for when you should fold your positions or even run. "When it comes to picking stocks, cash is not always king," he said. In fact, if you buy a stock just because it's sitting on a mountain of cash, you could get crushed.
Think about it, Cramer said: What do Cisco (CSCO) - Get Report , Microsoft (MSFT) - Get Report , Oracle (ORCL) - Get Report and Intel (INTC) - Get Report all have in common? People were lulled into buying their stocks at very high levels simply because they had so much cash on their books, as if cash per se is always good news. What really matters is how companies put that cash to work. Cash can been wasted on undisciplined buybacks -- when you see a company doing that, you should pass on its stock and walk away, Cramer said.
Contrast this with one of the best performing stocks in the S&P 500 since the generational bottom in 2009, Wyndham Worldwide (WYN) , run by Steve Holmes, one of the most shareholder-friendly CEOs out there today. Holmes buys back stock aggressively and when it makes a difference, particularly during those ravaging downturns when most other CEOs seem frozen. Holmes thinks it is his duty to return his company's excess cash to the shareholders via dividends, Cramer said. He's the model of what Intel, Microsoft and Cisco need at the helm.
Here's another sign that you should fold. If you own shares in a company that starts blaming its customers for its own poor performance, it's time to walk away.
"I learned this the hard way when my charitable trust decided to buy Juniper Networks (JNPR) - Get Report , the maker of networking and communication equipment, back in 2011," said Cramer. Juniper encountered shortfalls and blamed a lack of Japanese orders in the wake of the tsunami and Fukushimi Daiichi nuclear disaster. But the stock continued to drop. He stuck with Juniper because the company had a ton of cash.
Oops. Juniper's blame-the-customer act was a lame alibi, Cramer said. It turns out Cisco was taking market share the whole time and simply kicking Juniper's butt with a better mousetrap.
There's a pretty simple moral here: When a company blames the customer, check to see whether the customer isn't actually still buying from a different vendor.
Beyond EPS
A huge part of this business is figuring out where a given stock is headed, said Cramer. That isn't always easy. Most stocks, most of the time, trade on their earnings-per-share numbers. When the earnings are headed lower, so is the stock; when the earnings go higher, the stock rallies, too.
But for some industries, earnings are not the most important metric, said Cramer. If the only thing you're watching is the earnings per share, you could end up getting clobbered or missing some fabulous opportunities. Watch the key metrics for everything you own.
For example, Cramer said, when it comes to oil companies, production growth is key. For many tech stocks, it's the average selling price of their products. In these two sectors, those metrics are more important that anything related to beating the earnings estimates. Devon Energy (DVN) - Get Report sagged due to production shortfalls, not earnings per share; Chevron (CVX) - Get Report rallied with lower earnings and higher production growth.
Another mea culpa: Cramer admitted he totally missed the bottom for Micron MU, the semiconductor company that makes memory chips, back at the end of 2012. Micron's stock had been a dog for more than a decade. But then the stock jumped higher. "What did I miss?" Cramer asked.
DRAMs, or dynamic random access memory chips, had a nice bump up in their average selling prices during the quarter. DRAM business had been so horrible for so long that many companies in the industry had simply given up, Cramer said. So supply had become constrained. Micron's been off to the races ever since, more than tripling from December 2012 to December 2013.
One last metric to note, said Cramer: when a company is based in the United States but does a lot of business in emerging markets, particularly China. One of the best buys his charitable trust ever made was picking up Yum! Brands (YUM) - Get Report , the parent of KFC, Taco Bell and Pizza Hut, off a sudden decline in Chinese sales because of a KFC tainted-chicken scandal, Cramer said.

While Yum! is a worldwide outfit, the growth is in China. So when the Chinese KFC division had a shortfall, the stock got clocked, Cramer said. Soon after, Yum! let it be known that its earnings would be slashed as it boosted its Chinese advertising. You had to buy the stock on that shortfall, said Cramer. Not long after, YUM's Chinese business began to turn and the stock headed right back up to its 52-week high. KFC's sales growth in China is more important to Yum!'s stock than the actual reported earnings of the entire chain.
As much as we'd like to keep things simple and just focus on the earnings per share, sometimes the truly important metrics can elude us if we don't keep our eyes on the ball, Cramer said. Anybody who waited for revenue growth to kick in missed the whole move since 2009.
Some so-called experts tell you to wait for revenue to roar, but they've kept you out of some of the best stocks out there, he warned. Earnings are not always all-important.
Let It Ride
Finally, Cramer said, if you have a core holding in your portfolio, a high-quality stock with terrific prospects that you want to own for the long haul, don't sell it at the first little gain or the first sign of turbulence.
If you really have conviction in a stock, you need to let it ride, Cramer said, because it is a core holding and want to own it through thick and thin. If you don't follow through with that, he said, it's almost always a big mistake.
The temptation to take a gain is palpable. It's a difficult task to keep a fabulous stock riding in your portfolio, because you never want to let a gain turn into a loss. If you own a stock and you think it could go up over the next few years, then by all means keep it, Cramer said. But all bets are off if the business starts to deteriorate.
What makes him so sure of this rule? Cramer said his trust rates stocks on a scale of 1 to 4 every week. Those rated 1 are, by and large, meant to be core positions, and he wants as many shares as he can get. However, looking back over the last five years he found it unnerving to see how many of these 1 stocks the trust sold because of short-term market turbulence, only for the stocks to continue roaring ahead.
A core position is what it says it is: something that's integral to your portfolio. It should not be so easily dislodged, he said. Resist the urge to sell your franchise players, no matter how tempting it may be.
To watch replays of Cramer's video segments, visit the Mad Money page on CNBC.
To sign up for Jim Cramer's free Booyah! newsletter with all of his latest articles and videos please click here.
At the time of publication, Cramer's Action Alerts PLUS had a position in MSFT.