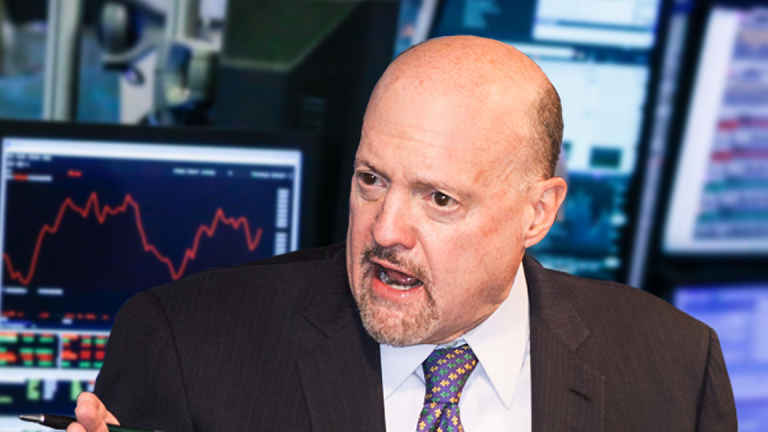 Cramer: Buy Good Stocks Rather Than Sell Them if They Fall Despite Good Earnings
Perfect conditions don't always make for a perfect landing.
Jim Cramer has unveiled his "5 Rules for Trading Stocks During Earnings Season," and Rule No. 3 is a bit counterintuitive -- "Expectations Matter More than Sales or Profits," so be ready to buy good stocks when they fall despite impressive earnings.
Cramer explained his reasoning during an exclusive video-conference call with members of his Action Alerts PLUS club for investors, comparing company earnings to an experience he had aboard the aircraft carrier USS Harry Truman where very fast jets had to land on a very short runway.
"The deck is so darned short and the planes are so huge that it requires the pilot to almost kill the engine to be sure he doesn't overshoot," Cramer recalled. "As the planes would approach, the controller would say 'You're coming in hot, you're coming in hot, you're coming in hot' -- always trying to get the pilot to slow down. But then sometimes he would say: 'You're coming in too hot,' and that meant the plane would have to abort the landing and start all over again.'
"Ladies and gentlemen, there's nothing worse than a stock that comes into earnings season too hot," Cramer said. "And there's no do-over when it does."
Case in point: Salesforce.com (CRM) - Get salesforce.com, inc. Report , which fell from $164 to about $155 despite reporting sales and earnings that on the surface seemed good. Cramer said CRM dropped because the shares had already risen some 20% year to date -- including seven straight winning sessions heading into the earnings report.
"In the context of where the stock was coming from ... Salesforce's stock was definitely way too hot," he said. "When a stock goes down after the company reports, people presume that therefore the numbers or some aspect of the numbers aren't any good. [But] that's like saying the Navy pilots on the USS Harry Truman aren't any good. All that happened is that they came in too hot.
"So, if you see this kind of move coming in one of your stocks, do not freak out if the stock goes down on what looks to be a perfectly good if not great quarter," Cramer said. "And most importantly, be prepared to buy -- not sell."
Want to Hear All of Jim's Private Video-Conference Call?
Sign up for Action Alerts PLUS, Cramer's VIP club for investors, and get instance access to a full replay of his latest call and live access to future calls every month.
Click here for a free 14-day trial.
Watch Jim Cramer's Daily NYSE Show and Replays Below