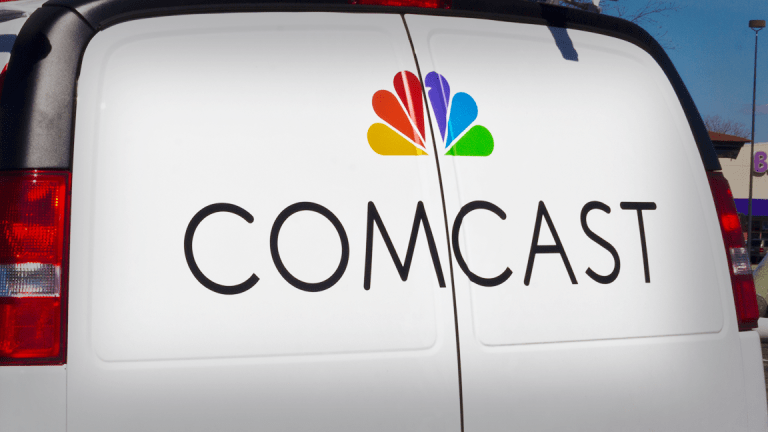 Comcast In Crosshairs in Byron Allen's Supreme Court Discrimination Case
The founder of U.S. television production company Entertainment Studios alleges Comcast conspired to keep African-American owned networks off of its cable systems.
The 2015 discrimination lawsuit from Byron Allen, the founder of U.S. television production company Entertainment Studios, against Comcast (CMCSA) - Get Report is coming to a head as the Supreme Court hears oral arguments in the case Wednesday. 
The original suit brought by the National Association of African-American Owned Media and Entertainment Studios names Comcast, Time Warner Cable and others as defendants in what Allen alleges is racial discrimination in the contracting process against media owned by African-Americans.
The suit alleges that in 2010 while Comcast and NBCUniversal were still in merger talks, Comcast entered into what it termed as "voluntary diversity agreements," or memoranda of understanding (MOUs), with Al Sharpton and the NAACP, among others, in order to provide it cover for its lack of interest in contracting 100% African American-owned media companies. 
The crux of the suit is that Comcast created an unequal "Jim Crow" process for considering licensing contracts with black-owned and white-owned media through the MOU program.
The MOU process, according to Allen's suit, is intrinsically unfair due to the limited number of carriage agreements that can be entered into through that avenue. "By relegating 100% African American-owned media to the MOU/Minority Process, Comcast thereby affords them inferior or no contracting opportunities," Allen's suit alleges. 
Action Alerts PLUS research analyst Zev Fima doesn't believe the case will have much bearing on shares of Comcast. Jim Cramer's Action Alerts PLUS charitable trust owns Comcast in its portfolio.
"Right or wrong, it's really only antitrust investigations that are going to impact the long-term price of shares as antitrust investigations can directly impact a company's business model, especially if it results in a breakup," Fima said. 
"While this case may result in bad PR, it probably won't result in a fundamental shift of the business model. It may seem cold but at the end of the day investors care about sales."
Comcast shares were rising 0.56% Wednesday to $45.49.