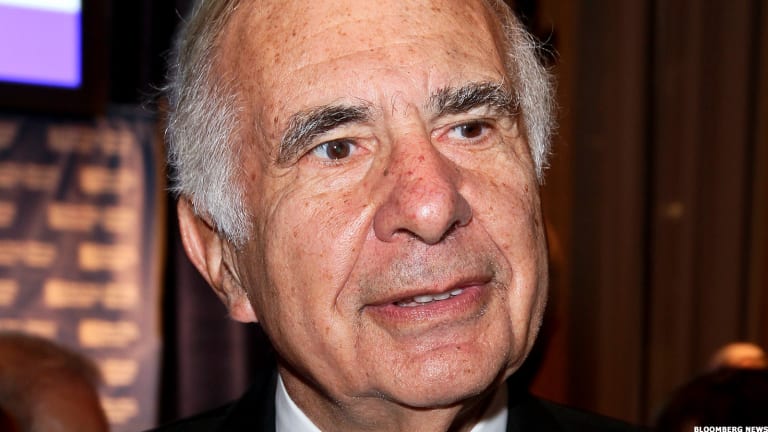 Publish date:
Carl Icahn Sees Apple at $240 -- Should You Be Buying Now?
The CNBC 'Fast Money Halftime' traders take a closer look at Apple following hedge fund manager Carl Icahn's letter and hear Mohamed El-Erian's take on the global economy. 
The CNBC 'Fast Money Halftime' traders take a closer look at Apple following hedge fund manager Carl Icahn's letter and hear Mohamed El-Erian's take on the global economy. 
NEW YORK (TheStreet) -- The S&P 500 is higher Monday and hitting a new 52-week high but CNBC's "Fast Money Halftime" traders are focused on Apple (AAPL) - Get Report. The tech giant's shares are up 1.3% to near $130.50 after hedge fund manager Carl Icahn's open letter to CEO Tim Cook.
Icahn said shares can reach $240 based on higher share buybacks and estimates earnings per share of $12 in 2016. 
Icahn is set on the long term, not the next three to six months, said Joseph Terranova, senior managing director at Virtus Investment Partners. That's why investors should focus on Apple's revenue growth going forward. 
Jim Cramer charitable trust Action Alerts PLUS is long Apple. Click here for more.
Many investors think it will be very hard for Apple to double its share price and market cap, which would climb to $1.5 trillion. However, Josh Brown, CEO and co-founder of Ritholtz Wealth Management, said just because the share price doubles does not mean the market cap does, too. The company can buy back stock as a means of generating a higher stock price and reduce outstanding shares without necessarily boosting the market cap. 
Pete Najarian, co-founder of optionmonster.com and trademonster.com, added that only 20% of iPhone users have upgraded to the iPhone 6 and 6 Plus, meaning the upgrade cycle still has plenty of momentum. China is also still a new market with plenty of opportunities. 
When Apple pulls back, that gives investors a buying opportunity, Najarian reasoned. As for another big tech stock, Alibaba (BABA) - Get Report -- down 1.6% on the day after a lawsuit accusing the company of selling counterfeit products on its Web site -- Najarian says he's a buyer of the stock on a slightly deeper decline. 
The earnings from Alibaba were good but the stock will continue having trouble trading higher until mutual funds become interested in owning the stock for the long term, Terranova said. 
One step in making it more attractive for mutual funds would be for Alibaba to be trading on one of the major U.S. stock averages, Brown added. However, for long-term shareholders who are considering buying the stock, he believes the current price offers a compelling opportunity. 
Mohamed El-Erian, chief economic advisor at Allianz, said the "precarious" situation with Greece seems to be getting worse, he said. But investors have been able to sidestep most of the worries because there is so much cash coming to the market in the form of dividends, buybacks and quantitative easing from global central banks. 
A few years ago, a Greek default could have created a large systemic risk, El-Erian said. Today, that risk is much smaller as European countries and institutions have been preparing for a possibility of that event. U.S. equity markets will most likely be fine in the event of a Greek default, while the euro and European stocks will be "more vulnerable," he said. 
While "kicking the can" down the road works okay with a small country like Greece, it can't be done for the entire global economy, El-Erian explained. Corporations are flush with cash but many are not willing to take on economic risks. At some point, improved fundamentals will be needed to justify higher stock prices, although he did not refer to stocks as overvalued. 
Corporate buybacks tend to boost stock prices but are in a "blackout" period for about two weeks after earnings are reported, Terranova said. It's definitely noticeable when the buyback programs come back to life. 
When interest rates are increased it will make borrowing more expensive, which could curtail the record buyback programs investors are seeing, Brown cautioned. 
This article is commentary by an independent contributor. At the time of publication, the author held no positions in the stocks mentioned.