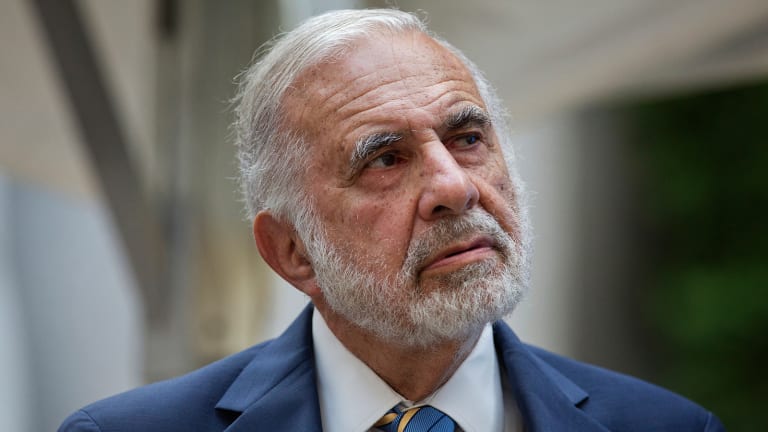 Carl Icahn Forming Super PAC to Push Corporate Tax Reform
The CNBC 'Fast Money' traders get the latest on the Valeant Pharma stock plunge, then hear from Carl Icahn on why he's forming a super PAC focused on corporate taxes.
Biotech stocks are down on Wednesday, with the iShares Biotech ETF (IBB) - Get iShares NASDAQ Biotechnology ETF Report down more than 1%, after falling as much as 2.25%. The decline seems to be outweighing the positive earnings reports from Boeing (BA) - Get Boeing Company Report and General Motors (GM) - Get General Motors Company (GM) Report , as the S&P 500 ETF (SPY) - Get SPDR S&P 500 ETF Trust Report is down 0.4% on the day. 
Of course, not all biotech stocks are weighing down the sector, but rather, one very large stock that is getting walloped. Shares of Valeant Pharmaceuticals (VRX) are down 26% on the day, but fell as much as an eye-popping 40%. As of Wednesday's lows, shares of this hedge fund favorite -- owned by the likes of Bill Ackman, John Paulson and many others -- are down a painful 61% over the past month. 
Sparking today's selloff is a negative report from Citron Research, which assigned a $50 price target on the stock, noting stark similarities to that of Enron. 
Jon Najarian, co-founder of Optionmonster.com and Trademonster.com, pointed out that on Oct. 5, there was massive buying of November $145 puts and a lot of selling in November $190 call options. This in essence created a large -- and now highly profitable -- short trade in Valeant. It could have also been a big investor looking to create a hedge against a large drop. 
Jim Lebenthal, president of Lebenthal Asset Management, admits he's far from an expert on the company, but by looking at Valeant's recent income statements and balance sheets, there doesn't appear to be any channel stuffing, which would indicate potential accounting tricks. 
Hedge fund heavyweight Carl Icahn came on the show, and said he wishes he was short the stock. Nonetheless, he has no position in Valeant. 
Instead, Icahn wanted to talk about corporate tax reform. He announced he will use $150 million of his own money to start a super PAC, urging Congress to make the "no-brainer" decision to allow companies to bring back their overseas cash at a lower tax rate. 
Congress needs to be held responsible for a change -- it doesn't get enough done and much more could be enacted to benefit the country, Icahn argued. There's $2.2 trillion in U.S. dollars outside of the country, just waiting to come back. It's getting to the point where large, short-term shareholders are urging companies to move overseas, Icahn said. 
Icahn, who considers himself a long-term investor with a general time horizon of five to seven years, said it would be horrible for these companies to leave the U.S. Not only would that have negative implications for the economy, but allowing companies to repatriate their overseas cash hoards would help stimulate the economy. 

An 8% to 10% tax rate is much more appropriate, he said, and many companies have indicated they would find that rate acceptable. It would allow for trillions of dollars to come back to the U.S. and get reinvested in the country. (The current top U.S. corporate tax rate is 35%.)
Even if it were paid out in dividends or buybacks, the repatriated cash would be far more beneficial to the typical American than having it sit in a foreign bank account, Icahn argued.
Although Icahn previously stated that financial engineering (such as a share buyback) is not a good thing for many companies, there are some companies that have more than enough cash to fuel a stock buyback plan, one of them being Apple (AAPL) - Get Apple Inc. (AAPL) Report .
Icahn continues to find Apple stock attractive. Is he buying more? He answered, "I certainly haven't sold any."
This article is commentary by an independent contributor. At the time of publication, the author held no positions in the stocks mentioned.