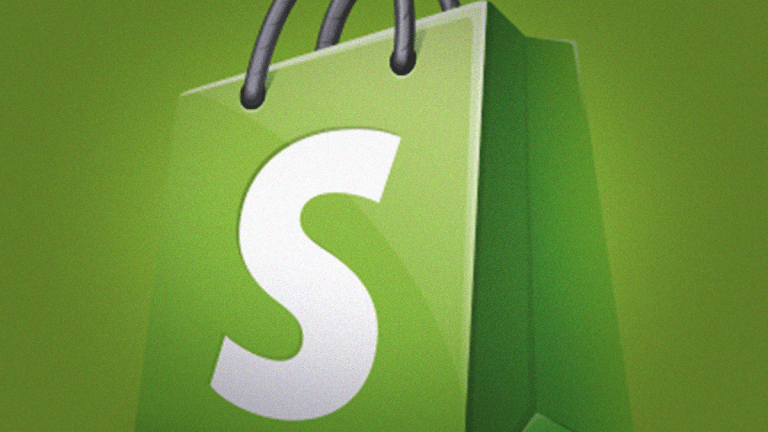 Jim Cramer: Shopify Stock Isn't Overpriced Because It Could Be the Next Amazon
SHOP is up 135% this year, but still could have room to run.
When a company has a 300+ forward price-to-earnings ratio and its market value has more than doubled in a short time period, investors might start to think about trimming. But Jim Cramer believes that online retailer Shopify (SHOP) is just getting warmed up.
"When I think of Shopify, I think of the ultimate e-commerce store for people who want to look like the big boys but can't. Shopify will help you do it -- and even lend you money to get you to the next level," Cramer said during his latest monthly video-conference call with members of his Action Alerts PLUS club for investors.
Cramer used the call to outline how he picks which hot companies with high P/E ratios to buy and which to take a pass on. In Shopify's case, the expert said that he initially "blanched" at the idea of buying SHOP because of its "absurd" P/E ratio -- about 346 on a forward 12-month basis. "I said to myself: 'That's almost like Amazon's valuation a few years ago,'" Cramer said.
That's little surprise given that Shopify shares are up some 135% year to date, giving the company about a $36.4 billion market capitalization. But Cramer said Shopify's market cap -- one of things he looks at closely with high-P/E companies -- isn't out of line given the company's growth potential.
"The market cap of a company with the potential to be the next Amazon (AMZN) is only $35 billion? That's way too small," he said.
In fact, Cramer believes one of the reasons SHOP has rallied so hard thing year is because "it is most likely one of the most-coveted free-standing companies out there. It would be such a natural for Salesforce or Adobe to buy. But this company is not for sale."
Watch Jim's Complete Video-Conference Call
Jim's video-conference call was only available to members of his Action Alerts PLUS club for investors, but you can sign up for a free 14-day trial membership and listen to a full replay.
Club membership includes exclusive access to Cramer's private video-conference calls each month, in which Jim gives his latest market outlook and answers e-mailed questions from club members. Membership also includes lots of other great benefits, including:
A complete rundown of all of stocks that Jim holds his charitable trust;
E-mail alerts that give you a chance to buy or sell any stock before Jim makes a trade for the trust;
Custom research throughout each trading day from Jim and his team of stock-market analysts. You get to see what Jim is watching every market day as he and his team make investment decisions.
Click here to join Action Alerts PLUS today!