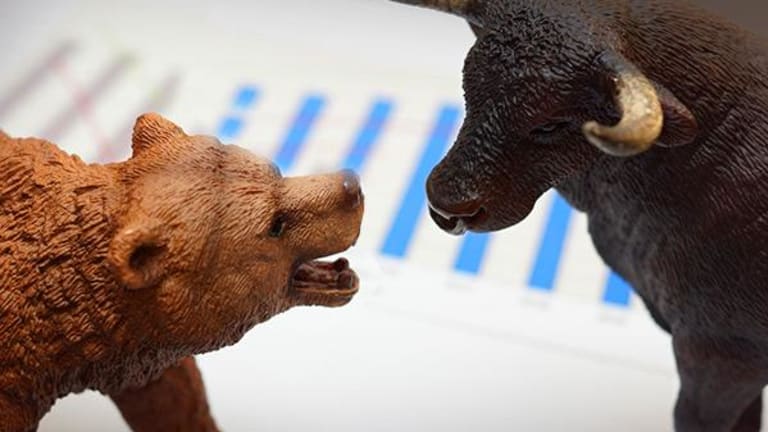 Publish date:
Busting the Shorts : Cramer's 'Mad Money' Recap (Thursday 3/30/17)
This month's resilience in the market has a lot to do with short squeezes in big tech names.
This month's resilience in the market has a lot to do with short squeezes in big tech names.
Stocks notched another gain on Thursday, while the Nasdaq hit another new all-time high, TheStreet's Jim Cramer told his Mad Money viewers. So what's behind the rally? Surprisingly, it could be the short-sellers.
When investors sell stocks short, they are betting on a decline in the stock price. If the stock doesn't decline and instead continues to rally, the short-seller may be forced to close their position by buying the stock at higher prices. When a lot of short sellers do the same, it adds fuel to the rally in a short squeeze. 
Cramer said continued rallies this month in big tech names prove the point. Investors should look at Tesla (TSLA) - Get Report , Amazon (AMZN) - Get Report  and Netflix (NFLX) - Get Report -- all favorites for the shorts at one point. These rallies continue to live on in part because short-sellers are finally throwing in the towel, Cramer said.
Even Apple (AAPL) - Get Report and Facebook (FB) - Get Report have seen shorts betting against them.
The continued rally in stocks has created a storm of panic buying from short-sellers. And while shorts can provide the markets with a service by sniffing out fraudulent companies and working to keep valuations in check, when their bets don't pan out, it can create a wave of buying, Cramer said.
Executive Decision: Lululemon
Shares of Lululemon Athletica (LULU) - Get Report plunged on Thursday, falling 23.4% after the company provided disappointing earnings, revenue and same-store sales guidance. Cramer spoke with CEO Laurent Potdevin to get to the bottom of what went wrong.
It was an incredible fourth quarter and fiscal 2016, Potdevin said. But the first quarter got off on the wrong foot thanks to not having bright enough color selections. The weakness showed up in both online and in-store sales.
However, Potdevin expressed confidence in the company. After changing up the colors and varying the product offerings, Lululemon sales have shown an instant pickup. Drastic steps were needed, but Potdevin reiterated his confidence, saying he expects double-digit earnings and sales growth for the year.
He noted that China has been a very strong market for Lululemon.
The company is expanding its retail footprint at its most profitable stores, while also launching global sales campaigns around the world. Cramer asked if the company is buying back stock and Potdevin told him that Lululemon is doing so.
ConocoPhillips
Shares of ConocoPhillips (COP) - Get Report popped Thursday, climbing 8.8% to $50.00 after it announced it's selling its 50% stake in the Foster Creek Christina Lake partnership to Cenovus Energy (CVE) - Get Report for roughly $14.1 billion. CVE currently owns the other 50% of the property.
This was an excellent move, Cramer said. He explained that by dumping the property, ConocoPhillips will double its three-year stock buyback plan to $6 billion from $3 billion, and reduce its debt by about $7 billion, leaving it with $20 billion.
While these are great uses of cash for ConocoPhillips, it gets better. Because it costs so much to extract such filthy oil, getting rid of this very low-margin business is better for ConocoPhillips. It lowers its overall cost of production and makes it more attractive to shareholders.
Plus, most companies have acknowledged that oil is likely to hang around this $50 level for the next few years, which makes the sale even more attractive, Cramer said.
If investors have shown us anything, it's that they like oil stocks with a low cost of production. They can weather downturns in oil prices and prosper the most when it rallies. This move for ConocoPhillips was great, Cramer said.
Executive Decision Part 2: Honeywell
On the show's second "Executive Decision" segment, Jim Cramer spoke with outgoing Honeywell (HON) - Get Report CEO Dave Cote. Cramer congratulated Cote on a stock that has appreciated 380% during his 15 years at the helm saying he's leaving it in very good shape.
So what led to all those years of outperformance? Cote said it came down to three main things, the first of which was a strong company focus on both short-and long-term goals.
Second, the company was best off not wishing it was better. But actually sizing itself up and looking at what it really was; the good, the bad and the ugly. Only then could they focus on making positive changes.
Finally, culture was important. Honeywell developed its business model to look after its customers, employees and shareholders. The company worked on developing strong portfolios and focusing on improvements.
It was this mindset that allowed Honeywell to make it through the Great Recession. Rather than hunker down and do nothing, the company made short-term sacrifices that paid dividends in the long-term.
As for Honeywell's attempted acquisition of United Technologies near the end of Cote's tenure, he explained that United Technologies had several mismanaged properties that they could have made a lot of money on. The deal never worked out though and it's not the end of the world, Cote said.
Lightning Round: ORI, AMGN, TASR
On the Mad Money Lightning Round, TheStreet's Jim Cramer was bullish on Cullen/Frost Bankers (CFR) - Get Report , NXP Semiconductors (NXPI) - Get Report , Old Republic International (ORI) - Get Report , Amgen (AMGN) - Get Report , Taser International (TASR) and Advanced Micro Devices (AMD) - Get Report .
He was bearish on ProsperityBank (PB) - Get Report and CorbusPharmaceuticals (CRBP) - Get Report .
Am I Diversified
On the show's "Am I Diversified" segment, Cramer took a look at the top five holdings for several viewers' portfolios.
The first viewer's portfolio contained Amazon (AMZN) - Get Report , Ford (F) - Get Report , Allergan (AGN) - Get Report , Kroger (KR) - Get Report and Chesapeake Energy (CHK) - Get Report . Kroger has been down on its luck, Cramer said. Amazon is amazing, while Ford is struggling but has a good yield. An energy and drug stock balance it out, making for a diversified portfolio, even if they're not all of Cramer's favorite picks.
The second viewer's portfolio contained Nvidia (NVDA) - Get Report , Apple (AAPL) - Get Report , Gilead Sciences (GILD) - Get Report , ConocoPhillips (COP) and Chesapeake Energy (CHK) - Get Report . ConocoPhillips had great news Thursday, but it's an overlap with Chesapeake, as is Nvidia with  Apple. This portfolio is not diversified enough, Cramer said. Cramer said to sell Chesapeake and buy Honeywell (HON),  but said it's okay to own both Apple and Nvidia in this case because it's too hard to choose between the two.
The third viewer's portfolio contained Duke Energy (DUK) - Get Report , General Electric (GE) - Get Report , Pfizer (PFE) - Get Report , VF Corp. (VFC) - Get Report and Vodafone (VOD) - Get Report . This portfolio has an above-average yield and Cramer loves that. This a diversified portfolio, he reasoned, although he said Duke is not his top energy pick.
Meanwhile, on Real Money, Cramer says no to Snap (SNAP) - Get Report decisions. Check out his analysis with a free trial subscription to Real Money.
Cramer and the AAP team say "resilience" is the word to characterize this market. Read what they're telling their investment club members about why investors are taking profits and backing away from riskier trades. Get a free trial subscription to Action Alerts PLUS.
This article is being updated. Please refresh for the latest version.
Search Jim Cramer's "Mad Money" trading recommendations using our exclusive "Mad Money" Stock Screener.
To watch replays of Cramer's video segments, visit the Mad Money page on CNBC.
To sign up for Jim Cramer's free Booyah! newsletter with all of his latest articles and videos please click here.
At the time of publication, Cramer's Action Alerts PLUS portfolio was long AAPL, GE, AGN NXPI and FB.