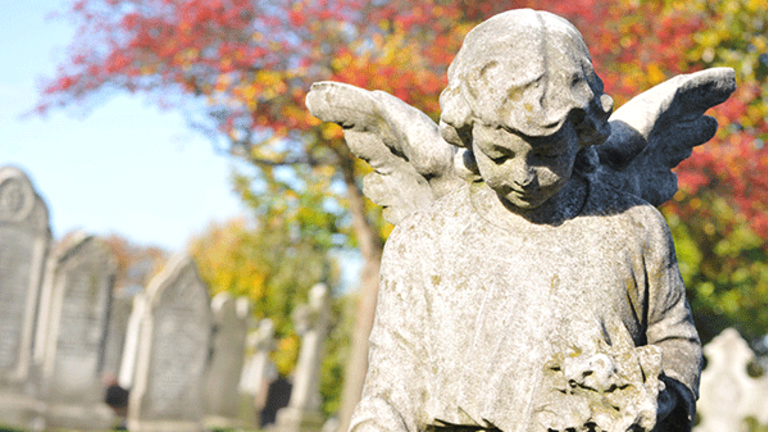 Bull's Death Is Greatly Exaggerated: Cramer's 'Mad Money' Recap (Tuesday 6/20/17)
The real exaggeration, says Jim Cramer, may be the influence of the bond market. But you can't ignore bonds, either.
Every day is the last day for the bull. At least, that's what you hear if you listen to the commentators, Jim Cramer told his Mad Money viewers Tuesday.
Many of these pundits still hold to the mantra that stocks are controlled by the bond market, and the 10-year Treasury is signaling that there's trouble ahead.
Cramer said for most of his career, he's been paying attention to bonds. After all, the bond market is far bigger than the stock market and they've been right far more than they've been wrong over the years.
But in today's market, the tried-and-true tie between what the 10-year Treasury tells you and reality is starting to diverge.
That's because the oil prices, for example, are no longer driven by demand. Lower oil prices doesn't mean the U.S. economy is slowing, far from it. It means that U.S. supply is overwhelming demand.
And what do bonds think of the Amazon (AMZN) - Get Report and it's disruptive pricing that creates deflation everywhere it operates? There simply is no corollary for what Amazon has been able to accomplish.
The problem with believing the doom and gloom the bond market predicts is that it doesn't take into account the earnings surprises we saw today from the likes of FedEx (FDX) - Get Report or Adobe Systems (ADBE) - Get Report , or a host of other tech names.
So while you can't ignore the bond market, you must not be enslaved by it either, Cramer concluded, because it will keep you out of some real winners.
On Real Money, Cramer adds that bonds may be boring, but you need to understand them. Get more on his insights and a free trial subscription to Real Money.
Executive Exclusive: IBM's Ginni Rometty 
For his "Executive Decision" segment, Cramer sat down with Ginni Rometty, chairman, president and CEO of IBM (IBM) - Get Report , to discuss her company's transformation and her recent visit to the White House.
Rometty said that this week's meeting in Washington was one in a series discussing modernizing the government's IT infrastructure and also about educating the next generation of IT professionals.
She said actions are being taken along the second front to expand apprenticeships and also to consider a six-year high school curriculum.
Turning to the topic of IBM, Rometty said that what's great about her company is that it's reinvented itself multiple times throughout its history and its in the middle of doing it again, focusing this time on the cloud and cognitive technologies like Watson.
She said IBM knows how the world works and can help businesses change to meet modern challenges. Nearly half of IBM's workforce is now millennials, Rometty added, and they're all focused on modernizing the work that needs to be done.
The cloud is an important part of where we're going, Rometty continued, but 80% of the world's information isn't in the cloud, it's proprietary. IBM has the expertise to access that information and use for companies to go on the offensive.
Cramer asked about some of IBM's up and coming technologies. Rometty said that the key to technology is not just having it, but also having the know-how to do something with it.
IBM is leading the nation in patents filed, receiving 8,088 new patents in 2016 alone. Some of those IBM develops, Rometty said, while others they license to others to develop.
One of those technologies is block chain, which Rometty described as the technology to exchange information in a trusted environment. Bitcoin is an example of block chain, she said, but the technology goes far beyond. What the internet was for communications, block chain will be for trusted communications. IBM is already deploying the technology for things like food safety, cargo shipping and other applications.
Finally, when asked what motivates her to do such a challenging job, Rometty said that talking to IBM's clients provides all the motivation she needs, especially in areas like healthcare, where Watson is helping to diagnose cancer patients and map the human genome.
Off the Charts
In the "Off The Charts" segment, Cramer checked in with colleague Larry Williams to learn more about the decennial market cycle, a theory that stocks move in 10-year patterns.
According to decennial theory, stocks move higher in years ending in three, seven and 10, but lower in years ending in five, eight and nine. To illustrate the pattern, Williams looked at a daily chart of the Dow Jones Industrial Average as compared to the Decennial Years Forecast.
Based on the chart, the market is due for a short-term pullback, likely next week, but will resume higher throughout July before beginning a sizable decline that could last into November. Williams noted that decennial theory offers timing, but not magnitude, thus these pullbacks may be mild and are not indicative of a bear market of recession looming.
Looking at a chart of last year's correlation however is striking. The Dow followed the predicted path rather remarkably.
For an in-depth look at this segment, read 10-Year Pattern Suggests Stocks Face a Long, Hot Summer.
Cramer and the AAP team are telling their investment club members that TJ Maxx (TJX) - Get Report is feasting on the remains of Macy's (M) - Get Report and J.C. Penney (JCP) - Get Report , so buy the stock. Read more and get a free trial subscription to Action Alerts PLUS.
Lightning Round
In the Lightning Round, Cramer was bullish on AK Steel Holding (AKS) - Get Report , Nucor (NUE) - Get Report and Cara Therapeutics (CARA) - Get Report .
Cramer was bearish on Smart & Final Stores (SFS) - Get Report and SemGroup (SEMG) - Get Report .
Executive Decision: Wix.com
In his second "Executive Decision" segment, Cramer again sat down with Avishai Abrahami, co-founder and CEO of Wix.com (WIX) - Get Report , the web hosting provider with shares that have rallied 58% so far in 2017.
Abrahami said that millions of business still aren't on the web, which is why Wix has been able to add two million new users a month to their service. Wix also offers search engine services and Abrahami said that 65% of users who complete the recommendations end up on the first page of Google for their respective search terms.
Wix, in turn, makes its money from premium services, like eCommerce and other business tools. The company is also offering solutions for businesses to talk with their customers and just launched new video initiatives that allow users to charge subscriptions for video content.
Search Jim Cramer's "Mad Money" trading recommendations using our exclusive "Mad Money" Stock Screener.
To watch replays of Cramer's video segments, visit the Mad Money page on CNBC.
To sign up for Jim Cramer's free Booyah! newsletter with all of his latest articles and videos please click here.
At the time of publication, Cramer's Action Alerts PLUS had a position in TJX, ADBE, NUE.