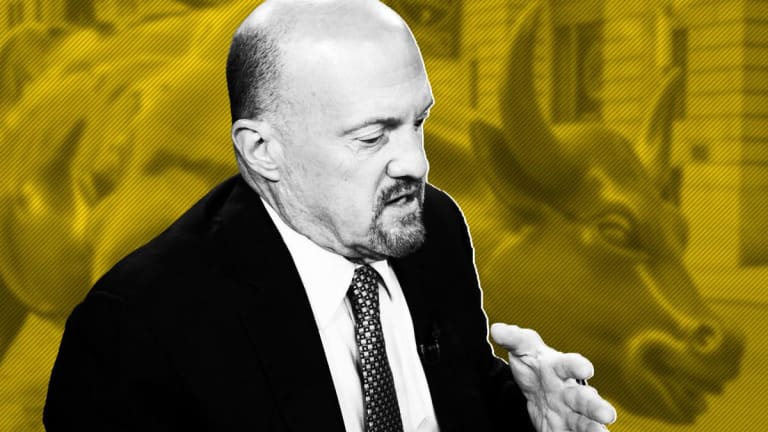 Building Economic Strength: Cramer's 'Mad Money' Recap (Tuesday 8/20/19)
Jim Cramer says if you want to see the U.S. economy's strength, look to Home Depot, where the consumer's confidence and influence remains healthy.
If you want a read on the true state of our economy, stop listening to macro trends and start listening to Home Depot (HD) , Jim Cramer told Mad Money viewers Tuesday. Home Depot is the prefect microcosm of economic demand, Cramer noted, and the company had a lot to say this quarter.
Home Depot delivered blockbuster earnings this quarter, and the company confirmed on its conference call that the consumer is alive and well and spending continues to rise. Cramer said this news runs in the face of the bears who forecast doom and gloom from an inverted yield curve.
Home Depot also noted that the economic recovery that began many years ago has been slower than those in the past, indicating the bull has the potential to stick around for awhile longer.
Not all was rosy on the conference call however. Company management acknowledged that the consumer is beginning to lose confidence as the impact of tariffs begins to take hold.
That's why Cramer said now may the the right time for President Trump to strike a deal, as the U.S. remains in a much stronger position than the Chinese. He said the Chinese need a deal more than we do, which is a great position to be in.
Home Depot is not alone, Cramer concluded. We've seen strong earnings from other retailers as well, including Walmart (WMT) and Costco (COST) , both of which serve as a reminder that you can't just trade on headlines alone, you must listen to what companies are actually telling you.
Cramer and the AAP team say Home Depot nailed adjusted earnings in the second quarter.
Estee Lauder 
Some companies may complain about our current economic environment, but the real champions are winning. That's how shares of Estee Lauder (EL) have been able to rally 11.8% in just the past week.
Cramer said Estee Lauder is not a company that sits still. They listen intently to their customers and to their employees, which helps them to anticipate changes. Estee Lauder was one of only a few companies that saw customers shifting away from department stores to specialty retailers and online. The company pivoted early and continued to innovate, keeping customers happy in the process.
Individual investors are not hedge funds, Cramer reminded viewers, and that's why they shouldn't try and trade market rotations like those we've seen recently. Instead, Cramer advised, they should find high quality companies like Estee Lauder, and stick with them. 
On Real Money, Cramer says Estee Lauder takes risks, out-executes and is defying gravity. 
IAC/Interactive 
Sometimes, all it takes is simple arithmetic to spot real value in the stock market, Cramer told viewers, and that's certainly the case with long-time Cramer favorite IAC/Interactive (IAC) .
Shares of IAC are up 38% for year, but that number doesn't tell the whole story. That's because the company owns stakes in both Match (MTCH) and ANGI Homeservices (ANGI) , two former business units the company spun off in recent years. Adding up the combined value of all three companies, investors have gained 270% in just the past five years.
So how does the math add up? IAC's stake in Match is valued at $18.7 billion. It's stake in ANGI, $3.5 billion, for a total of $22.1 billion. IAC's current valuation is just $21.3 billion and that's not even taking into account its $1 billion in cash.
Cramer said buying shares of IAC is a no brainer. The company's remaining brands, including Ask.com, Dictionary.com, Vimeo, Turo and more all represent incredible value and should certainly be valued a lot more than zero.
Alteryx 
Investors looking for companies with growth that can transcend a global economic slowdown should look no further than business analytics provider Alteryx (AYX) , Cramer told viewers. This stock is up 128% so far in 2019 and has given shareholders a 760% return since its 2017 debut.
The Alteryx story is simple, Cramer explained. Companies are generating more data than ever before from more sources than ever before. Alteryx helps them prepare and organize that data for analysis, something that used to take teams of people to do.
Alteryx is not only seeing strong revenue growth, it's experiencing the holy grail on Wall Street, accelerating revenue growth. Add to that recent acquisitions in the space, like Salesforce.com (CRM) snapping up Tableau Software (DATA) and it's easy to see why investors are valuing shares at 17 times sales.
But for as attractive as Alteryx is, Cramer said 17 times sales is simply too high. That's why he recommended investors add Alteryx to their shopping list for the next marketwide selloff. 
Am I Diversified?
In the "Am I Diversified" segment, Cramer spoke with callers and responded to tweets sent via Twitter to @JimCramer to see if investors' portfolios have what it takes for today's markets.
The first portfolio included Bank of America (BAC) , Bristol-Myers Squibb (BMY) , Walt Disney (DIS) , Uber (UBER) and Waste Management (WM) .
Cramer said this portfolio has perfect diversification.
The second portfolio's top holdings included Ford (F) , Cedar Fair (FUN) , GlaxoSmithKline  (GSK) , Kohl's Stores (KSS) and AT&T (T) .
Cramer said this portfolio was also perfectly diversified and paid a terrific yield.
The third portfolio had Advanced Micro Devices (AMD) , AT&T (T) , Target (TGT) , Medical Property Trust (MPW) and Pollo Loco (LOCO) . as its top five stocks.
Cramer said Pollo Loco was speculative, but otherwise this portfolio too had proper diversification.
The final portfolio's top stocks were Amazon (AMZN) , Mastercard (MA) , Boeing (BA) , AT&T (T) and Apple (AAPL) .
Cramer said even with a challenged Boeing, he blessed this portfolio as diversified. 
Lightning Round
In the Lightning Round, Cramer was bullish on Select Medical Holdings (SEM) and Okta (OKTA) .
Cramer was bearish on B&G Foods (BGS) , Eidos Therapeutics (EIDX) and Canopy Growth (CGC) .
Search Jim Cramer's "Mad Money" trading recommendations using our exclusive "Mad Money" Stock Screener.
To watch replays of Cramer's video segments, visit the Mad Money page on CNBC.
To sign up for Jim Cramer's free Booyah! newsletter with all of his latest articles and videos please click here.
At the time of publication, Cramer's Action Alerts PLUS had a position in HD, CRM, DIS, KSS, AAPL.