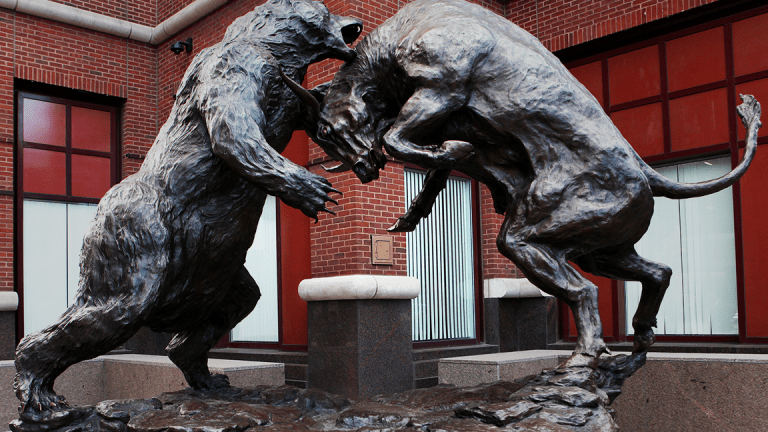 Publish date:
Behind the Selloff: Cramer's 'Mad Money' Recap (Thursday 10/11/18)
Jim Cramer's big takeaways? From cars and homebuilders to chips, he sees pockets of dramatic slowing.
Jim Cramer's big takeaways? From cars and homebuilders to chips, he sees pockets of dramatic slowing.
No, the Federal Reserve hasn't gone crazy, it's just gone lazy, Jim Cramer told his Mad Money viewers Thursday, after another huge selloff in the markets. Cramer said there are two ways to look at the economy. You can take a macro (top-down) approach, or a micro (bottom-up) approach. The Fed is clearly in the macro camp, determining that tax cuts and deregulation has created an economy that can easily absorb several, lock-step rate hikes.
But after talking to countless CEOs, Cramer said while that sentiment was true, it simply isn't anymore. In fact, he's compiled a list of everything that's already peaked and has begun to slow.
First is autos, as PPG Industries (PPG) - Get Report told us earlier this week. Second is housing, as Lennar (LEN) - Get Report pointed out. Third is semiconductors, with Micron (MU) - Get Report warning of softness. And fourth is packaging materials, like cardboard for all those Amazon (AMZN) - Get Report packages.
Beyond those, Cramer said he's seeing slowness in chemicals, oil and the rails. Luxury goods are getting crimped, thanks to China and tariffs. Even retail could soon be dealt a blow by the imminent bankruptcy of Sears Holdings (SHLD) .
Cramer said the Fed has access to all of the same CEOs that he does, they're just choosing not to do their homework. It was this same lack of rigor that led to the financial crisis in 2007, he noted. Hopefully this time the Fed pays attention. 
Cramer and the AAP team have updates to their portfolio and the bullpen, including Apple (AAPL) - Get Report and Textron (TXT) - Get Report . Find out what they're telling their investment club members and get in on the conversation with a free trial subscription to Action Alerts PLUS.
Tech Stocks to Consider 
The selloff in technology has been swift and brutal, Cramer admitted to viewers. But fortunately, Cramer knows why it's happening and has a plan for what to do next. He said there are three reasons why tech is getting hit especially hard. First, it's October, the time money managers typically lock in gains on their biggest winners. Second, investors are now worried about inflation, and inflation means the future earnings of growth stocks are worth less. Finally, Cramer said the bundling of tech stocks into ETFs means all tech stocks trade together, even if they shouldn't.
There is hope, however. Cramer identified seven stocks he said are so far in the red, they're worth buying on continued weakness. Those stocks were Autodesk (ADSK) - Get Report , IDEXX Laboratories (IDXX) - Get Report , Amazon, Take-Two Interactive (TTWO) - Get Report , Intuitive Surgical (ISRG) - Get Report , Expedia (EXPE) - Get Report and Intuit (INTU) - Get Report .
Why these companies? Cramer said it's because all of them recently reported strong earnings and we know things are going well. There is no guessing. Investors just need to wait for these names to come down to a price they're willing to pay and start buying. 
Over on Real Money, Cramer says this selloff is driven by naked fear. Get more of his insights with a free trial subscription to Real Money.
Selloff Strategies 
In his "Selloff Strategies" segment, Cramer took calls from Cramerica to help individual investors.
The first caller saw her portfolio decline by 20%, but needs money for a down payment on a home within the next year. Cramer said he'd wait for the market to bounce, then take some money out of the market given the short time frame. If the money was needed five years from now, he'd ride it out, but not for 12 months or less.
The second caller had taken that advice and had money ready to be reinvested. His question, how do you find the bottom and get back into the market? Cramer said the key has always been to be patient. Buy stocks slowly and in small increments. You'll never time it right with just one big trade.
The third caller asked whether consumer staple stocks would be a safe place to invest. Cramer said while he likes Procter & Gamble (PG) - Get Report and Clorox (CLX) - Get Report , their dividends are not big enough to protect them. He advised investing in drug stocks before taking a chance on the consumer staples.
Executive Decision: International Flavors and Fragrances 
For his "Executive Decision" segment, Cramer spoke with Andreas Fibig, chairman and CEO of International Flavors & Fragrances (IFF) - Get Report , a company Cramer said investors should consider in a volatile environment.
Fibig said thank to his company's recent acquisitions, IFF now has the largest and broadest base of customers, totaling over 30,000 worldwide. He said the opportunities to grow and cross-sell their growing product portfolio remain very strong.
IFF has become an expect in identifying and capitalizing on regional and local flavors and fragrances, something that no other company can provide. That's part f how they deliver their great performance year after year. The company is also expanding in areas like cosmetics, which is now one of their fastest growing segments.
When asked about commodity prices, Fibig said it's a mixed bag. While some commodities are seeing price increases, others, like vanilla, are actually decreasing in price.
Cramer said he remains a fan of IFF.
No-Huddle Offense 
In his "No-Huddle Offense" segment, Cramer said the Federal Reserve doesn't need to act on inflation, because the economy is taking care of itself.
It may seem hard to believe, but markets can indeed be self-regulating. Just look at oil. As prices rose, demand for oil fell, and prices are now beginning to fall. The Consumer Price Index rose by just 0.1%, which shows us that tariffs and our growing labor shortage isn't as bad as many fear.
Speaking of labor, Cramer said the labor shortage may only be temporary if Sears closes its doors on Monday and puts 80,000 people out of work. Technology will also continue to make labor more efficient, so we need fewer workers.
Even in housing, we're seeing a cooling in high-end residential, the very segment that's seen the biggest price gains as of late.
Add it all together and Cramer said the Fed really doesn't need to act, and certainly doesn't need to act aggressively. 
Lightning Round
In the Lightning Round, Cramer was bullish on Verizon (VZ) - Get Report , AT&T (T) - Get Report , ONE Gas (OGS) - Get Report , Dominion Energy (D) - Get Report , American Electric Power (AEP) - Get Report , CVS Health (CVS) - Get Report and Walgreens Boots Alliance (WBA) - Get Report .
Cramer was bearish on Arconic (ARNC) - Get Report , Vodafone Group (VOD) - Get Report and Optinose (OPTN) - Get Report .
Search Jim Cramer's "Mad Money" trading recommendations using our exclusive "Mad Money" Stock Screener.
To watch replays of Cramer's video segments, visit the Mad Money page on CNBC.
To sign up for Jim Cramer's free Booyah! newsletter with all of his latest articles and videos please click here.
At the time of publication, Cramer's Action Alerts PLUS had a position in AAPL, TXT, AMZN.