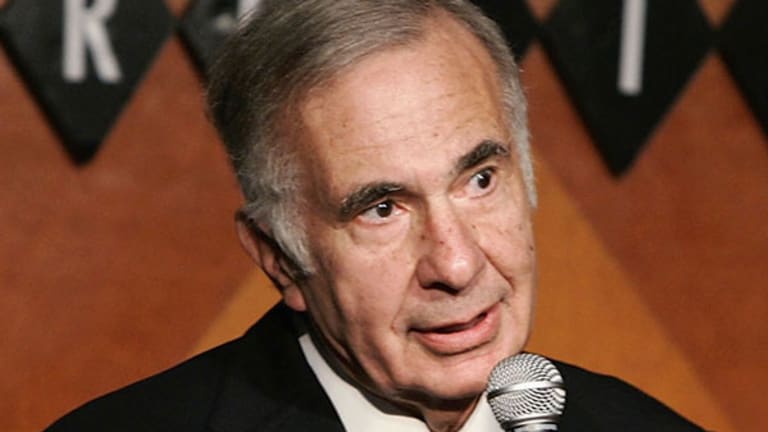 Apple Earnings Continue to Make Markets, Carl Icahn Very Happy
The CNBC 'Fast Money Halftime' trading panel took a look at Apple and spoke with Carl Icahn.
NEW YORK (TheStreet) -- Did anyone think Wednesday's episode of CNBC's "Fast Money Halftime" show wouldn't kick off with Apple (AAPL) - Get Apple Inc. (AAPL) Report ? Shares of the largest market-capitalization company in the world are up 7.5%, after the company topped earnings-per-share and revenue estimates after selling 74.5 million iPhones in its most recent quarter. 
Despite that, some investors continue to look for a reason to sell the stock, according to Joseph Terranova, chief market strategist for Virtus Investment Partners. But this story is "so easy," he added, advising investors to just own the stock instead of trying to trade it. There will be at least one more quarter with very strong iPhone results. 
Apple is one of the few stocks investors can simply buy and "put away," said Stephen Weiss, founder and managing partner of Short Hills Capital Partners LLC. The company continues to perform well, has a strong balance sheet and has an iconic global brand. Plus, this is just the beginning of its opportunities in China. 
According to Pete Najarian, co-founder of optionmonster.com and trademonster.com, 65% of Apple's revenue now comes from international markets. Margins are expanding, thanks in part to the higher price of the larger-screen iPhone. Apple Pay and Services will be catalysts to drive the stock higher. 
There's still "plenty of runway for this story," Alex Gauna, an analyst at JMP Securities, said about Apple. The company still has plenty of opportunity to take global smartphone market share, and to increase its presence in the Internet Of Things market. Apple Pay continues its rapid growth and its cash flows are enormous. The stock is a buy, he concluded. 
Also happy about the Apple results is hedge fund manager Carl Icahn, who joined the show with his son Brett Icahn and David Schechter, co-managers of the firm's Sargon Portfolio.
Every decade, a few opportunities like Apple come along, Icahn said. In October, he and his firm reasoned that shares were undervalued and could climb to $200. He stuck by that call on Wednesday and even suggested that a higher price target may be warranted in the future. Although the buyback is already quite large, he suggested that Apple should increase its buyback, since it has $178 billion in cash. The valuation remains far too low. 
Brett Icahn, who's "baffled" by the low valuation, said Apple should buy back more stock, not only because it has so much cash but also because the company continues to generate so much money each quarter. 
Schechter agreed, adding that Apple can increase earnings per share by 30% in 2016 and 2017, making its current valuation of 10 times 2015 earnings far too low.
Shares of Yahoo! (YHOO) are also higher on Wednesday, following the company's earnings report. The best move for Yahoo! would be to sell the company, Weiss said. A majority of the hedge fund managers he's spoken to believes that would be the best-case scenario. Terranova agreed. 
Eric Jackson, founder and managing partner of Ironfire Capital and a TheStreet contributor, was also a guest on Tuesday's show. He had called for a tax-free spinoff of Alibaba (BABA) - Get Alibaba Group Holding Ltd. Sponsored ADR Report  . Yahoo! management delivered exactly that, but shares were higher by only 1.5% on Wednesday. 
The company's actual earnings results were "lousy," Jackson said, but the Alibaba spinoff is great news for shareholders. The stock has $5 to $6 per share of upside in the next few weeks, he reasoned, as investors start to realize the implication of this value-adding decision. The stock has potential upside all the way to $80 by year's end. 
Mark Mahaney, an analyst at RBC Capital Markets, said expectations are high headed into Facebook's (FB) - Get Facebook, Inc. Class A Report earnings report, scheduled to be released after the close on Wednesday. He prefers Amazon (AMZN) - Get Amazon.com, Inc. Report and Google (GOOGL) - Get Alphabet Inc. Class A Report on the long side. Alibaba should do well, but the stock can see some resistance because of lockup expirations in March.
Facebook is a "juggernaut," and Weiss says he likes it on the long side. Expectations don't seem to be too high, given how the stock has traded during the previous couple months, he reasoned. Terranova and Najarian agreed.
For their final trades, Weiss is buying AbbVie (ABBV) - Get AbbVie, Inc. Report , Terranova is a buyer of PerkinElmer (PKI) - Get PerkinElmer, Inc. Report  and Najarian said to buy CSX Corp. (CSX) - Get CSX Corporation Report . 
-- Written by Bret Kenwell