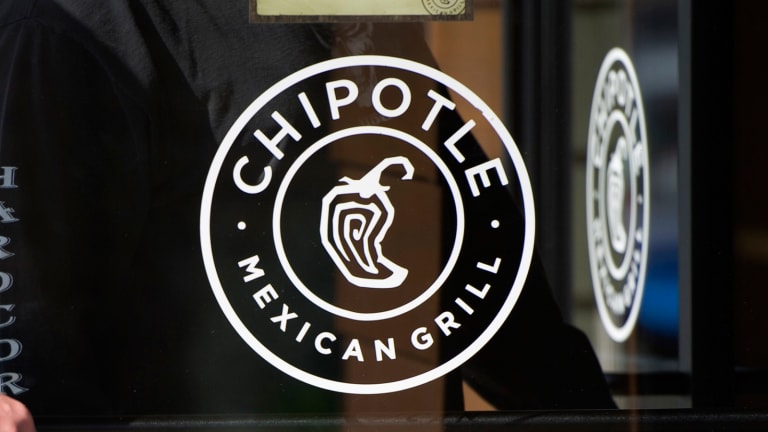 Allergan, Pfizer Lower Despite Merger; Time to Buy Chipotle?
The CNBC 'Fast Money' traders dissect the $160 billion Pfizer-Allergan merger, then discuss whether it's time to buy stock in Chipotle Mexican Grill.
Although Allergan (AGN) - Get Allergan plc Report and Pfizer (PFE) - Get Pfizer Inc. Report announced that they have agreed on terms for a merger, shares of both companies are down around 2% on the day. 
Allergan CEO Brent Saunders will become COO, while Pfizer CEO Ian Read will become CEO of the combined entity. The $160 billion deal values Allergan at roughly $360 per share. The deal is planed to go through in the second half of 2016. 
On CNBC's "Fast Money Halftime" show, Pete Najarian, co-founder of Optionmonster.com and trademonster.com, said he has owned shares of Pfizer for years. This deal is not a short-term catalyst to buy the stock, he said, but it is a long-term value creator. But it's surprising that shares are down on the day, he said, with Allergan currently trading around $302. 
Allergan has a very strong pipeline too, Najarian said, so the deal makes a lot of sense for Pfizer in the long term. Still, he said, most media outlets and investors are likely to focus on the inversion move and tax consequences. 
U.S. Treasury secretary Jack Lew can complain about the inversion deal, but he can't really do anything about it, said Jon Najarian, co-founder of Optionmonster.com and Trademonster.com, who added that the deal is likely to be approved by regulators. 
Sarat Sethi, managing director at Douglas C. Lane & Associates, said many pharmaceutical and biopharmaceutical companies are being forced into M&A to cut costs and grow earnings. In this case, Pfizer improves its distribution and has an improved balance sheet too, Sethi said. 
Joseph Terranova, senior managing director at Virtus Investment Partners, also likes Pfizer for the long term, adding that the company can split up its businesses in the future to create more value. The $160 billion deal drives total mergers and acquisitions value up to $3.42 trillion in 2015, he said, the biggest year ever. 
Although M&A in 2015 has eclipsed the biggest previous year, 2007, Terranova says investors should not expect another 2008. He also pointed out that investment banks -- like JPMorgan (JPM) - Get JPMorgan Chase & Co. Report , Goldman Sachs (GS) - Get Goldman Sachs Group, Inc. Report and Morgan Stanley (MS) - Get Morgan Stanley Report -- are benefiting from the fees generated from M&A. 
Turning to the broader market, Luciano Siracusano, chief investment strategist at WisdomTree, started to look toward 2016 -- an open election year. In a normal year, there's a roughly 1-in-4 chance of stocks declining, but in an open election year, those odds climb to roughly 1-in-2, he explained.
It'll just be another hurdle for investors to climb next year, Siracusano said. Growth stocks have been outperforming value stocks, and he expects that trend to continue. The risk would be in a valuation contraction to the earnings multiples for these stocks, he added. 
With the European Central Bank meeting on Dec. 3, there is a chance for more quantitative easing, Siracusano said. That's pressuring the euro, adding to the bull case for more upside in the U.S. dollar.
Sethi said investors should be careful with momentum stocks, as they tend to trade in sync with one another. If one of them disappoints, it could pull others down too. 
One stock that has lost its momentum is Chipotle Mexican Grill (CMG) - Get Chipotle Mexican Grill, Inc. Report . Terranova said the stock could regain its mojo in 2016, if management is able to get its E. coli issues under control -- something TheStreet's Jim Cramer discussed Monday morning. 
Investors have "every reason to be bullish" on Chipotle right now, Jon Najarian said. Investors should continue to buy shares on pullbacks like these. Consumers are not cutting back on their purchases at the fast-casual diner, despite the recent outbreak, he said. 
This article is commentary by an independent contributor. At the time of publication, the author held no positions in the stocks mentioned.