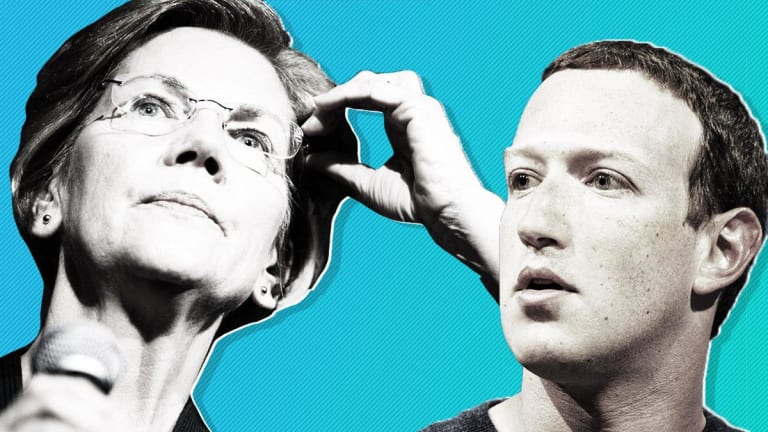 Zuckerberg Squares Off Against Warren, Says He'd Sue if Facebook Were Broken Up
In leaked audio, Facebook's CEO told employees he'd 'go to the mat' and fight a breakup proposed by Democratic presidential candidate Elizabeth Warren.
If faced with an antitrust case, Facebook CEO Mark Zuckerberg signaled he won't go down without a fight. 
In leaked audio from an internal company meeting that was published on Tuesday, Zuckerberg addressed a variety of issues including Libra, rising competitor TikTok and how employees should speak to friends who don't like Facebook (FB) - Get Meta Platforms Inc. Class A Report . But he also discussed the political climate, calling out one politician in particular: Senator and Democratic presidential candidate Elizabeth Warren.
Zuckerberg told employees that it would "suck" for Facebook if Warren, who has proposed a breakup of Facebook and other tech giants, became president. He also went further, saying that he'd "go to the mat" and sue the federal government if it tried to break up Facebook. Facebook shares were down 1.2% to $175.95 on Tuesday. 
"And I just think the case is not particularly strong on this...It's just that breaking up these companies, whether it's Facebook or Google or Amazon, is not actually going to solve the issues," Zuckerberg said, naming election interference and hate speech as issues that would not be resolved through a breakup.
Warren fired back on Twitter after the comments leaked out, suggesting that Facebook has repeatedly flouted its responsibilities to consumers.
In March, Warren outlined an approach to breaking up big tech firms, citing consumer protection and market competition concerns that could be addressed through antitrust action. In Facebook's case, Warren said that she would roll back Facebook's acquisitions of WhatsApp and Instagram. Along with Alphabet (GOOGL) - Get Alphabet Inc. Class A Report , Amazon (AMZN) - Get Amazon.com, Inc. Report and Apple (AAPL) - Get Apple Inc. Report , and in addition to Warren's threat, Facebook is also facing an antitrust probe involving the FTC, the DOJ, state attorneys general and Congress, and is regarded as particularly vulnerable to an antitrust challenge.
If a breakup of Facebook were proposed, and Facebook did fight back in the courts, it's not clear what the outcome would be. Any antitrust probe, followed by subsequent legal proceedings, could take several years. (The United States' antitrust case against Microsoft (MSFT) - Get Microsoft Corporation Report , for example, took roughly a decade from start to finish.)
Kevin Arquit, chair of the antitrust group at Kasowitz Benson Torres LLP and the former director of the FTC's Bureau of Competition, said that antitrust cases against the major digital platforms would likely fall into a monopolization framework, whereby the government would need to show that the companies involved are using their dominant market power to forestall competition. And it would be challenging to make the case the Facebook's acquisitions of Instagram and WhatsApp specifically constituted monopolization, in part because those mergers were likely examined and approved by regulators as part of a filing requirement.
"They integrated those companies and scrambled those eggs pretty quickly," Arquit told TheStreet. 
However, there could be other rationales for antitrust claims against Facebook. The WSJ recently reported that regulators are interviewing current and former competitors of Facebook, including Snap (SNAP) - Get Snap, Inc. Class A Report , which kept a years-long dossier tracking alleged anticompetitive activity by Facebook. According to Snap's record-keeping, the aggressive tactics by Facebook began in 2013, after Snap CEO Evan Spiegel declined an acquisition offer by Facebook CEO Mark Zuckerberg. Facebook's alleged anticompetitive tactics included a ban on adding links to Snap profiles in Instagram; tracking Snap usage through Ovano, a Facebook-owned mobile analytics app that it has since discontinued; and copying a series of popular Snap features, such as lenses, filters and stories.
Arquit noted that it's rare for a series of transactions to make up a monopolization case. However, in cases against digital platforms, regulators may try to demonstrate a pattern of "exclusionary conduct" that improperly freezes out competitors, whether that's through acquisitions, exclusive arrangements, products or other actions. 
"Exclusionary conduct is a squishier concept...one person's efficiency can be one person's anticompetitive conduct," he added. "The practical way to look at that test is to look at why the company does it: If a company engages in conduct solely or almost solely to disadvantage rivals, that's exclusionary conduct."
Facebook shares are up 31% year-to-date. 
Save 57% During Our Fall Sale. Join Jim Cramer's Action Alerts PLUS investment club to become a smarter investor. Click here to sign up and save!
Facebook, Alphabet, Microsoft, Amazon and Apple are holdings in Jim Cramer'sAction Alerts PLUS Charitable Trust Portfolio. Want to be alerted before Cramer buys or sells these stocks? Learn more now.