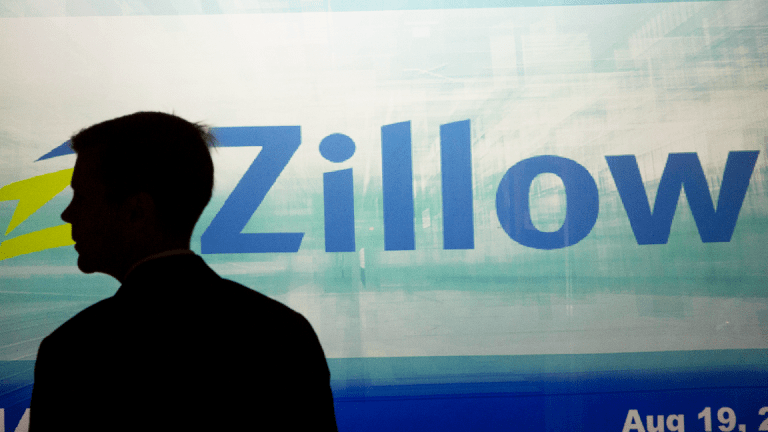 Zillow Shares Zoom on Strong First-Quarter Revenue
Shares of Zillow surge in premarket trading after the online real estate selling and financing company posts higher-than-expected first-quarter revenue, and offers positive second-quarter guidance.
Shares of Zillow Group (ZG) surged on Friday after the online real estate selling and financing platform posted higher-than-expected revenue numbers, and offered positive guidance for the second quarter.
Seattle-based Zillow's stock jumped nearly 13%, or $4.26, to $37.82 in early trading after reporting a net loss of $67.5 million, or 33 cents a share, vs. a year-earlier loss pf  $18.6 million, or 10 cents a share. Analysts polled by FactSet had been expecting a per-share loss of 19 cents.
However, revenue surged to $454.1 million from $299.9 million, "primarily driven by outperformance in the homes segment due to strong demand for Zillow Offers," the company said. Zillow Offers is a more recent home-flipping initiative that helps consumer buy and sell renovated homes quicker.
"We delivered strong first-quarter results that met or exceeded our own expectations in all segments as our plan to streamline the real estate transaction comes together," CEO Rich Barton said in a statement.
Excluding taxes, Zillow's unit that includes the home-flipping unit reported a loss of $45.2 million.
Zillow also said its home buying and selling unit could bump up revenue by as much as 79% this year over 2018. Last year, Zillow generated $1.33 billion in revenue.