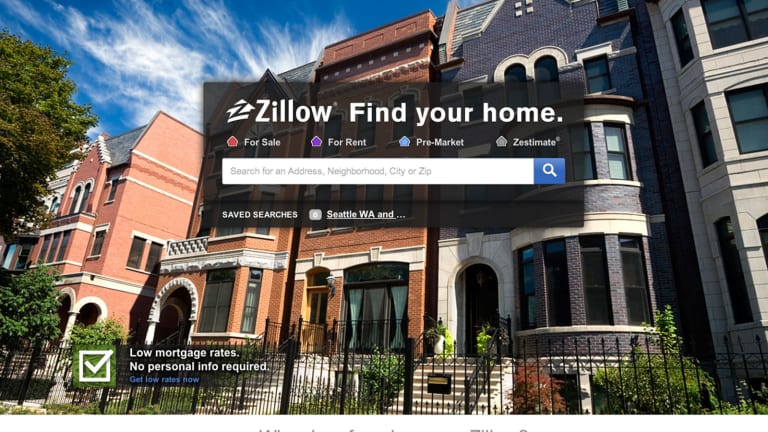 Zillow Group Rises on Analyst's Upgrade to 'Buy'
Shares of class A and C stock were trading higher on Nasdaq following an upgrade by Guggenheim Securities, thanks largely to success of the company's 'Offers' program.
Zillow Group (ZG) (Z) was up more than 5% on Wednesday following an upgrade by Guggenheim Securities.
Shares of class A and C stock were trading around $38.51 on the Nasdaq following a bump to buy from neutral by Guggenheim analyst Jake Fuller. In a note released Wednesday, Fuller also pegged the target price at $45.
Citing the reasons for the upgrade in his note, Fuller wrote that Zillow's core advertising business has stabilized and its Offers services has surpassed expectations and is likely to top ad revenue in the fourth quarter and see more than a billion dollars in revenue in its first full year. In addition, the Seattle-based home-sales and rental technology company has shown that Offers "can be profitable on a unit basis," while Zillow's Loans service and seller leads offerings could increase the potential for profits.
Zillow's Offers program lets homeowners in some cities sell their place to Zillow, which then makes some repairs and updates, and lists the home for resale on the open market.
"We have been skeptical of Offers with questions around why owners might sell to ZG at a discount and whether it can be profitable," he said, but that view has since changed. "Results have shown that there is demand."
Zillow bought 898 homes in the first quarter of this year, after buying around 500 in the fourth quarter of 2018, he noted. It got around 35,000 requests for offers.
First-quarter demand appears around $10 billion for the service, said Fuller, noting it's still only available in eight markets so far. The company expects to be in 20 markets by the end of the first quarter of 2020, he added, suggesting further potential. 
"We see that as validation of ZG's initial premise that sellers would be willing to pay for the convenience of an all-cash offer and ability to avoid the hassle of repairs, showings and uncertain timelines."
While profit potential is still questionable, he said, Zillow has shown it can generate "a unit level profit," which in the fourth quarter was more than $1,700 per home.
Zillow's "Premier Agent" advertising business also looks to have "significant value," said Fuller, noting that though he no longer sees 20%-plus growth as feasible, he forecasts speedy progress into the second half of 2019, which he expects to end with double-digit growth.
"ZG dominates lead generation in the real estate category and faces little competitive or secular challenge," he said.