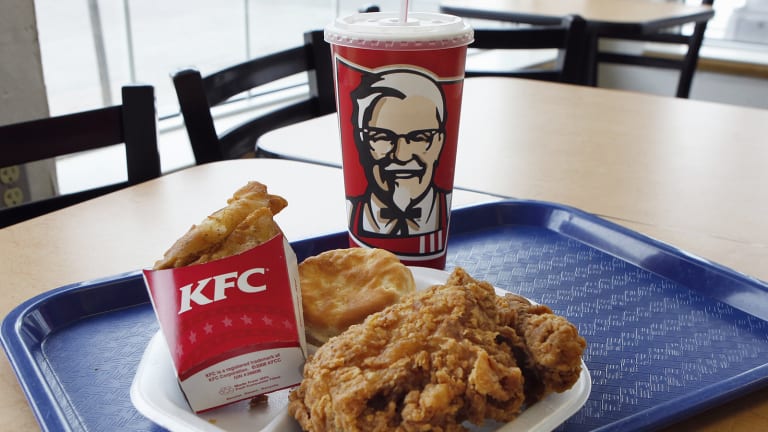 Yum! Brands CEO Loses Credibility on China, Strengthening Hand of Activist Investors
Yum! Brands missed badly on earnings due to continued sluggish results in China. The company's CEO has some explaining to do.
Updated to include comments from the company's Wednesday morning earnings call and from a Yum! Brands spokesman.
NEW YORK (TheStreet) -- Earlier this year, relatively new CEO of Yum! Brands (YUM) - Get Yum! Brands, Inc. (YUM) Report  Greg Creed oversold the prospect of sales turnarounds at KFC and Pizza Hut China in 2015. Now investors are paying the price.
On Wednesday, shares of the fast food giant plunged about 19% following a bad third-quarter earnings miss, announced on Tuesday after the close. Adjusted earnings per share came in at $1.00, falling 7 cents shy of Wall Street forecasts.
At the heart of the disappointing results was persistent sales weakness in China for the KFC and Pizza Hut chains, which collectively operate over 6,800 restaurants in the country. Same-restaurant sales for China gained 2%, far below consensus estimates of 9.7%. KFC China's same-restaurant sales rose 3%, while Pizza Hut China fell 1%.
"Our growth fundamentals in China, including new-unit development, remain intact -- however, we're experiencing unexpected headwinds, making the second half of the year more challenging than we anticipated," said Creed, who took the reins at Yum! in January, in a statement.  
Weakness in China sparked a nasty revision to full-year earnings guidance. Yum! Brands now anticipates earnings per share will rise by a low-single-digit percentage this year, well below the earlier company target of at least 10%.
The unexpected headwinds referred to by Creed were even more disturbing when explained further on a Wednesday morning earnings call.
According to Creed, KFC China's results in the quarter were harmed by a too-big menu that slowed service times. The company will shift its focus for the remainder of the year to reducing the number of menu items and better highlighting its chicken products. The first menu revamp for the chicken chain arrives Oct. 19.
At Pizza Hut China, the list of problems was lengthy. Creed pointed to greater competition from upstart online pizza ordering businesses, a slowing Chinese economy, and misguided promotions that didn't emphasize affordable prices.  
"We will focus on five-star pizza, wings and pasta, at three-star prices," said Creed, who was peppered with questions from upset analysts on the call.
According to Yum! Brands spokesman Jonathan Blum, the results in China were not a surprise, but more a combination of external factors such as the devaluing of the yuan and a slowing economy.
KFC China's same-restaurant sales in September increased by 9%, below the expectations of Yum! Brands executives, while Pizza Hut China's same-restaurant sales have fallen "substantially" since August.  

Creed was singing a different tune on the outlook for China just 90 days ago.
"We do expect both KFC and Pizza Hut same-store sales growth to turn strongly positive [in China] as we lap the initial impact of a supplier issue later this month. This will fuel a strong second half for China and enable us to deliver EPS growth of at least 10% for the year," said Creed on the company's July 15 second-quarter earnings call.
That outcome did not materialize, despite menu revamps at KFC China that brought new breakfast foods and coffee, and a focus by the company on late-night hours for Pizza Hut China.
The severe, ongoing underperformance for Yum! Brands in China during the quarter, as well as the plunging stock price that resulted from the news, likely strengthens the hands of two noteworthy activist investors already demanding changes at the company.
In May, it was revealed that Keith Meister's Corvex Capital had taken a meaningful stake in Yum! Brands. According to Yahoo! Finance data, Corvex held a 3.54% stake in Yum! Brands as of June 30.
Also in May, billionaire investor Dan Loeb told investors in his $17.4 billion Third Point hedge fund that he has accumulated a "significant stake" in Yum! Brands. According to Morningstar, Third Point had a 0.83% stake in Yum! as of June 30. Loeb cited the prospect of Yum! Brands turning the page in China, specifically a recovery at KFC after a food supplier scandal last year crippled sales and profits.
Third Point declined to comment via email on whether it still holds a stake in Yum! Brands, and, if it did, what it thought about the company's China performance.
An inquiry to Meister was not immediately returned.
The lack of progress by Yum! Brands management in fixing its China problems may spur the activist investors to call for changes at the company, such as demanding board seats or pushing for a spinoff of the China businesses before they lose more value, given the issues plaguing their performance.
The involvement of Loeb and Meister has arguably already brought a shake-up to Yum! Brands. On Aug. 18, Yum! Brands said company veteran Micky Pant would replace retiring CEO Sam Su as head of the China division. Pant was previously the CEO of the KFC Division overall, which has delivered a turnaround in the past year amid the introduction of new food bowls and catchy marketing featuring Colonel Sanders. "He is a proven brand builder and sales driver," said Blum.
A request for an interview with Creed was not immediately answered.