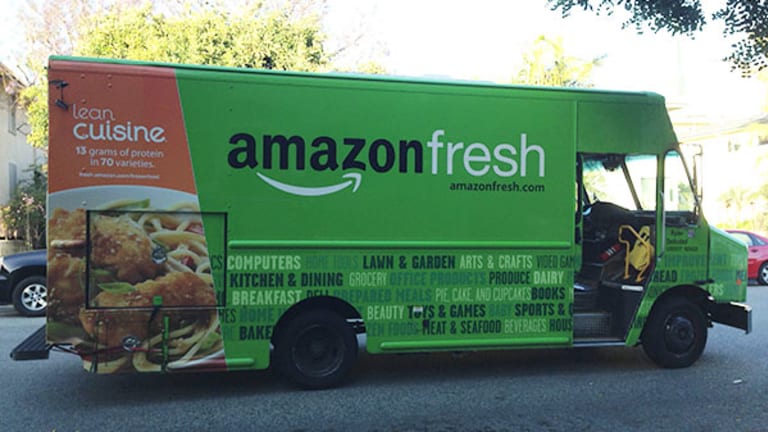 You're Probably Better Off Buying Amazon Stock Than Apple
Both AMZN and AAPL likely have tons of upside, but, if you consider each company's situation without blinders, filters or bias, Amazon probably deserves a slight edge.
NEW YORK (TheStreet) -- As my recent work makes clear, I'm an unabashed Apple (AAPL) - Get Free Report fan. By and large, I think there's nothing but good in Apple's future under Tim Cook. However, I'm also a realist. I do my best to be as objective as my biases and filters will allow, which leads to the seemingly absurd statement that Amazon.com (AMZN) - Get Free Report is, by a slight margin, a better investment than Apple.
Absurd, yes, on the surface, but not upon further inspection. So please hear me out ...
After Amazon's most recent post-earnings nosedive, TheStreet contributor Dana Blankenhorn just about said it all when he logically suggested investors "load up" on AMZN stock.
In his article, Dana cited an article I wrote in April after AMZN plummeted on earnings concerns. I could take the easy route and republish Making Sense of the Crash in Amazon Stock because everything I said in that piece holds true three months later.
As the record continues to show, immediate reaction to Amazon earnings is nothing short of hysterical. Consider part of Blankenhorn's case:
When Rocco wrote that story (in April), by the way, (AMZN) stock was trading at $296. After its latest "crash" it was at $317. That's down from $358 at Thursday's close, so traders who picked up shares last time they were rocked and sold right before earnings are sitting pretty right now.
Agreed. But, after we note, for the record, that AMZN closed Monday's session at $320.41, let's set the stock price aside. We tend to focus too much on day-to-day, week-to-week and even quarter-to-quarter movement.
It has become passe having the same debate every time Amazon does this. First, I want to reiterate something I said in April because I think it's important, not only with respect to AMZN itself and AMZN being a (slightly) better investment than AAPL but investing in general:
If you're long AMZN, let's hope you didn't do it simply to ride the momentum. If you did, sorry, but you sort of deserve any pain you're feeling right now. Momentum investing is not a long-term strategy. It should not comprise any segment of your portfolio other than that percentage you set aside for speculative bets. The size of that speculative allocation depends on the way you stomach risk and your overall financial condition.
The right way to be long AMZN is to have understood the story before the intense momentum kicked in. To have decided that it's the long-term, leave-it-to-your-grandkids stock of our generation. But to do that you had to a.) do your homework months and years ago and, subsequently, b.) buy into what Amazon CEO Jeff Bezos has been selling since the late 1990s! ...
If you don't understand this line of thinking, shut up. Quietly short AMZN stock. If you time it right, you might make money. But don't confuse what you're doing with standing up for the purity of investing. Because if you hate Amazon the company and/or AMZN the stock, you don't understand investing. You're playing the momentum game, which makes you part of the problem.
Furthermore, what is investing? What defines a successful company worthy of a floor for its stock price? One that shows incredible resiliency like AMZN does even when everybody thinks this is the last time investors will cut Bezos some slack. How many times does this have to happen with Amazon before we change our answers to these and the other similar questions we ask when we find ourselves here?
Maybe we have entered an era where profits actually don't matter. I'm straight face serious when I say that. Maybe profits do not matter as long as your company is the best at what it does and, due to the lack of truly formidable competition, will remain the best at what it does for the foreseeable future. You can certainly classify Amazon this way. And quarter-after-quarter, no matter what Amazon reports, no matter what the CFO says or doesn't say on the conference call, AMZN drops (sometimes) and recovers nicely. There might not be a better stock to buy on the dip than this one.
And it's not because the buyers are idiots. Rather it's because they know a great company when they see one. They realize that Amazon could halt investment tomorrow. It could say Yeah, we have this massive growth opportunity but we're not going to go after it because it costs too much. We're going to stop here, severely throttle back on spending, raise prices by a dime or a quarter across the board and turn some profits. If it did that, Amazon ceases to be the revenue growth machine extending its empire-building tentacles in every direction possible. It becomes a tried and true profitable retailer that made a decision to hit a wall. 
I don't think that's what the folks buying AMZN stock want to see happen. They understand the course Bezos has set Amazon on. And they want to see it through. In fact, they would likely be miffed enough to sell the stock and never buy it again if Bezos turned his back on his own mantra and said enough is enough. And this is all made not merely possible, but a proven reality because -- and this is the key, particularly as it relates back to Apple -- investors have confidence in Jeff Bezos.
OTOH, they're not so sure about Tim Cook. Still. I think that stinks. I'm on record as saying Cook weathered the initial storm as Apple CEO and now he deserves your confidence because he earned it. But, clearly, a considerable number of people disagree with me.
Even though AAPL has rebounded nicely and outperformed AMZN recently, an air of doubt continues to surround the company. And it's doubt that, at least to me (when I'm being objective!), should be more concerning than the flares Amazon throws out every three months. I'd rather worry about Bezos "spending too much" to satiate a business that's growing like a weed than wonder if Cook is the right guy for the job (three years later), if iPad will ever grow again and if iWatch will be a flop. The only thing that's really certain at Apple right now is the hurt iPhone 6 is about to put on Android. While I'd still call it one of the best three or four bets in the stock market, more questions exist in relation to investing in AAPL than AMZN. I'd have no problem owning either stock, but if I could only pick one there's no question it would be AMZN.
I prefer intellectual food for thought over writing safe articles that have no chance of coming back to bite me. Put this one in that category. Whether I end up "right" or "wrong," thinking about the comparison I make here between Apple and Amazon will either provide a nice laugh or stimulate you cognitively. My intent, actually, is for a mix of both. 
--Written by Rocco Pendola in Santa Monica, Calif.
Rocco Pendola writes for
TheStreet
. He lives in Santa Monica. Disclosure: TheStreet's editorial policy prohibits staff editors, reporters and analysts from holding positions in any individual stocks.