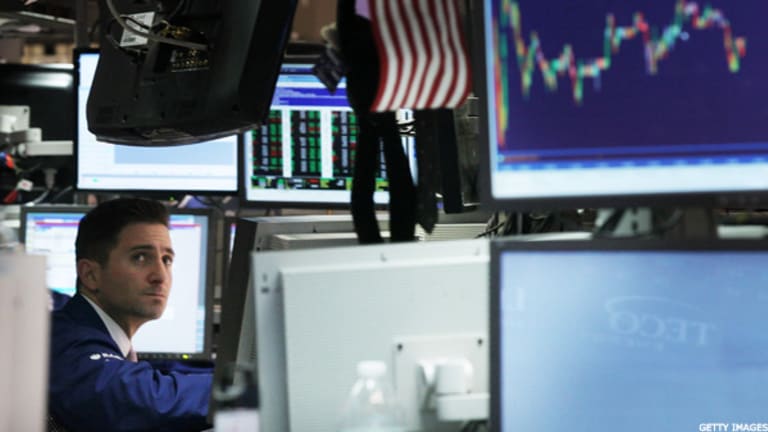 Your Scorecard on Bank Regulation
Start doing your homework on the banking story now, while things look bleak
Shares of the biggest U.S. banks took another pounding on Thursday, as Moody's followed through with long-telegraphed downgrades. The "she loves me not" messages were exacerbated by disappointment over the
Fed's
"Operation Twisted" action and new fears about the European and U.S. economies.
I still believe that in a few months -- perhaps just after Election Day -- we'll look back at this period and conclude that spring-summer 2012 was a bottoming period for U.S. banks, (hopefully) presaging the start of a multi-year recovery. Even though
JPMorgan's
(JPM) - Get JPMorgan Chase & Co. Report
much-ballyhooed hedging losses have seemed to hamstring the industry just as it was preparing to emerge from the penalty box, CEO Jamie Dimon's defenses in the House and Senate could prove to be an inflection point.
Investors may return only slowly to the banks, as they await proof that the global economy won't collapse and that re-regulation set in motion by the Dodd-Frank Act will ultimately avoid worst-case options for raising bank capital and liquidity standards, curbing proprietary trading, forcing the clearing of derivatives and insulating mortgages from lawsuits and risk-retention rules.
But if U.S. equity markets are to become the place to be for global investors over the next five years or more, as many now believe, U.S. banks should ultimately benefit. So I'd suggest that you start doing your homework on the banking story now, while things look bleak.
Not that we might be in for anything like the catalysts and long-term secular rally that we saw after the last big re-regulation cycle spawned by the banking and thrift crises of the Reagan-Bush era. That five-year period saw passage of the 1987 and 1989 thrift bailout bills, the 1991 FDIC Improvement Act (creating prompt corrective-action tripwires and recapitalizing the Bank Insurance Fund) and the 1992 law that initially sought to regulate Fannie Mae and Freddie Mac. The wave subsequently spurred a deregulation cycle that coincided with the Clinton-era bull market.
Specifically, in 1994 we saw the first subprime loan legislation and the end of restrictions on interstate banking and branching. But the subsequent combination of a Democratic White House and GOP Congress yielded securities litigation reform in 1995, the grandfathering of "nonbank-banks" in 1997 and, finally, repeal of the Glass-Steagall Act in 1999. As I like to recall, even my former colleague and long-time uber-bear bank analyst, Mike Mayo, now of Credit Agricole, was a bull back then.
However, this time around, the easiest deregulation has already been made, and we're unlikely to see much more of it, even if Mitt Romney and pro-industry Republicans sweep in November. And clarity regarding the future earnings power of banks may be elusive for some time.
Last week
to the banks' mortgage securitization businesses, given a new Basel-related risk-weighting proposal from the Fed and other regulators (compounding already-existing deterrents relating to reduced Tier 1 capital crediting for mortgage servicing rights). But another related threat could become clearer as the Obama campaign shifts its populist focus from student loans to home loans.
I'm talking about the large banks' recently robust margins from refinancing conforming Fannie-Freddie loans -- the byproduct of the competitive advantage they enjoy as incumbent servicers of underwater mortgages that are being refinanced via the Home Affordable Refinance Program (HARP). That advantage allows Wells Fargo, JPMorgan, Bank of America, Citigroup and Ally Financial to face less "rep and warrant" or putback risk from the GSEs, and thus to underwrite HARP loans far more profitably than they would if they faced a competitive field.
Meanwhile, get ready for the president to reiterate the notion that Republicans are preventing millions of Americans from taking advantage of historically low interest rates, simply because the GOP won't pass legislation that would soften rules to allow "underwater" borrowers (owing more than their homes are worth) to refinance via Fannie and Freddie.
After trying to force GSE regulator Ed DeMarco to ease up rules under HARP (ultimately having to settle for reduced fees, streamlined appraisals, and other constructive-but-not-game-changing tweaks in what has been billed as "HARP 2.0"), and principal forgiveness under the Home Affordable Modification Program (HAMP), President Obama and the administration decided to play its final pre-election hand by sweeping such changes into proposed legislation in early February. The changes were introduced in three separate increments by Senate Democrats Bob Menendez (D., N.J.), Diane Feinstein (D., Calif.) and Jeff Merkley (D., Ore.).
And now the White House is poised to use social media to persuade Republicans to pass the most viable of these bills, the one introduced by Menendez. That measure would try to force the subordination of second liens, transfer of private mortgage insurance coverage (to refinanced loans), eligibility for loans that have loan-to-value ratios below 80% and even further streamlining changes. But perhaps most importantly, Menendez would try to level the playing field so that competing servicers would face the same rep-and-warrant risks as the current top five. And this would almost certainly shrink the big guys' margins, in what has surprisingly been one of their more profitable lines of business.
I'm currently calling passage of the Menendez bill a less than 50% prospect. This is in no small part because Senate Republicans have been poised to demand the right to offer Fannie-Freddie reform amendments -- which the Democrats fear might prompt embarrassing recollections of their coddling of GSEs during the go-go years. That has seemed to represent a sure way to impede the bill, if not in the Senate Banking Committee then on the floor. And House passage has seemed even less likely.
Nevertheless, check out this
blog post
that the White House let loose yesterday: It hammers on "five things you should know" about refinancing. It says "the average homeowner would save $3,000 if allowed to refinance ... without costing taxpayers a dime," and urges readers to "share it." As one top lobbyist remarked, "They are pushing this hard."
How resolutely do you think at-risk House and Senate Republicans might stand in the way of such a proposal, particularly if Obama reprises his call for Congress to act? (Remember, with Romney leading the way, they caved on student loan rate-freeze legislation literally within 48 hours.)
I'm still doubtful, but the Menendez bill is unambitious enough to make its passage a defensible concession by the conservatives.
In any event, those who are waiting for the day when banks become investible again should make note of this challenge.
At the time of publication, Gabriel had no positions in stocks mentioned.