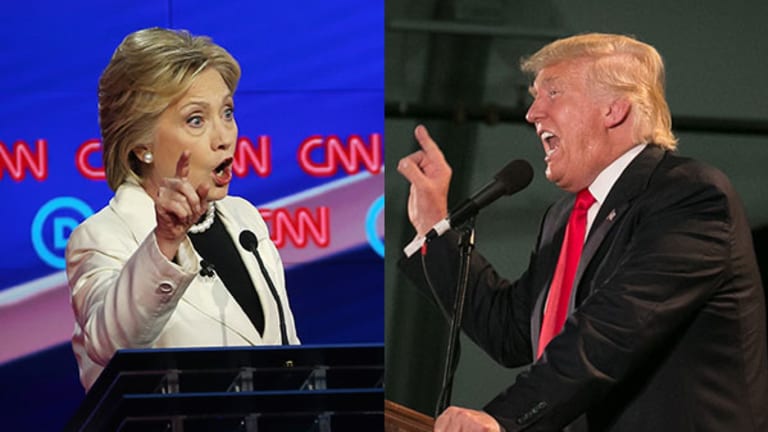 Your Money, Your Retirement and Our Next U.S. President: An Invitation
Here's an invitation to an event you shouldn't miss. Join TheStreet on Sept. 12 as the world's top financial experts discuss what you should do with your money.
Ready to retire? What changes should you make to your portfolio should Hillary Clinton become president? What happens to your investments should Donald Trump become president? Will the election impact the asset mix in your portfolio -- international stocks vs. domestic, fixed income and currencies, gold?
Under President Clinton, experts suggest selling consumer discretionary stocks and buying energy stocks. Under President Trump, experts recommend selling consumer staples stocks and buying financials.
Join us in New York City on Sept. 12 as our panel of the world's top financial experts provide trusted information on the investment risks and opportunities that arise with the upcoming presidential election in November.
Topics covered will include:
Which sectors are likely to flourish or deteriorate under a Clinton or Trump administration?
Which strategic and tactical changes should financial advisers -- either independent orbroker-affiliated -- make to their clients' portfolios over the next several months due to the candidates' wildly differing plans for the U.S. economy?
What impact could each candidate have on Social Security, 401(k) plans and retirement in general in the U.S.?
The event is complimentary from TheStreet (TST) - Get TheStreet, Inc. Report , owner of this website. Seating is limited and reservations are required!
Time, Date and Location
6 p.m. to 9 p.m., Monday, Sept. 12, 2016
Lambs Club
132 W. 44th St.
New York, NY 10036
Panelists
Stephan Horan, Ph.D., CFA, CIPM, Managing Director, Credentialing, CFA Institute
Robert R. Johnson, Ph.D., CFA, CAIA, President and Chief Executive Officer, The American College of Financial Services and author of Invest with the Fed
Scott H. Kessler, Deputy Global Director, S&P Equity Research Services
Moderators
David Callaway, CEO, TheStreet
Robert Powell, Columnist/Contributor, USA TODAY, MarketWatch and The Wall Street Journal
This article was written by a staff member of TheStreet.