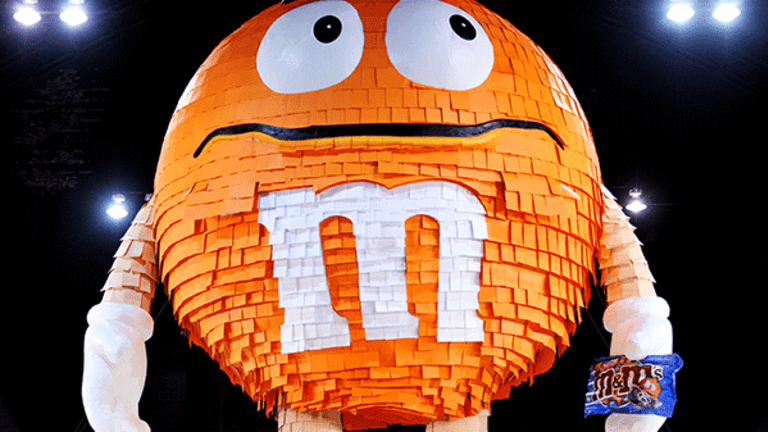 Mars Now Manufacturing M&M'S With Wind Power
Berta De Pablos-Barbier, president of Mars Wrigley Confectionery U.S. talked with #AlphaRising about the company's wind power campaign, growing up with a strong mother and the worst advice she ever got.
M&M'S, one of Mars Inc.'s most iconic brands, is addressing climate change and how everyone -- even their "spokescandies" -- can make a difference.
"Red," the self-proclaimed leader and "Yellow," his ever-faithful sidekick, have become the latest advocates for renewable wind-powered energy.
And while Red and Yellow have been in campaigns and commercials before, (and I will admit, we have plush furry versions of both in my house) this is the first time they are tackling climate change as the fearless leaders of M&M's Fans of Wind energy crusade.
"We want to make sure that everyone understands that climate change is a real issue," says Berta De Pablos-Barbier, president of Mars Wrigley Confectionery U.S., when we caught up with her at the super-fun M&M'S store in Times Square, NYC.
The campaign is part of Mars' Sustainable in a Generation Plan, which includes $1 billion investment over the next few years, to tackle climate change and the scarcity of resources.
Many businesses are embracing sustainable practices these days, especially since wine and solar actually have become cheaper then fossil fuels. More importantly, investors realize that the long-term risks of not addressing the climate crisis eventually will affect their bottom line.
The Environmental Protection Agency established a voluntary group called the Green Power Partners, which encourages organizations to use green power. The group is more than 1,300 companies strong and Intel Corp.  (INTC) - Get Report , Microsoft Corp.  (MSFT) - Get Report  and Alphabet Inc.  (GOOGL) - Get Report rank in the top three.
Mars, comes in at #16, and is the first major food business to source all of its electricity for its U.S. operations from renewable sources. But that means all of the M&Ms in the world are made from wind power, since they are all made here.
"A wind turbine spinning for one second produces the energy equivalent to what's needed to make eight packs of M&M'S," said De Pablos-Barbier.
Listen to her talk about it all here:
Wind is not their only company-wide initiative.
Gender parity is top of mind as well.
Mars is pushing to for gender parity in senior leadership by 2020. The company is at 25% right now, with De Pablos-Barbier's division already hitting 42%. "It has been proven that with at least 30% of female leadership, profits are 6 times higher," she says.
To help promote women within, they have created internal initiatives to create confidence, mentorships and a flexible environment that she talks about in the video below.
De Pablos-Barbier was lucky to have a strong female role back home in Spain. Her mother graduated in 1967 as an engineer, even though there was only one other woman in her class at the time.
De Pablos-Barbier also became an engineer and her job took her around the world - to places like Dubai, Russia, England, France and Spain.
She moved to the U.S. in February 2015 and has been fortunate enough to have been encouraged by many women along the way, she says.
Although not all the advice she received was good.
Listen in to hear the bit of really bad advice she once got and unfortunately followed for a little. (Our guess is she won't pass that tidbit on to her 11-year-old daughter.)
De Pablos-Barbier's believes there should be more purpose in marketing and business.
And we at #AlphaRising certainly do too.
And for more from Tracy Byrnes and Alpha Rising,
Meet Ford's 23-Year-Old Prodigy Who Holds 15 Patents