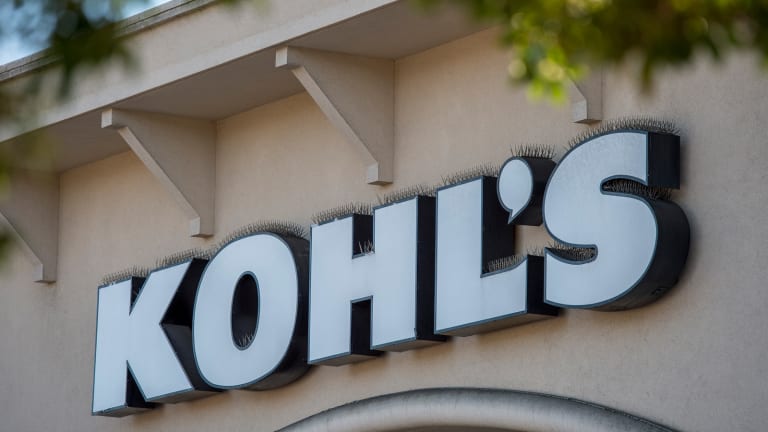 You Have to Be a Nerdy Investor to Love This Chart of Kohl's
Kohl's price has gone semi-parabolic since early November.
I went in a little deep here, so you may need to be exceptionally nerdy to love this chart of Kohl's (KSS) - Get Report . Let's get the real basic stuff out of the way first. The share's price has gone semi-parabolic since early November. That's when the daily moving average convergence divergence (MACD) and Money Flow both turned on the juice. MACD is starting to flicker at high levels, but the nine-day EMA has actually turned negative. Does that matter? Probably. Short term, anyway. Relative Strength has been in beast mode for two months, and might actually turn into a supportive technical indicator, should it persist further.
The difficulty here is the projection of the eventual reversal, as nothing goes in one direction forever, and its timing. Using a Fibonacci Fan (red), the top line is your recent trend, the bottom three lines are projected retracement levels (38.2%, 50%, 61.8%) at future dates, should the trend remain unbroken.
Next, we'll use what are known as Fibaonacci Time Zones. Keep in mind we are playing with hand grenades here, not sniper rifles. These tools are not precision weapons. As always, you can throw out the first seven or so time zones, due to their own cluster. I am not making that up. That is how this game is played. However, the eighth time zone (and beyond) could very well matter.
That spot comes late this month. According to this "map", the areas of possible support, or entry if you just got here, could be at the current last sale of $57, $53, or roughly $49.50, but not for three weeks. That last one breaks, and I head for the hills. Just sayin'. Until then, if you've been following along, we're playing with house money.
If you do not trust all of my mumbo-jumbo and you think Monday's $59.09 gap opening was "the high", then support for you crops up a little below $51. If someone needs the concept of Fibonacci Time Zones explained to them, I am e-mailable, and I never mind talking about this stuff.
________
A quick reminder to readers that today is the first call with subscribers of Action Alerts PLUS, the portfolio that Jim Cramer co-manages as a charitable trust. Click here for an exclusive video that takes a look at the portfolio behind the scenes.
(This is an excerpt from Stephen "Sarge" Guilfoyle's Morning Recon, which now appears exclusively on Real Money, our premium site for active traders. Click here for a free 14-day trial and receive Morning Recon every day, along with exclusive columns from Jim Cramer, James "RevShark" DePorre, technical analyst Bruce Kamich and more.)
More of What's Trending on TheStreet:
At the time of publication, Stephen Guilfoyle was long KSS, although positions may change at any time.