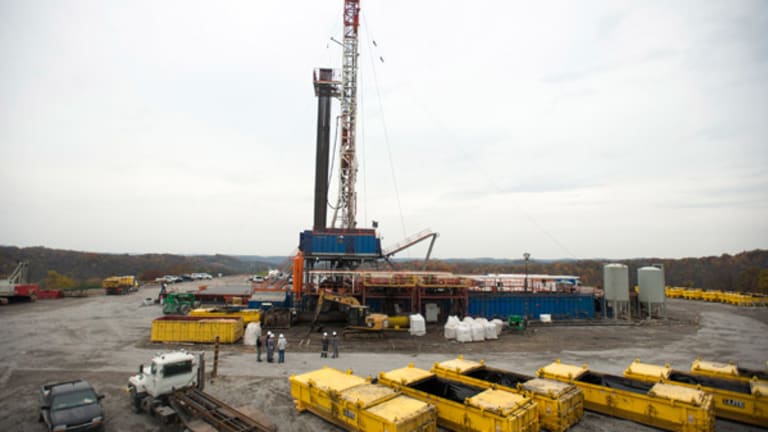 You Can Thank the 'Frackers' for Cheap Oil This Holiday Season
Author Gregory Zuckerman says the fracking revolution has done more to lower oil prices than Saudi Arabia.
NEW YORK (TheStreet) -- Some investors cite demand as the culprit behind the decline in oil prices while others cite rising supply. Many people are forgetting about fracking. 
According to Gregory Zuckerman, author of The Frackers, fracking -- or hydraulic fracturing -- has helped lower demand for oil at a time where the U.S. is becoming much more self-sufficient in its energy needs. The country now pumps roughly nine million barrels of oil per day, nearly double the five million barrels per day it pumped just six or seven years ago. 
The increased oil production in the U.S. and higher dependency on natural gas -- which is derived from fracking -- has decreased the country's dependency on other countries, in particular Saudi Arabia. Because the U.S. is less dependent on other nations, it has more flexibility when it comes to foreign policy, Zuckerman said. That flexibility will increase even more if corporations begin exporting natural gas. 
<
United States Oil ETF USO and United States Natural Gas ETF UNG data by YCharts
The U.S. seems to have come to a "quiet kind of compromise" over fracking, he added. At one point, protests and worries over water cleanliness were gaining momentum.
But some of the latest signs suggest that nervousness may have been overstated, he said. It helps that several states including North Dakota, Wyoming and Pennsylvania passed laws to make fracking more safe, he said. 
But even while cheaper natural gas may put a small damper on oil demand, there are concerns for frackers. As oil prices continue to move lower, the shift back to crude oil and away from natural gas is a real possibility, Zuckerman said. Around $70 per barrel, frackers will start to get nervous.
But the level of worry varies by region. Frackers in the Bakken Shale region will be worried when West Texas Intermediate hits $75 per barrel while frackers near the Eagle Ford Shale will be nervous with crude at $65 per barrel, he said.
-- Written by Bret Kenwell