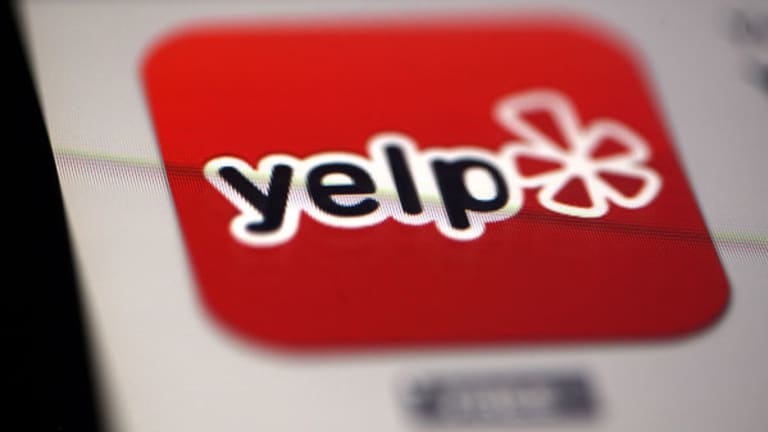 Yelp's Most Likely Buyer -- Why Apple, Facebook, Amazon Are Longshots
The most likely winner is based in Japan.
NEW YORK (Real Money) -- Since news broke today that Yelp (YELP) has hired bankers to shop itself to other companies, let's look at possible buyers of the social media company:
Yahoo! (YHOO) : No chance. Yelp's market cap is now $3.5 billion, meaning a buyer would have to spend considerably more than that to buy it out. Yahoo! has about $6 billion in net cash and most of that is promised to shareholders through stock buybacks. Yahoo! can't afford Yelp.
Google (GOOGL) - Get Alphabet Inc. Class A Report: Little chance. There's enormous bad blood between Yelp and Google dating back to when Google tried to scrape all of Yelp's data from its site. Even though Google is nowhere in mobile, the history will be too tough to overcome.
Apple (AAPL) - Get Apple Inc. Report: Longshot. This would be a big acquisition for Apple in terms of size. Apple has shown a preference for taking a "build it myself" approach to Apple Maps (where this would likely fit). Still, there has always been a close relationship between Apple and Yelp. Yelp CEO Jeremy Stoppelman has attended many Apple keynotes over the years.
Facebook (FB) - Get Meta Platforms Inc. Class A Report: Possible. Facebook has tried to create its own version of Yelp over the years; it hasn't really worked. The social network is not shy about buying users and a strong brand, though.
Amazon (AMZN) - Get Amazon.com, Inc. Report: Longshot. I'm not sure there's a fit. Getting to know small- to medium-sized businesses doesn't seem to be an Amazon priority.
Priceline (PCLN) , TripAdvisor (TRIP) - Get TripAdvisor, Inc. Report or Expedia (EXPE) - Get Expedia Group, Inc. Report: Possible -- but probably willing to pay less than Facebook and others. I can see why any of these travel sites would want to own Yelp. I'm just not sure they'd be willing to pay up. It would be a big price for any of them. Facebook would likely outbid them anyway.
Alibaba (BABA) - Get Alibaba Group Holding Ltd. Report: Possible. It could be a way to crack the U.S. market and get to know a lot of small- and medium-sized businesses right away, which Alibaba would hope to convince to sell their goods on its platform.
Rakuten (RKUNF) : Good chance. The Japan-based Internet service provider has been undisciplined spending its money to buy up companies, so spending a boatload on Yelp to get into the U.S. market could be right up its alley. With a more than $18 billion market cap, why not roll the dice?
All that said, I expect Yelp's stock price to pull back a lot before any deal is consummated.
Editor's Note: This article was originally published at 4:20 p.m. EDT on Real Money on May 7.
This article is commentary by an independent contributor. At the time of publication, the author held positions in BABA and YHOO.