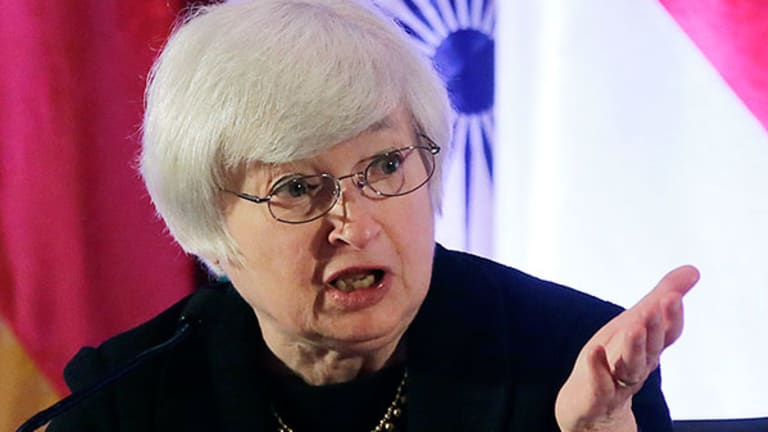 It's Finally Official: Yellen To Be Named Fed Chairwoman
President Obama is expected to announce the nomination on Wednesday, the White House says.
Updated from 9:19 a.m. ET with an official statement from the White House
NEW YORK (TheStreet) -- President Barack Obama will announce his intent to nominate Janet Yellen as chairwoman of the Federal Reserve, the White House said on Wednesday.
The move would put the world's most powerful central bank in the hands of a key architect of its unprecedented stimulus program and the first female leader in its 100-year history.
Obama will announce the nomination at 3:10 p.m. ET Wednesday. Yellen, 67, would succeed Ben S. Bernanke, whose term expires on Jan. 31.
Yellen, vice chairman of the Fed since 2010, became the president's choice after former Treasury Secretary and White House economic adviser Lawrence Summers withdrew from consideration amid mounting opposition.
There has been a plethora of bad news for stocks recently as negotiations over the debt ceiling and the budget have gone south in Congress, which has pressured stocks prices -- the S&P 500 is off 4.1% from its all-time high reached on Sept. 18.
This news may help stem the losses and lead to more long-term confidence as Yellen has been a strong supporter of easy monetary policy during the last several years of market turmoil. She supported the central bank's aggressive bond buying programs and was a significant factor in persuading officials to focus on new monetary targets such as inflation and unemployment goals.
Concerns, though, remain that she may support too loose a monetary policy.
"At this stage, Yellen is unquestionably the best candidate. But there is a slightly bigger risk that under her stewardship, the Fed will fail to tighten monetary policy in time once the recovery gathers momentum, eventually triggering an unwanted surge in inflation," Capital Economics wrote in a note to clients on Wednesday.
The calming effect is that she has the experience, the know-how and won't make major changes to Fed policy in a time when there is new uncertainty about economic and fiscal uncertainty. Investors don't like uncertainty and this might help - at least in the near term while the market awaits third-quarter earnings and further Washington developments.
By Stephanie Link, Margo D. Beller and Joe Deaux