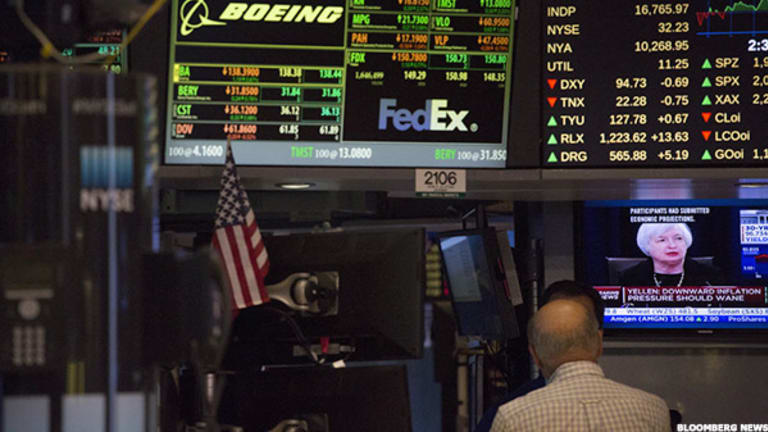 Yellen Says Case for Rate Hikes Is Growing Stronger
Markets say hike will come in December, as revised GDP report is little changed.
This article, originally published at 10:32 a.m., has been updated with comments from economists and market data.
Federal Reserve Chair Janet Yellen is steering markets to expect an interest-rate hike soon after all, telling a conference sponsored by the central bank that "the case for an increase in the Federal Funds Rate has strengthened in recent months."
Yellen's comment during a speech in in Jackson Hole, Wyo., came about 90 minutes after the Commerce Department reported that second-quarter economic growth was slightly less than previously estimated, with gross domestic product rising at a 1.1% annual rate.
The central bank chair didn't say whether the hike would come at the Fed's next meeting, set for Sept.  20 and 21, or at meetings in November and December. Immediately before she spoke, futures markets saw only an 18% chance of a September move and a 54% chance of rate hike by December.
Yellen "basically kept their options for this year open, which was an easy bar to clear," Regions Financial chief economist Richard Moody said. "As to the rest of it, I don't think it moves the markets that much, and it is worth noting the dollar and yields on 10-year Treasury notes are lower now than before she started talking."
The Fed chair's remarks simply confirmed a truth about the economy that has been obvious in recent data, Moody and other economists said.
"Yes, the case for a rate hike has strengthened. Duh. We waited for this?," said Joel Naroff, president of Naroff Economic Advisors.
Yellen's remarks are the second in a speech by a senior Fed leader in the past week that indicate policymakers are getting ready to push rates higher, as prospects for growth in the second half of 2016 brighten. On Thursday, Fed vice chair Stanley Fischer said "we are close to our targets."
In recent weeks, officials have focused less on delaying hikes until labor markets tighten, their emphasis almost continuously since 2008, and more on whether inflation will rise toward the bank's target of a 2% annual rate. While Yellen stuck to common Fed boilerplate saying members of the central bank's monetary policy committee think inflation will move toward 2% over the next few years, the usually more-hawkish Fischer noted that core inflation under the measure the Fed uses has been 1.6% over the last year, and that the Consumer Price Index published by the Labor Department shows core inflation above 2% already.
"I believe it is a remarkable, and perhaps underappreciated, achievement that the economy has returned to near-full employment in a relatively short time after the Great Recession, given the historical experience following a financial crisis," Fischer said.
The Atlanta Federal Reserve Bank's GDPNow indicator, which picked up the downdraft in first-half growth sooner than most Wall Street or business economists, says the economy is growing at a brisk 3.4% clip now.
The pickup is based partly on strong consumer spending, which was healthy even in the second quarter. The Commerce Department raised its estimate of consumer-spending growth to an annualized 4.4%, up from 4.2%.
The numbers were very heavily driven by car sales, good news for American automakers such as Ford (F) and General Motors (GM) .
While business investment declined at a 9.7% annual rate, that was slightly better than the original estimate released last month, driven by a big decrease in inventories. The largest share of the drop was related to energy, as low oil prices buoy consumer plays like Wal-Mart (WMT) and buffet the likes of Exxon Mobil (XOM) and Chevron (CVX) .Weak investment alone sliced 1.7 percentage points off of the overall growth rate.
The other reason for a brighter outlook is much more favorable financial-market conditions, Goldman Sachs (GS) economist Jan Hatzius and colleagues said in a report before Yellen spoke.
Tight money engineered by traders, rather than central bankers, probably reduced growth by a percentage point in the first half of the year, Goldman said.
But price movements in stocks, bonds and other instruments is now helping growth, and will boost the economy by about half a percentage point by the first half of 2017, after making a small but positive contribution in the second half of this year, Goldman said.
This article is commentary by an independent contributor. At the time of publication, the author held no positions in the stocks mentioned.