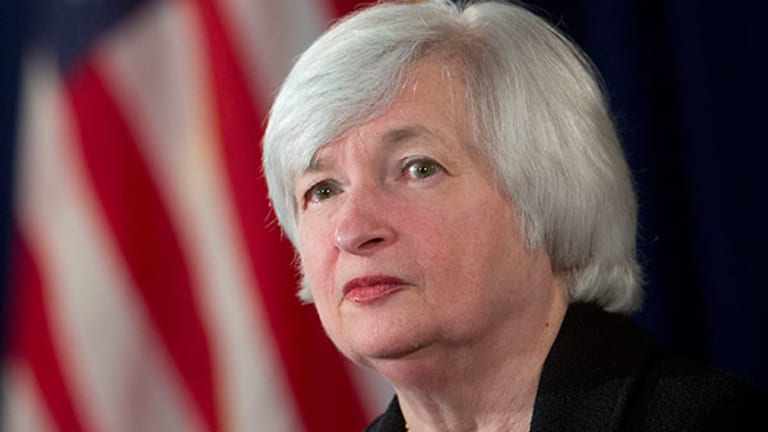 Janet Yellen and Bill Gross Agree Fed Should 'Get Off Zero'
After delaying an interest-rate increase once widely predicted for September, the Federal Reserve still hopes to take action before the end of the year, Fed Chair Janet Yellen said Thursday.
UPDATE: This article, originally published at 6:58 p.m. on Sept. 24, 2015, has been updated with additional comment from Fed Chair Janet Yellen.
NEW YORK (TheStreet) -- Federal Reserve Chair Janet Yellen and "Bond King" Bill Gross apparently think alike on interest rates: It's time to raise them.
Even though just last week, the central bank delayed an increase once widely predicted to occur this month, amid concerns ranging from China's slowdown to falling oil prices and inflation that remains below the Fed's target of 2%, the Fed needs to take action before the economy begins to overheat, Yellen said.
"Most of my colleagues and I anticipate that it will likely be appropriate to raise the target range for the federal funds rate sometime later this year and to continue boosting short-term rates at a gradual pace thereafter," she said during a detailed lecture on inflation dynamics and monetary policy at the University of Massachusetts-Amherst. Her comments, adjusted for economic terms, echoed themes in Gross's investment outlook the day before.
Touching on interest rates for the past 50 years as well as spiking inflation in the 1970s, Yellen noted that the Fed's move to end inflation then sparked a severe recession in the early 1980s. That indicates a real risk from keeping interest rates at their current level of almost zero, where they have been since the Fed cut them to bolster the economy during the financial crisis of 2008.
If the central bank waits too long to start raising rates, "we would likely end up having to tighten policy relatively abruptly to keep the economy from significantly overshooting both of our goals," she said. "Such an abrupt tightening would risk disrupting financial markets and perhaps even inadvertently push the economy into recession.
So-called moral hazard is another concern: "Continuing to hold short-term interest rates near zero well after real activity has returned to normal and headwinds have faded could encourage excessive leverage and other forms of inappropriate risk-taking that might undermine financial stability," Yellen said.
Bolstering the argument for a rate hike is general solidity of the U.S. economy, she noted. "Monthly payroll gains have averaged close to 210,000 since the start of the year, and the overall economy has been expanding modestly faster than its productive potential," Yellen said..
The chair's comments appeared to validate the prediction of New York investment bank Goldman Sachs, which said last week that the Fed is likely to raise rates in December, as well as to grant the wishes of Gross, who co-founded PIMCO before becoming a portfolio manager at Janus Capital Markets (JNS) .
In his October investment outlook, released Wednesday, Gross said average Americans are being "burned alive" by low interest rates because they're not getting the returns necessary to fund needs from retirement expenses to education. Further, he said, corporations are taking advantage of the rates to borrow money to buy back their own stock, since the return that repurchasing generates is greater than the cost of the loans.
Such tactics generally don't yield the same long-term return as investing in research and development or upgrading factories and equipment, he noted, and the Fed can curb that by bolstering interest rates.
"My advice to them is this: Get off zero and get off quick," he wrote.
Ultimately, Yellen said, the exact timing of the first increase matters less for the general economy than "the entire trajectory of short-term interest rates that is anticipated by markets and the public."