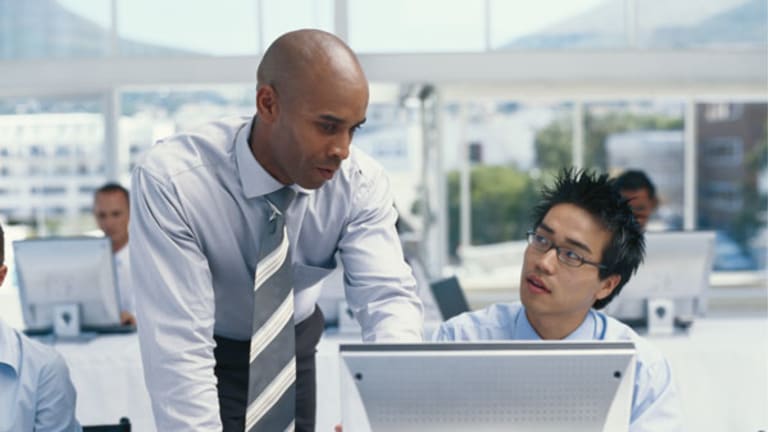 Updated from 9:54 a.m. EDT
Yahoo!
(YHOO)
has finally found its financial chief.
The Internet giant named investment banker Blake Jorgensen as its new chief financial officer on Tuesday.
Jorgensen, a co-founder of tech boutique brokerage
Thomas Weisel Partners
( TWPG), will replace Sue Decker, who is now heading the advertiser and publisher group at Yahoo!.
Jorgenson is expected to begin at the company on or about June 4.
"We think Jorgensen is a strong addition to the management team, given his financial and operational experience, and his familiarity with Internet companies and business models," Standard & Poor's analyst Scott Kessler said in a research note.
Yahoo! has been searching for a CFO since a high-profile shakeup in the company during last year's fourth quarter. As part of the restructuring, Yahoo! sent then-CFO Decker to a newly formed group that would oversee advertisers and publishers, a move that was widely perceived as putting her in line to eventually replace Semel as CEO.
The appointment of a new CFO has been widely anticipated at Yahoo!, but the search was thought to be complicated by Decker's appointment as the company's heir apparent. With the chance to succeed Semel seemingly no longer up for grabs, the CFO spot was seen as relatively less attractive than it may have been at other companies.
Still, Yahoo! had alluded to new assignments in its executive ranks during its quarterly conference call for investors in April. "We have been meeting with some fabulous executives and have been very pleased about that," Semel said then. "In the next number of weeks, I think we should have some newer people aboard."
Prior to working at Thomas Weisel Partners, Jorgensen had been at Montgomery Securities, another well-known boutique investment bank.
Jorgensen joins Decker as another senior manager at Yahoo! with a background in investment banking. Decker spent 14 years at the investment bank Donaldson, Lufkin & Jenrette before joining Yahoo!.
Shares of Yahoo! were recently off 15 cents to $29.16.