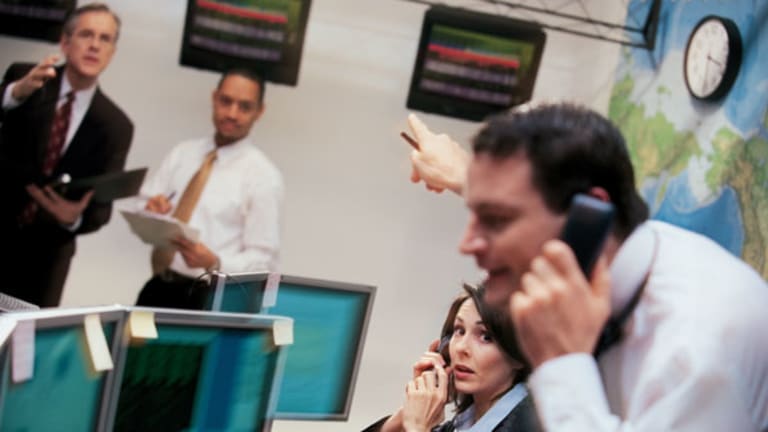 Yahoo! Earnings Will Focus on CEO Comments
Investors are primed for constructive ideas from the new chief.
NEW YORK (TheStreet) -- Later this afternoon, Yahoo! (YHOO) will release its latest earnings.
Investors have been fearful the report will show increased weakness, which they already telegraphed in prior guidance. It would be the third report in a row with a pessimistic tone.
The official estimates are for 24 cents in EPS on $1.19 billion in revenue. What's worse, analysts believe they will guide to even worse numbers for the first quarter with an earnings estimate of 20 cents per share on $1.08 billion in revenue.
Independent estimates
on Estimize.com
are even more bearish on this quarter, guessing Yahoo! will hit only $0.21 EPS this quarter on $1.15 billion.
Follow
TheStreet
on
and become a fan on
Yahoo! shareholders are likely to ignore these numbers and even the guidance even if it's worse than the bearish independents. What they will pay most attention to are the comments from new CEO Scott Thompson.
Thompson has had only one public appearance so far, which was the conference call with Chairman Roy Bostock introducing him to analysts.
He's now got a couple of weeks under his belt and is likely set to give much more detailed comments about his vision for the company than he could at first.
Thompson has been smart to keep a low profile these last few weeks. New
Research In Motion
(RIMM)
CEO Thorsten Heins has been blanketing the business news airwaves since his appointment was announced on Sunday night and it's been a disaster for the stock. He's sounded completely out of touch with the investor base.
Of course, Yahoo! investors would be most interested in the status of discussions around the Asian assets. However, they're unlikely to hear any news on that front other than the parties are continuing to talk.
Yahoo! board member David Kenny was named the head of
The Weather Channel
this morning, which likely signals that asset is no longer being considered as one that Yahoo! will receive as part of a cash-rich split transaction.
There were some rumors posted by
Business Insider
Monday indicating that Scott Thompson is interested in acquiring a payments company as part of any deal involving the Asian assets. That would make complete sense given his long background at
Visa
(V) - Get Report
and
PayPal
(EBAY) - Get Report
before coming to Yahoo! This board didn't hire Thompson to suddenly -- in his mid-50s -- start to learn how to become a media and advertising executive. He was brought in to play to his strengths and that means payments.
Google
(GOOG) - Get Report
Wallet has not been successful so far. There have been report of management shuffles, although on last week's earnings call Susan Wojicicki confirmed that Google is still committed to making the service work.
If there's anyone who can figure out a competitive alternative to PayPal, it would be Thompson. And as he noted in his first call a few weeks ago, Yahoo! is blessed to have "trusted" relationships with 700 million unique visitors each month. Presumably, many of these could conceivably be turned into payment relationships if a competitive service was offered to them.
What would also excite investors is if Thompson announced some meaningful job cuts. Everyone is expecting them -- even employees who realize the reality of a struggling core business with too many people.
Yahoo! has 14,000 people. It should probably be 8,000. We'll see if there are any specific cuts mentioned today. I would expect so.
Finally, it will be key to hear what is going to change in the core business near-term. Given Thompson's newness, I would expect to hear Ross Levinsohn -- EVP of the Americas -- on the call today handling that part of the conversation.
At the time of publication, Eric Jackson was long YHOO.
Eric Jackson is founder and Managing Member of Ironfire Capital and the general partner and investment manager of Ironfire Capital US Fund LP and Ironfire Capital International Fund, Ltd. In January 2007, Jackson started the world's first Internet-based campaign to increase shareholder value at Yahoo!, leading to a change in CEOs in 2007. He also spoke out in favor of Yahoo!'s accepting Microsoft's buyout offer in 2008. Global Proxy Watch named Jackson as one of its 10 "Stars" who positively influenced international corporate governance and shareowner value in 2007.
Prior to founding Ironfire Capital, Jackson was President and CEO of Jackson Leadership Systems, Inc., a leadership, strategy, and governance consulting firm. He completed his Ph.D. in the Management Department at the Columbia University Graduate School of Business in New York, with a specialization in Strategic Management and Corporate Governance, and holds a B.A. from McGill University.
He was previously Vice President of Strategy and Business Development at VoiceGenie Technologies, a software firm now owned by Alcatel-Lucent. In 2004, Jackson founded the Young Patrons' Circle at the Royal Ontario Museum in Toronto, which is now the second-largest social and philanthropic group of its kind in North America, raising $500,000 annually for the museum. You can follow Jackson on Twitter at www.twitter.com/ericjackson or @ericjackson.
You can contact Eric by emailing him at eric.jackson@thestreet.com.