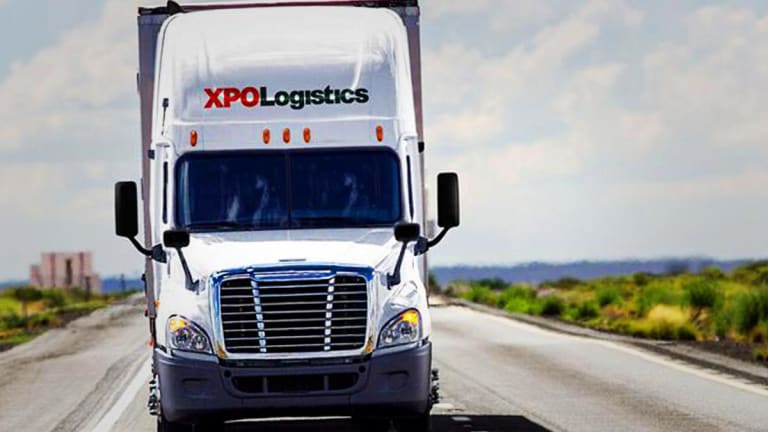 XPO Logistics Plummets on Earnings Miss and Warning for 2019
Shares of XPO Logistics tumble after the global freight transportation and warehousing company misses Wall Street's fourth-quarter earnings expectations and warns of a reduction of business for 2019.
Shares of XPO Logistics Inc.  (XPO) - Get XPO Logistics, Inc. Report  plunged 12.73% to close at $51.97 Friday after the global freight transportation and warehousing company missed Wall Street's fourth-quarter earnings expectations and warned of a reduction of business for 2019.
The Greenwich, Connecticut-based company reported net income of $84 million, or 62 cents a share, down from $189 million, or $1.42 a share a year ago. Adjusted earnings came to 72 cents a share, missing analysts' expectations of 84 cents.
Quarterly revenue totaled $4.39 billion, up 4.6% to $4.19 billion from a year ago. Analysts expected $4.56 billion.
For the year, the company reported profit of $422 million, or $2.88 a share, and revenue totaled $17.28 billion.
XPO said the reduction of business from its largest customer cut revenue by $46 million in the fourth quarter. The customer also curtailed business with XPO in early 2019, which could decrease revenue by roughly $600 million this year, or about two-thirds of the revenue the customer generated in 2018.
"We expect that our adjusted EBITDA growth this year will be in the range of 6% to 10%," Bradley Jacobs, chairman and CEO, said in a statement. "This anticipates the impact of our largest customer substantially downsizing its business portfolio with us starting in the first quarter, as well as our more cautious view of Europe."
For full year 2019, XPO said it expects revenue growth of 3% to 5%, which corresponds to organic revenue growth of 4% to 6% year over year.
JPMorgan analyst Brian Ossenbeck kept his overweight rating on XPO Logistics stock, but trimmed his price target to $78 a share from $84. Ossenbeck said in a note that "reading between the lines, we believe the shipper that is paring down its parcel injection, brokerage, last mile, and logistics activity with XPO is Amazon.
"Given the e-tailer's efforts to expand its logistics capabilities," Ossenbeck wrote, "we expect the market will interpret the XPO contract loss as Amazon taking capacity in-house which is negative for [FedEx] and UPS."
Separately, XPO Logistics said will close a Memphis warehouse where employees had complained about widespread discrimination and a number of pregnant workers had miscarriages. The moves follows a New York Times investigation of the location. The company said it would close the site because Verizon, whose cellphones and other products XPO ships from the warehouse, had decided to stop using the facility. More than 400 XPO employees will lose their jobs.