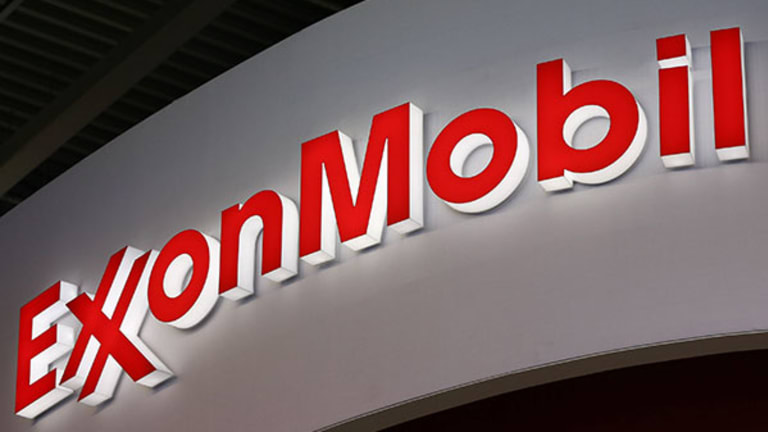 XOM, RDS, PG, FB: Jim Cramer's Views
Jim Cramer shares his views on the oil downturn and emotion in the market. ExxonMobil, Royal Dutch Shell, Procter & Gamble and Facebook are among the many stocks discussed here.
NEW YORK (Real Money) -- Jim Cramer shares his views every day on RealMoney.Click here for a real-time look at his insights and musings.
Taking Your Cue From Exxon? Good Luck With That
Posted at 9:40 a.m. EDT on Friday, July 31, 2015
Sometimes it's a question of, we don't know what's bullish or bearish. For example, if someone decides to buy a ton of stock back at high prices and then, when the stock gets lower, stops buying, is that bullish or bearish?
If a company buys another company to take advantage of the decline in the second company's assets and then decides much further down that the assets may be worth less than they thought because the commodity they make isn't as valuable as it was, is that bullish or bearish?
I am talking about Exxon (XOM) - Get Exxon Mobil Corporation Report and Royal Dutch Shell undefinedundefined, both of which seem to have gotten this entire oil downturn wrong. Exxon had been the most aggressive buyer of its stock for ages, but now that the stock has been clobbered, down 25 points from the high, it announces it is cutting its buyback in half. Oil has now been falling for a full year, and this is when they realize they have been buying too high?
To me, that would make me want to do the opposite.
Back in April, Royal Dutch announced that $70 billion BG Group (BRGXF)  buy, an acquisition that is primarily about deep water Brazilian properties, the kind that are simply uneconomic at these prices.
Yesterday, it announced it is scaling back billions of dollars of the kinds of projects you need to make BG worthwhile. I could argue they could have gotten this sucker for half of what they paid, if they have waited.
So now that these two firms have turned officially bearish, now after enormous declines, we should get really negative?
Yet that's what it looks like is happening.
It's almost as if these giant companies are shocked and dazed.
I continue to think that oil is putting in a bottom, where it put one in before or slightly higher.
I will take my cue from the supply and demand numbers, which I think are coming into balance, the way that David Demshur from Core Labs (CLB) - Get Core Laboratories NV Report said earlier this week on Mad Money.
But today is the day that everyone's taking his cue from Exxon.
Good luck with that. 
At the time of publication, Action Alerts PLUS, which Cramer co-manages as a charitable trust, had no positions in the stocks mentioned.
Remove the Emotion From the Equation
Posted at 1:12 p.m. EDT on Thursday, July 22, 2015
Sometimes you just have to remove emotion from the equation. When you look at a company's stock, you can't say, "How can that stock go down like that?" or "How ridiculous, that's a buy." What you have to do is use metrics, comparisons and cold, hard facts. That's how prices are arrived at every day.
Which is why when you see Procter & Gamble (PG) - Get Procter & Gamble Company Report leading the Dow Jones Industrial Average down for the day, you can't be shocked and troubled. You need to be clinical and skeptical.
I mention Procter because it is about as well-known as a company can get, the biggest consumer products company in the world and one with a long history of doing better than the others in its industry.
But it's not now. Whether it's because it lacks killer innovation or because it is too hard and unwieldy to manage, or it's just charging too much, which is what I believe might be the case for Gillette razors -- jeez, they are hitting you up for a couple of bucks in all that needless and wasteful packaging -- Procter's just not delivering.
Now, why do I say that? What makes me so sure? Because there are metrics in this business, the metrics you need to know that call the tune in each industry. PG can throw around all of the numbers it wants, the revenue number, the dividend size, the earnings per share, constant currency or otherwise, but all that really matters in consumer packaged goods is organic growth, the true growth of a company, the real yardstick of home-brewed innovation.
Procter's number? One percent. Throw out that headline that they put on the release: "P&G Delivers Double-Digit CurrencyNeutral Core Earnings Per Share Growth in Fiscal 2015."
The real growth is 1%.
How much does this matter? Kimberly Clark (KMB) - Get Kimberly-Clark Corporation Report delivered 4%. Unilever (UN) - Get Unilever NV Report put up 2.9%. PepsiCo (PEP) - Get PepsiCo, Inc. Report had 5% organic growth. And Mondelez (MDLZ) - Get Mondelez International, Inc. Class A Report, of Oreo and Cadbury fame, gave you 4% growth just this morning.
That's why Mondelez is up almost 5% and Procter's down almost 4%.
You want to see emotion instead of common sense at work? Consider Facebook (FB) - Get Meta Platforms Inc. Class A Report, the F in the acronym FANG, with the others being Amazon (AMZN) - Get Amazon.com, Inc. Report, Netflix (NFLX) - Get Netflix, Inc. Report and Google (GOOGL) - Get Alphabet Inc. Class A Report. (Facebook and Google are part of TheStreet's Action Alerts PLUSportfolio. Amazon is part of the Growth Seeker portfolio.)
Facebook, which reported a fantastic quarter last night, is getting clobbered, making people wonder whether it deserves to be part of my acronym.
My answer? Of course it does. But the stock ran up and ran up hard into the quarter, traveling from $77, where it fell to after its last so-called disappointing quarter, all the way up to $99 when it gained FANG status nine days ago. That's a gigantic ramp, one that came totally in conjunction with the moves in the stocks of the other high growers.
Now, put aside that the First Amendment gives you the right to say and do as many stupid things as you like, including sell Facebook. Accept that if you want to distinguish yourself as a moron by selling Facebook right here.
Or, on the flip side, feel as dumb as I do when I stack myself up mentally against Facebook's Mark Zuckerberg and Sheryl Sandberg. I am a competitive fellow, but I am not in their league.
It doesn't matter.
What matters is $3.75. That's right, three dollars and seventy-five cents. After listening to last night's conference call, it's what I think Facebook can earn per share in 2017. It is the fastest-growing large-capitalization company on Earth right now. That's right, on Earth, with monthly average users now at 1.31 billion people, up 23% year over year, a staggering figure. It's gotten to $4 billion in revenue in a remarkably short period of time, an astounding 39% revenue growth year over year with a 28% increase in net income.
Why do I care about these numbers? Because that trajectory and the low expense structure -- don't listen to those who say the company is spending like a drunken sailor, they don't know what they are talking about -- allow me to put pen to paper and figure out what I will pay for the $3.75 I think it will earn in 2017.
Now get this. When I see companies growing this fast, I am typically willing to pay up to twice times the growth rate for what I think it can earn in the key 2017 out year I use for the growth stocks I analyze.
It's relatively easy to argue that with those spectacular numbers I should be willing to pay, clinically, up to roughly 60 times what I think it could earn. Let's see the arithmetic. That 60 multiple when applied to $3.75 in earnings, remember, multiple times estimates, yields $225.
OK, I know, the stock's at $93, probably on the way down to $89, if the 8% profit-taking decline we saw after it reported last holds true. So let's just say, even though I am using classic P/E analysis, it's too darned absurd to even talk about a $225 target.
Let's cut it in half. In other words, instead of putting a 60 multiple on the earnings estimate, the upper limit a growth manager would be willing to pay, let's say it deserves only one times its growth rate, a totally absurd, ludicrous number that is ridiculously conservative and defies any traditional form of analysis, you still get to $112.
Now you may think this is all a bunch of mumbo-jumbo. You may look at the stock going down and react emotionally and start to make up alibis for its decline. I am telling you that when the smoke clears the big-money managers will use my arithmetic and come back to this stock. What's my standing here? I have been doing the same kind of analysis ever since my charitable trust bought the stock in the mid-$20s. I've been right. That's worth something. More important, it's the only clinical, non-emotional way of valuing the stock, and that's what big-money managers do.
You want emotional? Look at Whole Foods (WFM) , down 11% on the day on its earnings, taking the stock back to where it was back in 2012. Absurd given how profitable it is per square foot, perhaps the most of any retailer I follow? Ridiculous given the amazing service and the fantastic food? No. Not at all. You see, in the end it is a retailer, and retailers are measured as a function of their same-store sales, which is like the organic number we used for Procter & Gamble. Whole Foods gave you a 1.3% comparable sales growth number, which, alas, is terrible, well below virtually all the major retailers I follow and a considerable distance from another supermarket chain, Kroger (KR) - Get Kroger Co. Report, which grew at a 5.7% rate, an acceleration from 4.6% in the previous quarter. There was a time when you couldn't really compare the two, one was a natural and organic-based chain and the other just a regular old supermarket. But go to a Kroger these days and you will see it jam-packed with many of the same type of organic offerings at a lower prices.
So on an apples-to-apples basis, Whole Foods is decelerating to a 1% and change growth while Kroger is accelerating to a 5% growth. Now get this, Kroger sells at 19x earnings while Whole Foods sells at 21x earnings. It is richer than Kroger but doing much worse on the traditional benchmark.
On the Whole Foods conference call, the company tried hard to say you should look at its stores on other metrics, like return on invested capital. Co-CEO John Mackey called it heretical but questioned the same-store sales analysis given the immense profitability of each store. Nevertheless, my discipline of using comparable store sales analysis -- the one, for instance, that saw Skechers (SKX) - Get Skechers U.S.A., Inc. Class A Report rally 19 points today, and I will have them on Mad Money tonight, because they had 12.9% comparable store sales -- has never led me astray. At 60, with 35 years' worth of experience analyzing stocks, I can't change now. So I would still sell Whole Foods and buy Kroger.
Yes, it's called taking the emotion out of it, and when you do, you can have a clear head. You can ignore the noise. Forget the current price of the stocks and reflect on where they are going. It's the only way you can think longer-term if you are an investor and it says it's right to sell PG and Whole Foods but wrong to do so with Facebook. You may disagree, but know this, you are disagreeing with a process that most big-time money managers use for the long term, and they are more often on the right side of history because their process controls it.
At the time of publication, Action Alerts PLUS, which Cramer co-manages as a charitable trust, was long GOOGL AND FB.