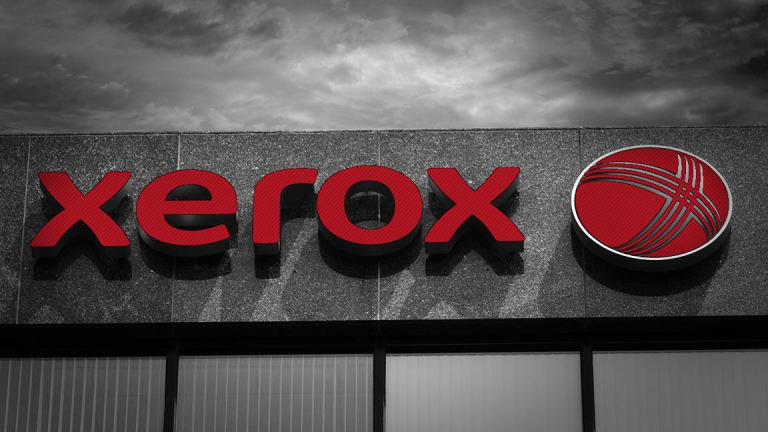 Xerox Soars on Earnings Beat and Solid 2019 Forecast
Xerox soars Tuesday on an earnings beat and solid forecast.
Xerox soars Tuesday on an earnings beat and solid forecast.
Xerox Corp. (XRX) - Get Report shares closed up more than 11.44% to $27.08 on Tuesday after the office-equipment maker posted fourth-quarter adjusted earnings that beat Wall Street estimates by 10 cents, and forecast 2019 earnings above expectations.
Revenue of $2.53 billion fell 5% and came in below estimates of $2.56 billion. Revenue fell 7.8% from the $2.75 billion reported in the year-earlier comparable quarter.
The Norwalk, Conn.-based company said it expects a revenue decline of other 5% decline in 2019. 
Adjusted fourth-quarter earnings were $1.14 a share vs. estimates of $1.04.
The company sees full-year 2019 adjusted EPS of between $3.70 and $3.80 vs. estimates of $3.53, according to Bloomberg.
"Its recent downgrade to junk credit is unlikely to improve in 2019," said analysts at Bloomberg Intelligence. "Secular operational headwinds will result in yet another year of mid-single digit top line declines," the primer stated.
Meanwhile, the board approved incremental share buyback of $1 billion, of which $300 million is to be repurchased in 2019.
Score a Touchdown with Jim Cramer's Big Game Special
Get access to the best stock picks in Jim Cramer's investment portfolio by executing a two-minute drill on our Big Game Special on Action Alerts PLUS, Jim's VIP club for investors. Sign up now through Feb. 4 and receive 58% off of the normal subscription price. Now that's a real touchdown!