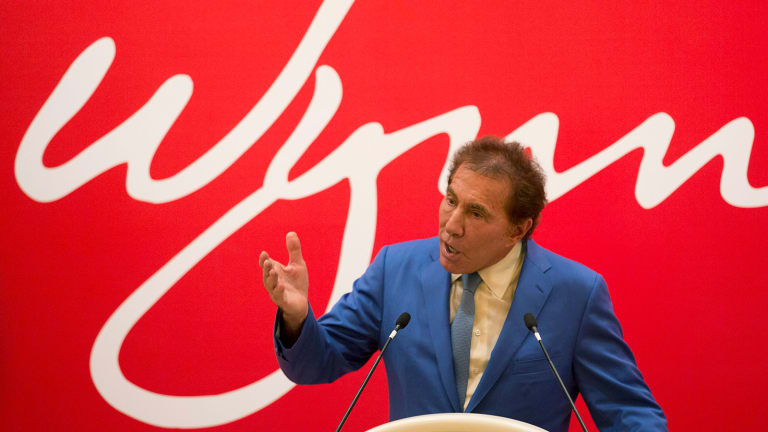 Where Is the Bottom for Wynn Resorts?
Wynn Resorts is going through tough times, but its chart is not totally broken.
While the performance of firms trying to navigate their way around difficult headlines may be almost impossible to predict, the good news for this one, is that technically speaking, Wynn Resorts (WYNN) - Get Report is not yet truly broken, if you can believe it.
One must keep in perspective the fact that Wynn had been up 19% year (or month) to day just a few days ago. Even now, at Friday's closing prices, the S&P 500 is 7.45% higher for 2018, and WYNN is still up 6.94%, even with that 10% plunge on Friday.
Not to say that the name is out of the woods, far from it; but if you bought the stock before last week, you probably should look to extract at least part of the position, if you have not already, while your P/L ratio still sports a P. For the short-timers, you might want to purchase some protection. I don't like that idea either, but in this case, unless you decide to lighten up, it may be prudent.
Trading volumes were enormous for the name on Friday. Does that mean that the blood is out? You really can't know that. To try to figure out where one might stand on this one, we'll start our models with the August selloff and run it right through Friday. The Pitchfork tells us that the lower trend line remains intact. The chart gets busy here, so stay focused. With the name lower this morning, the 38.2% Fibonacci re-tracement level becomes key. Should the stock remain above that spot and above that lower trend line, then the overall trend could remain unbroken.
That will make the fan lines (orange) all the more important as time stretches through February and March. I would not call this positive by any stretch. I'll just say that if you own the name, you still have a fighting chance to extract yourself somewhat gracefully. For the volatility players, straddles going out three weeks bearing strike prices close to the last sale closed at $15 and change on Friday. These might be worth a look after they open today.
(This is an excerpt from Stephen "Sarge" Guilfoyle's Morning Recon, which now appears exclusively on Real Money, our premium site for active traders. Click here for a free 14-day trial and receive Morning Recon every day, along with exclusive columns from Jim Cramer, James "RevShark" DePorre, technical analyst Bruce Kamich and more.)
More of What's Trending on TheStreet:
At the time of publication, Stephen Guilfoyle was long AMZN, AAPL, BABA, GOOGL, LMX, STX, although positions may change at any time.