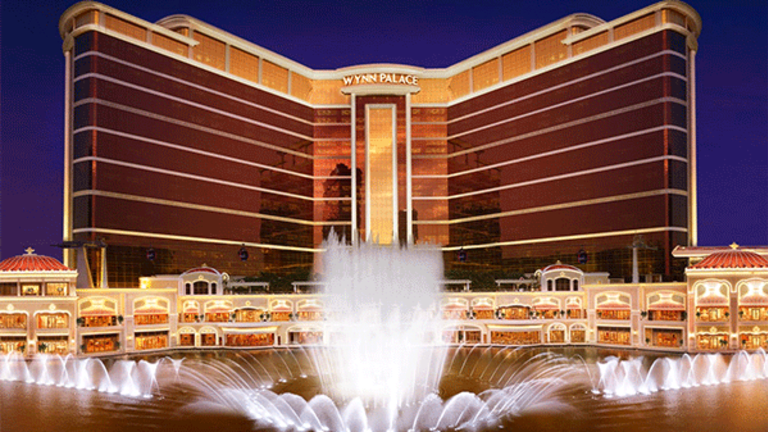 Wynn Resorts Has Been on Fire, and It's Not Going to End Anytime Soon
What you need to know.
Casino giant Wynn Resorts (WYNN) - Get Wynn Resorts, Limited Report has been on a tear, with its shares rallying 53% so far in 2017, far outpacing the S&P 500's return of some 9%. And Wynn investors might consider doubling down on their bets as industry experts see the stock moving even higher. 
"We should see more momentum on this stock for at least the next three months," said John Blank, chief equity strategist at Zacks Investment Research, whose firm rates Wynn at Buy.
Wynn's shares closed Monday at $131.01, which is up significantly from their low of $49.95 set in January 2016. However, the price is still far below the company's all-time high of $249.31 set in March 2014. 
The lucrative Macau market is largely behind the rally. There are about 1.4 billion people in China, which is almost 20% of the world's population. And Macau is China's only legal gambling market.
"Wynn gets 64% of its revenue from Macau," said Blank."Given the improving gaming trends in Macau and continued improvement in the Las Vegas business, the stock should perform well in the quarters ahead."
Macau has been both a blessing and a curse for the gaming sector since the recession. Certain casino companies, such as Wynn, Las Vegas Sands (LVS) - Get Las Vegas Sands Corp. Report and MGM Resorts International (MGM) - Get MGM Resorts International Report , relied on their big exposure to the Chinese gambling mecca to offset the slowdown in Las Vegas following the 2008 recession.
High rollers and other gamblers flocked to the Chinese mecca, which helped prop up Wynn's gaming revenue and stock price during the economic turmoil in the U.S. 
All of that changed in 2014, when a series of events rattled the Macau market, causing gaming revenue to plummet: the weakening Chinese economy, a swine flu outbreak, visa issues, new smoking restrictions in casinos and a Chinese government anti-corruption campaign all took a toll. The government crackdown, in particular, spooked high rollers, disrupted the popular junket system, and curbed aggressive lending - causing VIP gaming revenue to nosedive.
Wynn Resorts took the hardest hit, with its shares losing almost 80% of their value over a 22-month period. "Things overshot on the downside," said Dan Wasiolek, senior equity analyst at Morningstar Research Services LLC, who saw the low stock price as a buying opportunity.
But a rebound in Macau in 2016 and an improving U.S. economy caused Wynn and other gaming stocks to soar back. Wynn is also reaping the benefits of its Wynn Palace Cotai resort, which opened last August on the Cotai strip in Macau. 
"We've had 10 straight months of positive gaming growth in Macau after 26 negative months," said Wasiolek.
While Macau has rebounded, its gaming revenue is still far below the levels it generated when Wynn's stock price topped $249.
"The Macau gaming market was about $45 billion when the stock price was that high, and today it's about $30 billion," said John DeCree, head of equity research at Union Gaming Group.
It will likely take some time for the region to return to its former glory, said Blank.
Still, visitor and gaming revenue growth is expected to accelerate beginning in 2019 as Macau rolls out several large infrastructure programs, including a light rail transit system and the Hong Kong Zhuhai Macau bridge. The projects are expected to alleviate congested traffic, making it easier for more visitors to enter Macau, said Wasiolek.
Analysts also see potential growth for Wynn in Japan.
The Asian country's recent move to legalize gambling could be a potential windfall for Wynn if it gets one of Japan's gaming licenses, although it will likely be several years before this plays out. It will likely be 2021, at the earliest, before a new resort opens its doors in Japan, said Mr, DeCree. 
Some analysts have 12-month price targets on Wynn of more than $180 a share - Others are more cautious and plan to adjust their numbers after the company reports its second quarter earnings results next month. 
Analysts see Wynn as a good choice for investors seeking stocks that are largely unaffected by the Trump agenda. In recent weeks, there have been broader market selloffs whenever concerns arose about possible delays in President Trump's efforts to pass healthcare and tax reforms.
"Wynn is a China/Asia story for them, so it has nothing to do with Trump per se unless he screws up some trade agreement with China," said Blank.
Even the U.S. corporate tax reform debate won't affect Wynn much, since the company pays a steep gaming tax in Macau and uses the large foreign tax credit to offset its U.S. tax burden, noted Mr. DeCree. 
Many analysts see Wynn as a good long-term play. 
However, all bets are off if Macau implodes again, the U.S. falls into a recession, or there is political upheaval in the U.S., such as the impeachment of a president.
"That kind of political shock would impact the markets broadly," said DeCree. "Political instability would be a rough day for the stock market across the board."
Visit here for the latest business headlines.
This article is commentary by an independent contributor. At the time of publication, the author held no positions in the stocks mentioned.