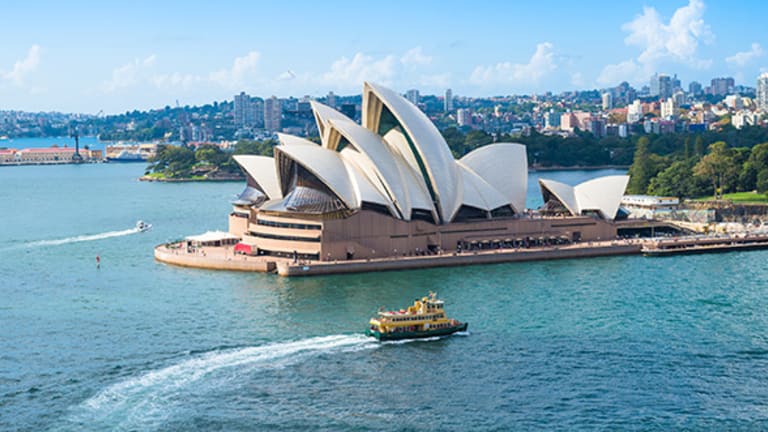 World's Most- and Least-Affordable Places to Buy Homes
Hong Kong and Sydney top the list of the 'least affordable' places in to buy a home. Many of the best spots are in the United States.
Editors' pick: Originally published Jan. 24.
This column originally appeared at 9 a.m. ET on Real Money, our premium site for active traders. Click here to get great columns like this from Jim Cramer and other writers even earlier in the trading day.)
Want to buy a house in Hong Kong? As a fresh graduate, you can expect to wait years to be able to afford one. 
Things aren't much better in Sydney, Australia, or Vancouver, Canada, which are next in line for the least-affordable housing in the world, according to the latest figures from the statisticians at Demographia. And it will take you more than a decade's worth of saving 100% of your income to pay cash for a pad in Santa Cruz and Santa Barbara in California, as well as buy a place in Auckland, New Zealand.
Demographia's latest report represents the 13th time the group has priced out housing affordability globally. Figures compare median household incomes with the median price for a home in 406 cities around the world. The data were taken as of 2016's third quarter, and while the study didn't account for a home's size or quality, they do provide an easily compared measure of how affordable accommodation is in your city of choice.
Many of the cheapest cities the Demographia found are in the United States, still feeling the effects of the global financial crisis. In fact, with the average home costing 3.9x income, the United States is the cheapest major market to buy a home. Look to the Midwest or Northeast for your best bets. The cheapest cities are led by Racine, Wisc., Bay City, Mich., Decatur, Ill., Elmira, N.Y., and East Stroudsburg, Penn.
Japan, the United Kingdom, Canada, Ireland and Singapore round out the list of locales with more-positive news for house hunters. By contrast, Hong Kong has led the least-affordable list ever since it was first included seven years ago. Sydney is second in the rankings for the second year in a row.
In Hong Kong, it would take you 18.1 years of saving your entire income to pay cash for a place to live, with the midrange price at $5.4 million. The high values, and therefore thick profit margins, are good news for Hong Kong's major developers, led by Sun Hung Kai Properties (SUHJY) , Sino Land (SNLAY) , Swire Properties (SWROY) , Cheung Kong Property (CNGKY) and Kerry Properties (KRYPY) .
Sun Hung Kai should see strong earnings growth of more than 10% through 2019, according to analysts. Sino Land is a company with high earnings visibility and a war chest of cash that allow for acquisitions of properties and land. Kerry has a 70% discount to net asset value, making it one of the cheapest Hong Kong developers.
Swire consistently produces some of the cities highest-quality apartments. Cheung Kong is at the opposite end in terms of quality and finishing ­-- but as a company that makes some of the smallest apartments in the city, it is a defensive play that caters to first-time buyers. 
Hong Kong developers face a sudden slowdown in the market, after the government in November introduced a 15% transaction tax on the value of any home that is not bought by a first-time buyer. That's on top of another 15% tax that applies to people who aren't permanent residents, status that takes seven years to attain. Transactions in the city have halved since the introduction of the second tax at the end of last year. Interest rates, with a currency pegged to the U.S. dollar, are on the rise. 
Hong Kong's level is at least down from 19.0x annual income last year, a record high. Sydney's homes are substantially lower in price than Hong Kong, at $1.1 million. But it will still take 12.1 years' worth of income before you could pay all-cash for a roof over your head.
Many of Australia's largest property companies and pretty much all its A-REITs (real-estate investment trusts) concentrate on commercial, retail and industrial properties, rather than homes. But Westfield (WFGPY) and Lend Lease (LLESY) are the biggest developers in the country and offer some residential exposure, as well as conveniently being listed in the United States. Australand (AUAOF)  is also U.S.-listed.
Peet Ltd. A:PPC and Sunland Group A:SDG are two of the handful of companies entirely devoted to residential development, but are only listed Down Under. Likewise, Austcorp A:AUU, Cedar Wood Properties A:CWP, Finbar Group A:FRI, Folkestone A:FLK, Metroland A:MTD and Payce Consolidated A:PAY are all worth a look for portfolios that include at least some home-development exposure. 
Vancouver retained its third-place spot in Demographia's latest ranking. It is gaining fast, however. At 11.8 times earnings, its affordability has leaped an entire year's worth of income in just 12 months. That leaves a mid-range home costing $830,100.
Of course, cities are more than just numbers and statistics. Demographia notes that many measures of "livability" highlight cities that may not be at either end of the ranking, and may separate cities that appear at first glance to have similar characteristics. The group highlights Dallas-Fort Worth and Kansas City as places that "have achieved the objective of putting people over place."
At the time of publication, Alex McMillan had no positions in the stocks mentioned.