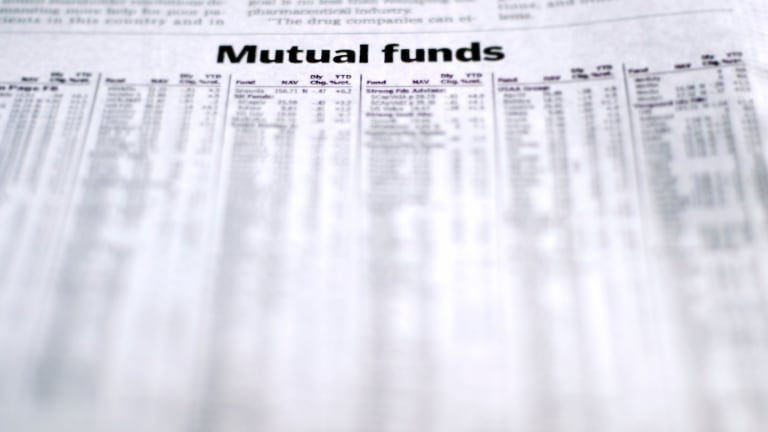 Legg Mason Withdrawals Quicken in Latest Sign of Mutual-Fund Woes
The mutual-fund industry can't seem to keep investors from shifting their money into low-cost exchange-traded funds and index-matching funds.
For the U.S. mutual-fund industry these days, it's insult after injury, and then another injury. 
The latest indication of the deterioration came from Legg Mason Inc. (LM) , which reported last week that investors pulled $3 billion from its long-term mutual funds in July, along with another $1.6 billion from money-market funds and other liquidity products. The outflows added to a combined $81.4 billion pulled from the Baltimore-based money manager since the end of the fiscal year ended in March 2015. 
As recently as July 25, Legg Mason's executives had signaled to Wall Street analysts that the company's long-term funds would see outflows of just $1.5 billion during July.
"Thus, the total outflow number would indicate an accelerated attrition rate at the very end of the month," Daniel Fannon, an analyst at the brokerage firm Jefferies, wrote in a report.  
Legg Mason shares fell 9 cents, or 0.3%, to $31.89 in morning trading on the New York Stocks Exchange.
For years, professional stock pickers have been losing the battle for investors' money to low-fee index-matching funds and exchange-traded funds offered by the likes of industry behemoth BlackRock Inc. (BLK) , and there are few signs of a shift in momentum anytime soon.
A new threat emerged on Aug. 1 when the money manager Fidelity Investments announced two new index funds that will charge no fees, as a way of enticing customers to try other products and services at the Boston-based firm. According to Fitch Ratings, the move could put pressure on rival fund managers to cut fees to stay competitive.   
"A broader roll out of zero-fee funds, or further reduction of current fee structures, would exacerbate the long-term earnings pressures facing traditional investment managers," Fitch wrote last week in a report. 
According to a separate report Monday from Jefferies, investors redeemed a net $11 billion from all stock-focused mutual funds in July. ETFs, meanwhile, added $31 billion. 
ETFs can be traded on a stock exchange and generally track markets rather than trying to beat them. In turn, they usually charge lower fees than traditional mutual funds run by active stock-pickers.
Last year, assets invested in ETFs in the U.S. increased by 34% to a record $3.42 trillion, according to the London-based research firm ETFGI. The growth of $874 billion was more than double the previous record, set in 2016.
Over the past decade, actively managed stock funds have seen net outflows of $1.1 trillion, while index funds and ETFs have pulled in a net $1.4 trillion, according to the Investment Company Institute, the main lobbying group for money managers.
Indeed, Legg Mason isn't alone. The mutual-fund managers Franklin Resources Inc. (BEN) , Invesco Ltd. (IVZ) , AllianceBernstein Holding LP (AB) and Waddell & Reed Financial Inc. (WDR) also saw further investor outflows in July, based on estimates by Fannon at Jefferies. 
"The story for traditional asset managers continues to be of a sector facing structural pressures," Goldman Sachs analyst Alexander Blostein wrote July 29 in a report. 
BlackRock, the world's biggest investment firm, saw customer inflows of $20 billion during the second quarter, fueled by demand for ETFs. Total assets under management climbed to $6.3 trillion. 
Legg Mason's total assets under management ended July at $749.2 billion.