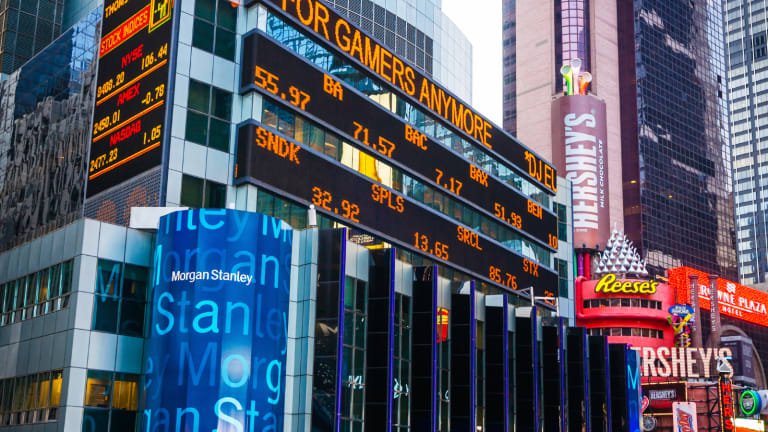 It's OK to Panic About Tech Stocks Right Now
Tech stocks have been hot. Will the run continue? It could, but the gains may not continue forever.
Tech stocks have been hot. Will the run continue? It could, but the gains may not continue forever.
For the new kids, the PowerShares QQQ Trust Series 1 ETF (QQQ) - Get Report is an ETF (exchange traded fund) that seeks results that in general correspond to the performance of the Nasdaq 100 index. As a stock picker, I generally do not love ETFs all that much, but find no fault in their use to reach a specific goal, or to line a targeted portfolio as a benchmark.
The Nasdaq Composite hit the 7,000 levels on Monday. The Nasdaq 100, with many of the same components, is actually comprised of the top 107 (bet you did not know that) non-financial names listed at the Nasdaq stock market.
QQQ runs at a market cap of $60 billion, pays a yield of 0.84%, and went ex-div yesterday. That dividend is payable next Friday. The expense ratio is an extremely affordable 0.2%. For those looking for exposure to the tech space without picking individual names, this is one way to go. Tax reform may treat the tech space less kindly than others, if only because that group's effective tax rates are already very low.
The group dodged a bullet with the elimination of the corporate AMT. I personally doubt that equity markets will succeed if tech does not. I doubt that U.S. consumers will very likely forego technology en masse. I see, and we have experienced the rotation, and it is something to contend with. Occasionally.
Still, for the most part, when I trade out of tech and get back in, it tends to be at a higher price in many of my names, thus reducing my overall profit, even though I have often obeyed my time-tested disciplines. Still learning.
What's inside? The top ten holdings of the QQQ ETF are like a "who's who" of the technology sector. I am long several names myself, as I prefer to be my own ETF. Action Alerts PLUS charity portfolio holding Apple (AAPL) - Get Report leads the way, at a 12.2% weighting. AAPL, by the way is still cheap in my book, trading at just 14.5 times 2018 projected earnings. That stock also just hit my price target again yesterday, though it has indeed come in overnight. I think that this time I will wait for a take and hold at the $176 level rather than just sell half, which is what I have done with this name in the past.
Included in the fund's top seven holdings as well are many of your favorites, such as Microsoft (MSFT) - Get Report , Amazon (AMZN) - Get Report , Facebook (FB) - Get Report , Alphabet -- both classes (GOOGL) - Get Report , (GOOG) - Get Report -- and Intel (INTC) - Get Report . Wondering just how well this fund tracks the index? The Nasdaq Composite has run 30% year to date. The Nasdaq 100? 33.92%. QQQ? Oh,33.9% -- pretty darned close.
This decade-long monthly chart is just for show and tell, because it is awesome. Just look at the technically overbought condition that both relative strength and the moving average convergence divergence (MACD) convey to the viewer in this snapshot! That is basically a year-long condition. Incredible. Tech. Oh yeah.
The one below is a more useful chart for folks actually trying to trade the space. What jumps out here is the sudden pop for the MACD, coming out of another failed attempt at a rotation away from info tech. Relative strength is also in jive with this theme. What to do? Long? Ride the wave. Want to be long? That's a horse of a different color.
I have imposed a Fibonacci Fan on the model that assumes the trend stays intact and stretches into the future. The panic point for a trader protecting gains looks to be around $150 right now, and will likely be $151 by New Year's Day.
Add an unbroken month, and this level would become $154. See how that works? By the way, if you're the kid looking for entry, you can chase if you want to. I don't. One man's panic point is another's opportunity. Bang.
(This is an excerpt from Stephen "Sarge" Guilfoyle's Morning Recon, which now appears exclusively on Real Money, our premium site for active traders. Click here for a free 14-day trial and receive Morning Recon every day, along with exclusive columns from Jim Cramer, James "RevShark" DePorre, technical analyst Bruce Kamich and more.)
Facebook, Apple. Alphabet and Microsoft are holdings in Jim Cramer's Action Alerts PLUS Charitable Trust Portfolio. Want to be alerted before Jim Cramer buys or sells these stocks? Learn more now.
To receive the FREE "Morning Jolt" daily newsletter, click here.
More of What's Trending on TheStreet:
At the time of publication, Stephen Guilfoyle was long AAPL, AMZN, GOOGL, INTC, although positions may change at any time.