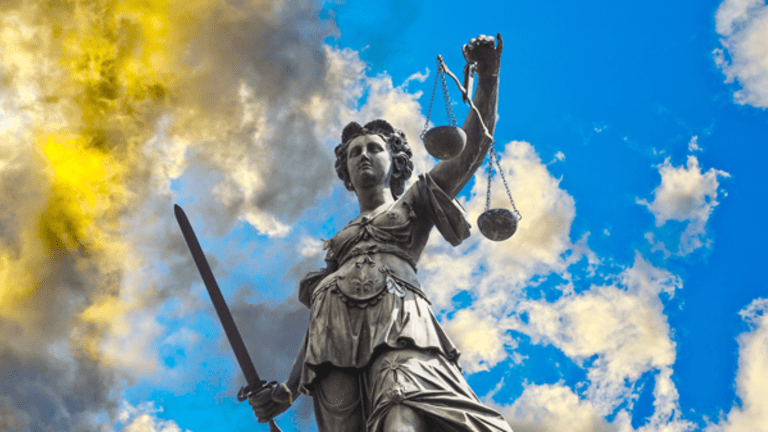 With Recent Highs, Has Wells Fargo Moved Past Last Year's Scandal?
The mega-bank's stock has benefited substantially from measures to improve accountability.
The mega-bank's stock has benefited substantially from measures to improve accountability.
Shares of Wells Fargo (WFC) - Get Report  have fallen 4.7% in March as the financial sector sold off, and only a few months ago, analysts were warning that the mega-bank's fortunes were in decline amid a retail-branch scandal.
But with the San Francisco-based bank also hitting new record highs earlier this month, should investors think twice?
On March 1, Wells Fargo announced that CEO Tim Sloan, as well as seven other top executives, will not receive their usual cash bonuses for 2016 and will also take a 50% cut to their performance share equity awards. All told, this decision will reflect a $32 million compensation cut.
Back in September, Wells Fargo was hammered after a settlement with government agencies involving employees opening more than 2 million fake bank or credit accounts over a period of several years. To blame was a cutthroat corporate culture that paid employees based on how many accounts they could sell.
Wells Fargo, which was slapped with a sizeable fine and saw its image tarnished, vowed to improve its "aggressive" commission-based business model. In February, Wells Fargo recorded 55% fewer new credit card applications and a 43% plunge in new checking accounts.
But the bad press about Wells Fargo simply created a good opportunity to buy shares in the bank at a relative discount. That's because, fundamentally, there's still plenty to like about the bank.
Looking deeper into fourth-quarter results, we can see that consumer spending on debit and credit cards issued by the bank rose, as did the number of deposits that customers made. Apparently, the scandal didn't bother the company's existing customers too much.
And new customers will soon be streaming in, as well. Scandals such as the one that rocked Wells Fargo last year are quickly forgotten in the world of big banks. JPMorgan Chase (JPM) - Get Report , a favorite among investors, has been no stranger to controversy, nor has Barclays (BCS) - Get Report .
Wells Fargo is quick to point out that the bonus cuts don't reflect on any negative doings on the part of CEO Sloan or the other top brass affected.
"These compensation actions for the operating committee, though not related to any findings of improper behavior, are part of the board's ongoing efforts to promote accountability and ensure Wells Fargo puts customers first," the bank said in a statement. "We will continue to work to make right what went wrong and remain focused on providing the accountability and oversight that our customers, employees and investors expect and deserve."
Investors are clearly happy with the improvements Wells Fargo has been making. In the past 12 months, the bank's stock price has grown by nearly 13%.
The 30 analysts currently offering 12-month price targets for this stock have set a median forecast of $58.50. That's not much higher than where the stock is currently trading, however.
Still, Wells Fargo could be a steady investment for the long term and its stock could surprise investors with more upside. After all, many didn't see this month's highs coming.
---
As we've just explained, Wells Fargo is still an excellent growth opportunity. If you're looking for other growth opportunities, we've found a genius trader who turned $50,000 into $5 million by using his proprietary trading method. For a limited time, he's guaranteeing you $67,548 per year in profitable trades if you follow his simple step-by-step process.Click here now for details.
The author is an independent contributor who at the time of publication owned none of the stocks mentioned.