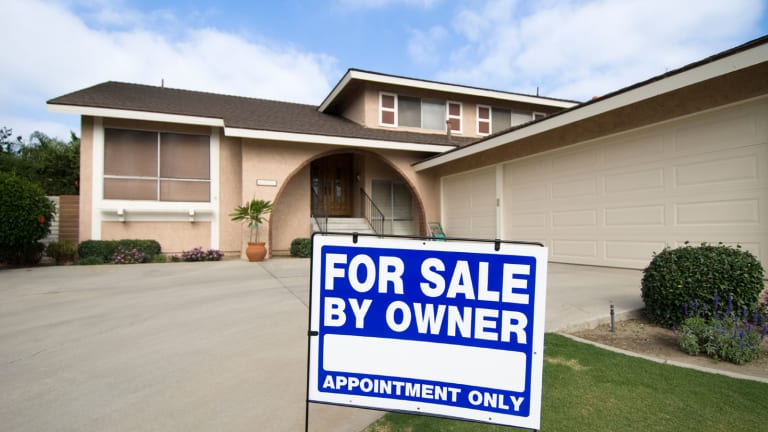 U.S. Housing Market Is on Fire Again and These 3 Stocks Are Loving It
The U.S. housing market is, metaphorically, a house-on-fire. That spells opportunity for sector investors.
The U.S. housing market is booming. And even if you're not a new homeowner, you can still capitalize on this trend in your investment portfolio.
According to the U.S. Commerce Department, sales of new U.S. single-family homes rose by 6.2% in October, to 685,000 units. That's the highest home sales level in a decade, with new home purchases in the U.S. Northeast leading the charge with a 30% hike in October..
Real estate experts say the good times should continue to roll in the U.S. housing market, mostly due to an increasingly robust economy.
"Home prices will continue to increase in 2018 because of low unemployment, an improving economy and a limited supply of new homes which has not kept up with the increased pace of demand," says Dean Sioukas, chief executive at Magilla Loans.
"As challenging as these factors are, now is an ideal time to purchase a home as it's best to lock in low-interest rates before the upcoming rate hikes," he added.
That spells "opportunity" for housing market investors, although they'll need to steer themselves to specific sector investment options that should benefit from skyrocketing home sales.
Home building stocks could be a good place to start.
"Although there are more new homes for sale, a strong increase in demand favors suppliers, not new home buyers," says Danielle Hale, chief economist at Realtor.com.
October 2017's supply of new homes for sale is 4.9 months, lower than both September and October 2016 (5.2 months), and substantially lower than the nearly six months of supply we saw in new homes in July and August, Hale notes.
"The pick-up in new home sales should improve builder confidence and lead to more home construction, offering home buyers additional options and creating opportunities for current owners to trade into new homes, potentially unleashing existing home inventory," Hale adds. "The number of existing homes for sale is down 8% from a year ago in October, and increasing availability of homes for sale would be welcomed by home shoppers."
Which homebuilding stocks to consider? Most, if not all, of the major builders should benefit from industry growth.
Toll Brother (TOL) - Get Toll Brothers, Inc. Report , for example, rose from $47 per share to $48.50 immediately after the Commerce Department release. The stock is already on an upward trend, with TOL stock up 4.25% over the past month, and up by 27.9% over the past 90 days. With homebuilder confidence up significantly in October, Toll Brothers should stand to gain, as would company shareholders.
Lennar Corp. (LEN) - Get Lennar Corporation Class A Report , another major homebuilding company, also saw its stock price rise with the October home sales news. LEN saw its share price move upward, from $58.50 per share to over $60 in the day after the Commerce Department release. Moody's recently issued a "stable" rating on Lennar and offers a "strong" dividend quality score of 67 out of 100, according to data from CapitalCube.com. Any boost in U.S. home sales should provide a lift to Lennar, which is already on sound financial footing.
Over the longer term, housing market investors could move on stocks that have indirect links to the real estate sector.
Waste Management (WM) - Get Waste Management, Inc. Report fits the bill there, as the company would presumably benefit from more homes to engage in trash pickup across the U.S. and as more homeowners embrace green waste management energy practices.
WM is currently trading at $81 per share, has just boosted its cash dividend to shareholders and will offer a stable earnings growth per share rate of over 9% in 2018, according to estimates from Simply Wall Street. That's a good figure for a company edging out of a high-growth rate period and should provide investors some much-needed stability in the housing side of their investment portfolios.
Real estate investment trusts (REITs) are another area of interest for housing market investors in late 2017, which gives those investors general exposure to the entire real estate sector.
"REITs, in our opinion, are an excellent way to invest in real estate since they provide a steady, reliable income stream while diversifying away from single stock risk," says Scott Schneider, President of Zacks Advantage, a Chicago-based robo-advisory firm.
Currently, Schneider particularly likes Vanguard's domestic U.S. Real Estate Investment Trust (VNQ) - Get Vanguard Real Estate ETF Report , which is currently trading at $85. "VNQ invests in a basket of 154 real estate stocks, has a market cap of $10.4 billion, offers high liquidity and has a 5.0% return on equity," says Schneider. "VNQ's top ten holdings are invested in highly reputable real estate firms like Simon Property Group, Equinix, Prologis and Public Storage, as well."
It's also a good idea to be both realistic and careful when canvassing the housing stock and fund sector.
"When considering real estate stocks, find an investment that yields an attractive income stream, is fully diversified and is made up of a portfolio of varying classes of real estate holdings," Schneider says. "Be prepared for many real estate stocks to trail the overall stock market since historically, real estate securities have performed quite differently from the overall market."
That's a net positive for investors, Schneider states. "One of the biggest advantages of real estate as an asset class is that it offers investors a non-correlated alternative to the equity markets, thus providing portfolio diversification across a broad spectrum of investable assets," he adds.
More of What's Trending on TheStreet: